Being your boss sounds pretty tempting. You can apply your rules, earn for yourself, and whatnot.
In today's world, starting a small business has nothing new. We can say that it has become quite a trend. However, not every business can sustain the market hot and cold. Having your own business comes with a lot of rewards and brings a lot of challenges along the way.
The growth of any business depends a lot on smart marketing tactics for good customer retention. The ultimate goal is to build healthy relationships with your customers and create a loyal fan base. There is no universal strategy, we do not know about your business, but you do. Therefore, it is only you who knows what will work for your business.
But after reading this article, you will get closure and have an Idea of the various digital marketing strategies.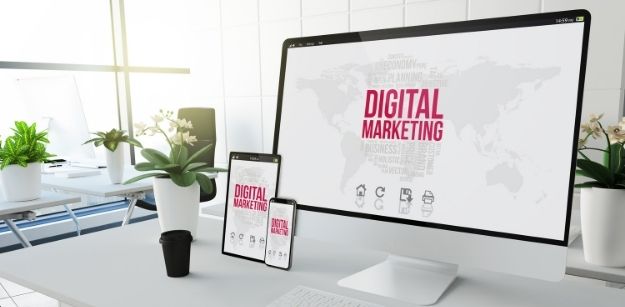 Now that we are in a pandemic, the importance of online marketing is more than ever. It may be hard to survive physically, but you may fare better with the best digital marketing practice than most of your competitors.
Let's get started
#1 Listing and Ranking your Business on Google My Business
If you have a business and are not listed on Google my business, you're missing out on a lot. Many people use maps to find a company, especially while traveling.
On Google my business, you put your business information, including address, business hours, website link, phone number, etc. This one step will help your customers to reach out to you quickly. Now here's the catch, registering your business on Google my business is free.
If you run a local business, then registering yourself on Google, my business is the most useful thing you can do for your business. Online reviews are a great way to increase your rankings on Google my business. So, once you register to GMB frequently updates it to stay relevant and accurate, as many other platforms also use Google maps for information purposes.
#2 Targeting your Local Audience
As a small business, the ability to reach a global market will be limited. Hence, it would help if you focused on targeting your local market.
The best way is a niche targeting. Target your local audience first. If your business exists physically, then invest in local SEO.
For example, if your business location is at area 'A,' then create Google ads or social media ads to target area 'A.' In this way, people around the area 'A' will be able to see your ads and be aware of your business.
#3 Create a Website and Start Blogging
It's no secret that blogging is a gateway to generate organic traffic. It improves the visibility and online presence of your business.
Even if you post once a week, it can significantly increase your chances of reaching prospective customers. Before posting any article, make sure to apply the right SEO tactics, keyword research, link building, etc.
Do not forget to add a call to action button on your posts. Encourage your visitors to share and subscribe to your blog. Joining a renowned digital marketing institute will make you learn these small nuances are a great way to collect potential leads who may convert shortly.
#4 Being Active and Increasing your Social Presence
Social media platforms not only provide a platform to socialize but also act as business tools. Increase your online presence by actively engaging with your followers.
Another great benefit of promoting through social media is about knowing your customer likes and dislikes. Social media also improves a website ranking on Google as social media accounts do show up on SERPs.
#5 Mobile-friendly Website
According to live Internet stats, there are over 4.6 billion internet users. Well, that's a lot of people. And among these, I am sure that more than half of them use mobile devices to access the internet.
In March 2020, Google announced Mobile indexing first. So, it is more important than ever to make your website optimized for mobile phones. Your website should be mobile friendly and responsive. These small incorporations will help in higher SEO rankings.
WordPress, Wix, Squarespace are some of the platforms that provide free and responsive templates. You can go through these and select the one suitable for your business.
#6 Recycling your Old Content
It is not necessary to push out new content every day; it can be exhausting. So, instead of publishing new boring content, recycle your old ones.
If your content is relevant and evergreen, you can put it up again with a little tweak here and there. This will help you to reach new audiences and extend your reach. For example, you can change some of your text content into infographics, videos, ebooks, or podcasts.
Your audience is diverse, so it should be your approach. Dig into your Google analytics results and go through your content starts. You will be able to see which of your posts performed well over the years. Finally, give a new makeover to your old content and put it out there.
#7 Increasing Credibility through Online Reviews
The internet has changed the way people buy nowadays. According to Brightlocal.com, 90% of people go through online reviews before making a purchase decision.
The above stats clearly show that online reviews are crucial for your brand, no matter your industry. Positive online reviews will give your business several advantages over your competitors. In simple words, online reviews are a great way of social proof. Positive thoughts will create a positive impression in front of new buyers. So go ahead and ask customers to leave reviews online.
Google has its way of indexing; if you search for (let's say) an art shop, it will show reviews first before any organic results.
Encourage your customers to leave reviews on Google my business listing and on other local business listing sites like Yelp, Trustpilot, Sulekha, IndiaMART Foursquare, and many more. Do not forget to respond to such reviews as it will increase your credibility.
#8. Create a Referral Program
According to mckinsey.com, 20-50% of most purchasing decisions happen through word of mouth referrals. So why not take advantage of such an opportunity?
Referral programs are highly effective when there is a reason behind it. Such referrals do not cost much, but they may help your business to gain new customers. With the help of existing customers, you can get new ones only if such a program benefits them. The referral program should be tender and realistic at its best.
Creating a referral program won't do; doing it right is what matters—for example, the Airbnb Refer-a-Friend program. Airbnb launched a referral program that increased their bookings by over 25% in most cases.
Hence, the right approach and user experience is the key. Just search for some success stories online and analyze their strategies.
#9 Creating a Lasting Impression
Once you are ready with your business ideas and website, it is time to choose,
Colors
Fonts
Text overlays
Filter
etc. for your business. This will help to create a unique brand image. Furthermore, you can also use the color palette for your brand's logo. There are plenty of platforms that provide free logo templates.
So, either you can design a logo yourself or hire someone for you. The idea is to have a consistent look to your website and social media graphics and posts. This will help the viewer to recognize your brand immediately.
#10 Monitoring your Results through Campaigns
As a new marketer, do not just blindly invest in new marketing campaigns. Use Google Analytics or another tool to measure the success of the previous campaign.
This will help you to figure out what is working and where you are falling short. This will help to channelize the funds properly where it is needed.
Conclusion
Well, the article ends here. The ten digital marketing strategies that we have listed will surely help you in managing your business online. Apply the tactics and see what fails and what works.
Even though your business is small, there are a lot of free tools that you can implement. Search Engine Optimization, social media marketing, and online reputation management are topics that are within reach of all businesses, regardless of the size and type.