Logo — what's in that tiny symbol? Anyone who's into marketing understands the importance of a logo. Even some brands spent millions on brand-specific logo designs. Why they do so? The idea is simple— brand identity.
A well-designed logo not only adds to a brand's visual identity but sets it apart from others. Like Fortune 500 companies, you too need to design your own logo. However, you need not to spend your fortune for that sake.
You can design your own logo with free logo maker of Designhill. How? Here is a tutorial to get started. The best thing is that you do not need to have any designing skills!
1. Launch the online logo maker
Irrespective of your design background, a logo maker helps you get a logo of your choice. So, the first step starts with launching the tool. Go in Designhill's tools section and click on the logo maker. It will be launched soon after you click.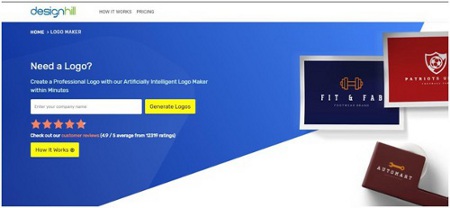 However, if you want to know how the logo maker works, click on the 'How It Works' button before getting started with the tool.
One the tool is launched, enter your company logo and click on 'Generate Logos' button.
2. Pick your desired outlines or styles
As and when you enter your brand's name and proceed further, the system prompts you for design style preferences. You need to choose at least five styles. However, you can pick more or less too. Once you're done, click on the 'Continue' button to move ahead in the process.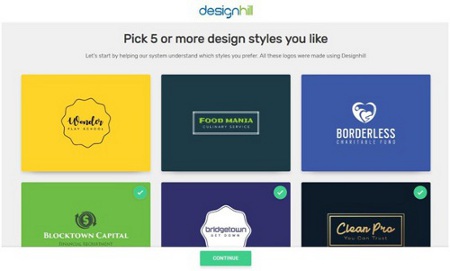 3. Choose relevant colors
Can you imagine the logo of Coca-Cola without the color red? Can you find Google's logo more engaging in a monochrome tone? Of course, not! Therefore, picking the best colors for your brand logo is as important as picking its name.
The colors that you choose can impact your brand's success hugely.
Therefore, the online logo maker tool prompts you to choose at least three colors before you move ahead in the process.
You can read the meaning of each color palette given right at the bottom. Based on meanings, you can pick a shade that is relevant to your brand's message.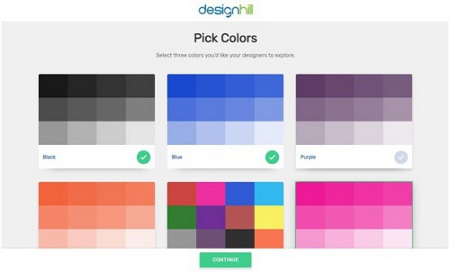 People still overlook the importance of colors when it comes to designing a logo. Remember, your logo is the first thing your prospects notice your business. The effects of color psychology on people's emotions are broad. And, understanding people's connections to some shades could broaden the success of your branding.
In case you are not sure about a particular color, let the AI-powered tool to decide it.
4. Enter your company's slogan & budget if any
The next step asks you to enter your company's slogan, choose industry and budget if any. If you don't have any budget in mind, pick "0" in the budget option. Once, you are done with it, click on the 'Continue' button.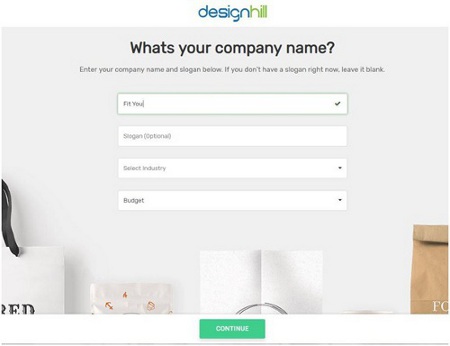 5. Search and add symbols
The next step asks you to pick up to 5 symbols relevant to your company. However, you can skip the step if you do not want an icon-based or symbolic logo design for your business.
Once done, click Continue to move ahead.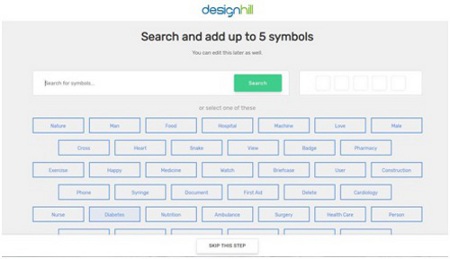 6. Choose the logo you want to purchase
As you end up choosing the symbol, the AI-based tool starts creating your logo. But before you see your logo, you need to create an account or log in.
Save the logo that you think is fit for your business. Downloading it will need you to pay a nominal charge though.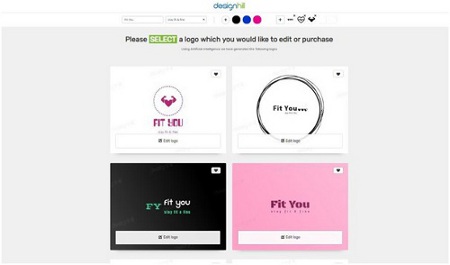 That's how Designhill logo maker creates a logo in minutes!
7. Customize or edit your logo
Once the logo is ready, you can edit it or customize it as per your needs. Pick any logo created by the AI tool. Click the 'Edit Logo' option, and a window will appear showing the look and feel of the logo on various merchandises.
If you want to change the company name and slogan, click 'Edit Name & Slogan' option. For colors, pick the 'Edit Colors' option. For the symbol, modifications choose 'Symbol' option and for layout go for the 'Container' option.
There are also Layout Variations and Generate More Logos options to create different layouts and design more logos respectively.
Once changes have been done, you can download the logo by clicking on the 'Buy' option.
If you want to make modifications post-purchase, Designhill logo maker allows that too.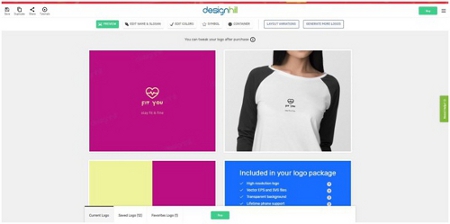 Don't waste your time and money
Creating a logo can be costly and time taking process if you hire someone. But that isn't needed. With the revolutionary online logo maker, you get an option to pick from more than 1000 designs. It allows you to quickly and affordably customize a logo for your brand with different colors, typefaces, graphics, and designs that you like.
It's a simple but powerful online tool leveraging Artificial Intelligence with machine learning. AI and machine learning have been embedded in robust algorithms that power the tool.
With the help of these cutting-edge technologies, you can craft a perfect insignia for your brand identity. Throughout the designing process, the tool continuously learns various design options and finds out which ones work better.
Each time the user uses this tool, the results get better. Creating a logo is absolutely free. However, downloading it will require you to pay a nominal charge as low as $20.
The free logo maker understands what a user inputs. Based on the previous creations and learning the same pattern, it takes just a few seconds to design a range of premium logos.
The algorithm processes over 1 million icons, over 10,000 unique colors, more than 2000 typefaces, and over 5000 shapes and styles to get you a logo of your choice.
Isn't it cool? Of course, it is!
Conclusion
Well, designing a logo isn't challenging if you use an online tool. Give your business a memorable face with an insignia which is not only unique but attention-grabbing too! Let us know what you think about this tool in the comment section below.