As handy as PDF files are, if you don't have the right software to manipulate them, then they can quickly become a pain in the neck. I often find myself searching online for tools to split, merge or edit pdf files because I don't have the programs I need on my computer. However, things get even more complicated when I am on-the-go because I don't have the time to search for PDF editing tools. So, to put an end to this headache, I decided to find the best PDF editing apps I could use on my phone. After spending some time on Google, I found a handy site called AppGrooves that has a list of supposedly the top 10 apps for editing PDF files.
Best 10 PDF Editing Apps by AppGrooves
Instead of listing them all here, I selected my favorites, reviewed them and grouped them by their PDF editing capabilities. Depending if you are interested in great PDF readers, PDF signers or a PDF editor combined with an Office Suite, you will find exactly what you need.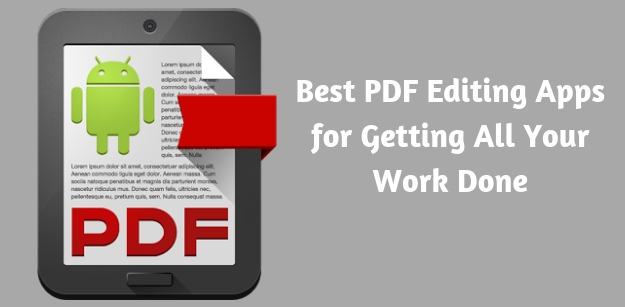 1. Apps for Editing PDFs with PDF Reader
With great PDF readers and editors on your phone, you don't have to wait to get back to the office to read and edit important documents. Whether you are at a café or running errands, you can review, comment, rotate, crop PDFs and more without the need for a computer. So, here are my top picks for reading, editing and sharing your PDF files:
Apps: Foxit MobilePDF, PDF Reader
My first pick is Foxit Mobile PDF. This is a great choice if you want different PDF viewing options and many editing tools at your fingertips. I also liked how easy it is to annotate documents by using the touchscreen to draw and write notes. As with many other PDF editor apps, more advanced features require a subscription.  However, I liked that you can try the powerful editing tools with a free trial period. I found that even if you don't pay the subscription, the PDF reader alone is an excellent tool for reading, managing and sharing documents on the go.
My second pick is PDF Reader. I found it to be a great choice for organizing all your documents, from PDF files, Word documents, and TXT files, to pictures, videos and more. The interface is simple with documents organized by file type. I also liked that you can scan and import images, rearrange and export them with just a few taps. I didn't find a collaboration option for working on files with colleagues. However, you can easily upload your files to shared cloud services like Dropbox and Google Docs.
2. Apps for Signing and Editing PDF Files
With so many office documents going digital, often you will come across an application form or contract that can be completed and signed electronically. However, if you don't have the right software tools, you need a printer and scanner to get things done. I am all for saving time, money and effort. So, with my second category of PDF editing apps, you will find great tools for signing, filling out and editing PDF forms, contracts, and documents.
Apps: Xodo PDF Reader & Editor, Adobe Acrobat Reader
My first pick is Xodo PDF Reader & Editor, with many great editing tools for annotating, highlighting and merging PDF files. Not only do you have all the great features of a PDF Reader, but you can also create your own digital signature and type directly onto PDFs too. If you don't have a stylus, making annotations can get a bit messy. Thankfully, I found that Xodo PDF Reader & Editor smooths out the lines, so your notes and scribbles actually end up looking good!
Another great app I found is Adobe Acrobat Reader. The development team did a great job, with a clean design and an intuitive interface that makes managing documents effortless. I also liked how easy it was to create and save my e-signature. I did find that some of the more advanced PDF manipulation tools required in-app purchases to be unlocked. However, with the ability to convert PDF to Word or Excel, some of the premium features are well worth the money.
3. Apps for Editing PDFs with Office Suite Capabilities
The last group of PDF editing apps I chose is great for converting your documents to and from Office Suite formats. Whether you want to convert PDF to Word, PDF to JPG, or JPG to PDF, this kind of site like duplichecker.com will have to cover you. I also liked that you have Office Suite integration, so you can continue to work on your Word, Excel or PowerPoint documents right from your phone.
Apps: WPS Office, OfficeSuite
I found WPS Office to be a great choice for getting all your work done in one place. You can do anything from working on spreadsheets, Word documents, and PowerPoint presentations, to scanning documents, converting and editing PDFs and more. I did find it a bit redundant that every time I went to save a file, I was asked if I wanted to save it to the cloud. However, it is a small inconvenience, considering you will be able to access your files from anywhere.
My second pick is OfficeSuite. You can view, create and edit Word, PowerPoint and Excel documents, and export them to PDF too. You will also find many PDF viewing, editing and converting tools, including Text-to-Speech support! What I really like about it is that you can work with colleagues on shared files too. The only drawback I found is that you are not able to move images behind text. However, I noticed Office Suite is updated frequently, so hopefully, they will add this feature soon!
These are my favorite apps for managing and editing PDF files. The first group is great for organizing, reading and annotating your PDF files. On the other hand, the second group is great if you need a PDF editor with a PDF signer feature. The last group is great if you need PDF converter options, with Office Suite compatibility. With these great apps at your fingertips, you will have all the PDF editing tools you need anytime, anywhere.