We live in a modern, digitalized world that has a convenient app for almost all our needs. According to Statista, a staggering 2.87 million apps are available to download on the Google App Store. Most of these fantastic apps allow us to improve various aspects of our lives, such as finances, health, organization, and even relationships!
The turbulence of pandemic-ridden years has made it even more imperative to stay connected with our loved ones and do everything possible to sustain healthy relationships. Especially newlyweds, just embarking on a new endeavor, can use all the help they can get to develop the basis of a beautiful married life.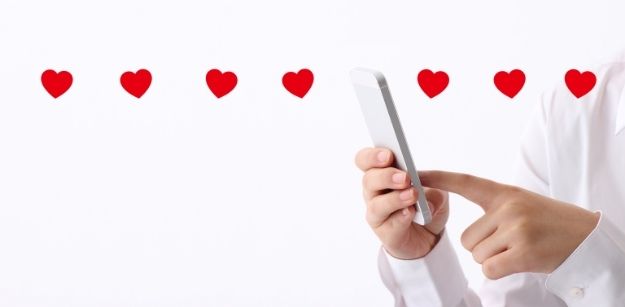 Here are the best apps that can help your new relationship transition into a strong bond:
1. Love Nudge
With our busy lifestyles, expressions of love and appreciation for our partners can take a backseat. Love Nudge offers the unconventional service of nudging you to express love towards your partner and actively see their happiness as quantified results in their love tanks. The fun app is based on the concepts of Dr. Gary Chapman's bestseller, "The 5 Love Languages".
It also guides you through a love language quiz, helps you tailor your moves for better communication and intimacy, and prompts you to set personal goals for motivation. The creators describe it as personal assistance for your relationship!
The app is well-designed, user-friendly, and genuinely helpful for the married couple looking to start their lives with the best foot forwards. You can download it free for Android and iOS.
2. Relish
Relationship coaching is beneficial for every couple regardless of the number of days they have been married. It helps strengthen your bonds, and you get to understand your partner intimately early on in the marriage.
Relish is a relationship-training app, which helps you forge a more profound connection with your partner through customized quizzes and improvement plans, partner exercises, and text-based coaching. The app offers you an outlet to improve communication and enhance emotional intimacy.
You can also sign up for the Premium version for weekly check-ins with an online relationship coach allocated to you. Your coach assigns you tasks based on your quiz answers to complete together with your partner to better understand your relationship dynamics.
The app is available for both Android and iOS for $39.99 per month and $99.99 per year for two users, with a seven-day free trial.
3. Honeydue
When a couple gets married, they start sharing almost everything, including bill payments! Honeydue is an intuitive finance app that helps you keep track of your impending bills, current balance, spending, and savings.
The couple-centric app allows you to link your accounts, set up monthly budgets, split expenses, and set reminders to pay bills.You can allocate spending limits for groceries, date night, shopping, or create your custom categories. The app provides you both with a clear picture of where your money goes every month. However, you can alsocontrol how much information you share with your partner if you want a little privacy.
According to studies, money is one of the top root causes of fights between couples, while 36% of the people surveyed stated that financial issues caused the most stress in their relationship. Thus, download Honeydue, free for Android or iOS, to streamline your finances and avoid potential argument and unnecessary stress in your budding relationship.
4. Cozi
Cozi is the ultimate smart app for all your organizing needs, which keeps you in sync and helps you get things done. The app links your calendars on all your devices and sends intuitive alerts to keep track of upcoming events.
You can also share grocery lists and to-do checklists with each other, where both partners can add or remove items. You no longer have to scribble notes all over the house or sift through texts to remember the things you need to buy. The app is simple, user-friendly, and without unnecessary embellishments since it focuses on creating efficiency and harmony in your life.
Cozi is an ideal organizational app for everyone, regardless of the number of people in your family. You can download it free on mobile phones, tabs, and laptops for the basic features or pay $29.99 for the premium version.
5. Between
Between is inherently a messaging app designed for couples to share their thoughts and feelings through texts, voice notes, emoticons, GIFs, memos, and videos in a romantic and private setup. The app also allows you to share photos that automatically arrange into a timeline, and you can both include your comments and thoughts on each click. You can save the most cherished pictures and memos into a Memory box to reminisce about as you grow old together.
It also features a shared calendar so you can remember the important upcoming events for timely purchases of gifts for special occasions. Moreover, you can create a journal documenting your journey together from the very beginning.
The app functions as an interactive digital scrapbook so you can safe keep the most precious memories. You can download the app free for Android and iOS with in-app purchases.
6. Couple Games
Marriage is all about responsibility and commitment, but fun and games keep the spark in your relationship alive. Couple Games offers a pack of quizzes for couples to answer, guess the other person's reply, and discover how well they know each other. Each correct answer earns points that you can cash in for favors.
The topics include philosophy and ethics, films and music, politics, sex and intimacy, relationship, future kids, and vacation and leisure. Besides learning more about each other's likes and dislikes, you can also use the quizzes as an icebreaker to approach sensitive topics.
The app offers a seamless user experience precisely like the airG scam free apps, and you can get it free for Android and iOS with in-app purchases.
7. LokLok
LokLok is more on the cutesy end of the spectrum instead of the practical end. It is an adorable app that replaces the lock screen with a whiteboard. The couples can share their lock screens and scribble loving messages or upload photos for the other partner to see.
You can also deviate from the initial purpose of the app and use it for practical purposes. Write reminders for each other to be on time or pick up milk on the way home!
The app is only available for Android users for now and is free to use.
Conclusion
New relationships require a lot of time and effort to flourish. The intelligent and perceptive apps help you make your life more efficient and organized. They can also eliminate the potential triggers and reasons for arguments and provide necessary relationship counseling for a happier lifestyle.