Every politically ideological group has always had two most distinctive types of characters: authentic members who are willing to battle for group's main interests and inauthentic members who are willing to abuse its reputation in every possible way for personal reasons. Representatives of one of the most popular movements known as feminism is not an exception. The biggest proof of why this construction is fail to work without damaging itself is the fact that nowadays a lot of both male and female associate feminism with subtle or open form of matriarchy. What feminists need in order to change this prejudice is a new strategy. A solution that will filter pseudo-feministic waists and will make doubters want to give feminism another chance.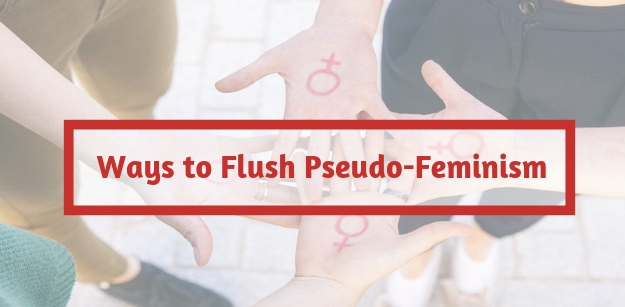 State of the Problem
The best way to explain any problem and present the solution is to do it by using a metaphor. Figuratively speaking, let's say that feminism is a website.
One of the main criteria that differs a good website from a bad website is its absence of spammy and annoying promotions in internet. If the site or its link gets numerously mentioned in the comment sections of other websites, users tag it as a spam. It happens whenever visitors find promoting link inappropriate. As a result, these tags lead to the websites's ratings downsize. Eventually it drops to lower positions of the google search result which means that almost no one will see it. Feminism is a website that ranks low because of its spamming strategy that was partly, but heavily implemented by passionate and extremely unwise people.
People perceive bad things a lot harder than good things. It will take 1 good insult to overshadow 100 good compliments. The effect and the whole situation with "spamming" feminists works the same way. True feminists stand for equal opportunities for both men and women. But once a man spots a pseudo-feminist among this major group of equality fighters, who tweets something like "men's problem are not as important as women's" he will reasonably start to doubt the authenticity of officially declared intentions of feminists. The same though will go through the mind of a sensible woman. Slightly or dramatically some people start to decrease their level of respect for the whole movement if they not get into its details. Today plenty of people associate the word "feminist" with annoying female or "white-knight" who both voluntarily decided to play rolfe of overly heroic characters. But true feminists are the original "movie makers" of this story. And they can always either use their talents to create a series of a completely new films alongside with newcomers or they can continue shooting their current famous show without the worst actors they've had in the past.
Solution Alternatives
Option A: a new film
If a show struggles to get positive reviews, one of the things film makers can do to make the most of their career is to start a new project with a different name. Although most feminists are never excited about changing the name of their movement, there are still a few arguments that might hesitate their traditional conviction.
Carrying out the mission under a different name has a great potential for strengthening a positive image of the whole group. It will give like minded people a chance to unite more willingly. The problem is that masses don't want to join forces with pseudo-feminists.
The word feminist does not sound neutral for anyone. One of the reasons why many men and women do not want to unite with representatives of feminism, is because the word itself causes them to suppose that the movement stands exclusively for the rights of women. Of course, it started as a socio-political movement to achieve gender equality for females. But according to its theory, it should continue as a movement of equality for both sexes. In order to apply the theory to its fullest potential, it is important to consider that change of the word(s) or letters can make a colossal difference. As long as the word does not sound according to its ultimate meaning, people will continue to misinterpret it.
Option B: a new cast
If true feminist are directors and pseudo-feminists are horrible actors who occasionally gather audience to only laugh at their horrible, offensive and unprofessional acting, the best thing directors can do is get rid of shameful characters of the film. It will make good actors shine and because of the ratings rise – show will attract more audience. The most fascinating thing about this selective process is that audience will also take part in it. Everyone will have a chance to vote for the worst actors. And selection will have a name and a certain strategy.
The method can work by the same technology as "MeToo" movement. Furthermore, it can function several times better. It can serve as a social-media filter against people who position themselves as feminists while misrepresenting true and valid ideas of the whole movement. It will be a short statement that questions a person's view on feminism. It should not declare that the person over there is a liar. The message should motivate public to think whether the third person is a true feminis or not. It should stimulate a receiver of the message to decide if the person of the discussion is unwise, uneducated and hypocritical, or reasonable, intelligent and genuine.
Beside its name, another difference of this movement from "MeToo" is its ability to directly refer to someone's incompetence. An argument "I don't have evidence" will not be enough. The only thing that will work is a proof of pseudo-feministic behaviour and things that were declared by a specific person. Whether it is an interview, a conference, a public speech or a social media post.
The start of this campaign will lead to interactions between feminists, non-feminists, pseudo-feminists and non-pseudo-feminists. Which will make life of the third ones extremely difficult. This dialogue will become more frequent and most importantly – more constructive. Common opinion will start to transform from "that is why I don't like feminists" to "that is why I used to dislike feminists." It will help people to formulate a better and healthier views on feminism, as it will enable them to differentiate true feminists from false ones. For that reason, one of the best names that can be given to this purifying movement is "FemFilter."
These are only two alternatives that people who got tired of feminists' reputation-sinkers can use. Whichever they choose, it will be good enough to declare and remind everyone the authentic meaning of feminism and to force its abusers to become sensible.