Tech gadgets are flawed, and they can fail at any point in time, no matter what the scenario may be. Sometimes it is the flash drive of your smartphone that dies or in cases where the phone gets unusable like you broke the screen of your phone and now left with a dud. However, all such situations can be repairable up to a certain extent but what you are risking is your data.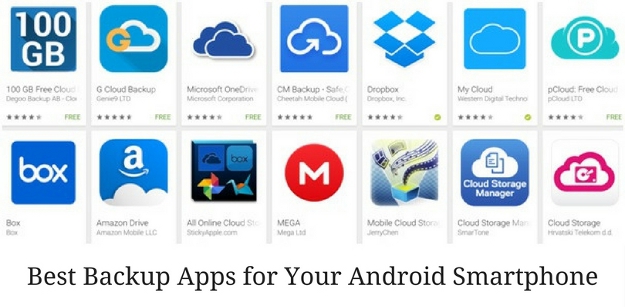 With so many options to backup available for backing up your data today, we are still one step behind in retrieving all of the backed up data and in most scenarios we are left with no data backups. The sole reason for this is the lack of knowledge of automation. With the introduction of so many cloud-based apps offering you with automated data backup, you are now safe. You can quickly switch to a new phone in no time and even can access your phone's data on the go whenever you want. Let us talk about some of the best backup apps for your Android smartphone.
[AdSense-B]
1. Google Drive Suite, Dropbox, One Drive, etc


Google Drive along with Google Photos, Docs, Sheets and Slides offer you powerful tools so that you can back up the data on your Android device to the Google's Cloud Storage. The Google Chrome history, bookmarks, passwords and even active logins are seamlessly stored in the cloud. You can choose to save your Whatsapp data on the Google Drive also. For all the remaining files on your Android device, you can upload these files manually on the cloud servers such as Dropbox, One Drive and even Google Drive also.
2. Google Backup and OEM Backup apps


Android has the built in capabilities to upload and save your data on your Android device to its cloud storage. This feature comes preinstalled on all the OEM devices i.e. LG, Nexus, Samsung and other offers the similar functionality. You can get the backup of all the apps list installed, their data, SMS messages, contacts, calendar events and even passwords. This service is offered for free and works pretty well in automation.
Download Google Backup and OEM backup apps
3. Titanium Backup


Titanium Backup is one of the most popular and the app that is used mostly by all the rooted Android device users. Titanium Backup lets you save, delete and create zip files of your installed apps, its data and even other information regarding the apps. Later on, you can also link up your cloud storage account so that this data can be backed up to the servers. The backed up apps can be restored with its one-click restore method.
4. Helium


Helium is developed by the developers of CyanogenMod, ClockworkMOD. These are the guys who are the most popular custom ROMS for Android device. Earlier this year they changed their name from CyanogenMod to LineageOS. Anyways, Helium offers backing up capabilities for both the rooted and non-rooted Android devices. For the non-rooted devices, the user needs to install either a desktop or a chrome based companion app. Backing up and syncing with all the popular cloud storage services is possible.
5. truBackup


As most of the apps on the Android devices have complicated interfaces, truBackup chose to stand out as it offers simple and minimalistic UI. The controls are self-explanatory. Once you are through with setting up your cloud storage accounts, you are good to go.
6. CM Backup


CM backup gives you 5 GB of free cloud storage once you sign up. You also get this ability to get the backup of your entire phone, including the bookmarks, alarm data, calendar data, photos, videos and other media files in an automated way. You can schedule the app such that the backup happens at particular intervals.
7. MyBackup


MyBackup was used to be the best alternative to the root users over titanium backup app. It is still amongst one of the best backup apps on the market. With the free version of the app, you are allowed to backup all the data on the phone to the external SD card. If you pay for the premium version, you can get additional benefits to backup directly on cloud servers. You can even uninstall bloatware and can freeze memory hogging system apps also.
8. Super Backup Pro


The interface appears more sort of a manual backup app, but there is more than meets the eye with Super Backup Pro. You have the scheduled backup feature, which is nice and you can integrate all the cloud storage services and can even backup the apk files to your SD card also if you want.
9. Ultimate Backup


Another competitor of the famous Titanium backup app that lets you offer similar functionalities for the rooted users only. Though, the app is not as powerful as the titanium backup app but does a pretty good job of backing up the data, removing bloatware and freezing system apps. All in all, a good app for a beginner on a rooted Android device.
10. Manual Backup


The MTP model of you Android device platform lets you access all the files on your device via a file manager, or you can connect it to your PC and get access to all the files in an instant. You can backup photos, music, documents, videos and even contacts. Cloud saving features are also enabled in the file manager app.
Which backup app doing the job for you? Let us know in the comments below. Also, if you want to add any app to this list, make sure to mention it too.