In the era of technological advancement learning new things have become pretty easy. Technology has changed the way we used to consume new information. Today, with the help of mobile apps we can learn anything in the world at any time and from anywhere.
Bringing mobility to education was a huge breakthrough in the education industry. Education apps have altered the learning process in a positive way. According to Statista, Education was the most popular app category in the Google Play store in the first quarter of 2018. It had a market share of 8.29%. The reason why educational apps are gaining popularity is that it's always available and highly interactive compared to traditional classroom education.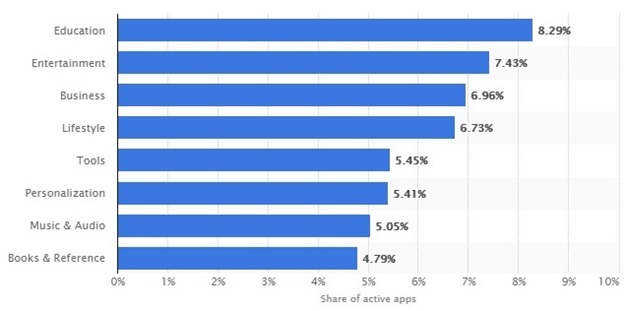 Role of Educational Android Apps
Educational apps are not limited to provide interactive education to students. They also help them to take notes, discuss projects, syllabuses, share assignments, reading materials and much more.
Educational apps help schools and parents to go eco-friendly by helping them to manage various documents seamlessly. Going paperless also helps school management to run daily operations such as managing and talking attendance of students, managing teachers, time-tables, and different staff responsibilities.
On top of everything educational apps help differently-abled students to learn and educate. Apps such as ZoomReader, Voice4U, learning ally, etc. help these students to learn better.
Top 7 Educational Android Apps
As the rise of Android app development, the rise of educational apps is also evidential. To showcase it here are the best and most used educational Android apps across the world.
EdX
EdX is one of the most popular Android apps in the Google Play store. It offers online courses for college students. There are courses about numerous subjects such as statistics, math, logic, android app development, mobile programming, history, physics, psychology, and hundreds more. It also provides an option to save course materials and declarations, video lectures, tutorials, handouts, etc. The app is free and is widely used by undergraduates for higher education and by graduates for skill upgradation.
Coursera
Coursera is yet another most popular e-learning platforms. It offers a variety of classes including Android app development, machine learning, deep learning, Spanish, French, communication skills, entrepreneurship, marketing, finance, math, quantum mechanics, engineering, arts, humanities and more.
Apart from these topics Coursera, also offers certificate and nano-degree programs. They offer certificate courses for Google IT support, Applied project management, management, and entrepreneurship, etc. They have nano-degree programs such as Bachelors in computer science, masters in computer science, MBA, Masters in accountancy, masters in innovation and entrepreneurship, etc.
Khan Academy
Unlike Coursera and EdX Khan Academy, has a majority of its videos without any physical instructor. It means that their videos might have the voice of an instructor but does not have their physical presence. Also, all of their courses are 100% free. Khan Academy typically provides basic courses such as math, science, economics, history, etc. which makes it more ideal for students who want to brush up their basics before going for graduation. It has been one of the top free education apps in the Google Play store for quite a long time.
Socratic
Socratic is a handy educational app. It tells the user about various things when they take a picture of it using their smartphones. For example, if a user takes the image of a numerical math problem, then the app helps he/she to solve that problem or an equation. It also helps a user to resolve an unfinished chemical equation or answer any history questions.
This app is ideal for kids studying in high-school or junior high. The most significant benefit of this app is that it is completely free and does not contain any ads.
SoloLearn
SoloLearn in an education platform specially designed for geeks. Yes, it is an app that teaches a user various programming languages such as, Java, C++ for Android app development, Python, HTML, CSS, SQL, JavaScript, Swift, and more. This app has received one of the best user reviews compared to other e-learning apps. A person who wants to pave his/her path towards software development can download this app and start learning because it's completely free of cost.
Udacity
Opposite to Khan Academy, where they offer basic and generalized courses such as Android app development Udacity, offers a super-specialized learning experience to a user. Udacity is for the students who passed their undergrad or grad and are looking to develop industry-relevant skills. Udacity has tie-ups with tech giants such as Google, Apple, Facebook, Microsoft and more. They stay in touch with these giants constantly to remain up-to-date with the latest in technology.
They offer nano-degree programs for Artificial Intelligence, Self-driving car engineering, Machine Learning & Deep Learning, Data Science, Computer vision and digital marketing. Udacity has helped thousands of students to get into fortune 500 tech giants such as Facebook, Google and more.
Udemy
Udemy is one of the first mobile platforms to deliver online courses to the students. They brag more than 32,000 courses on different topics and subject of interest. They offer free as well as paid classes on health & fitness, entrepreneurship, business, design, marketing, photography, music, lifestyle and more.
Udemy is ideal for people who want to acquire particular skills at affordable rates. A user can enroll for any of the courses regardless of their current educational status. The only USP of Udemy is that they have a course for any of your requirement.
Conclusion
In this day-and-age, we have a mobile solution for almost every human problem. Like we have an online course on any topic in the world. There are thousands of educational apps available on the Play store. Some of them are made for commercial or B2C purpose by start-ups while some companies build apps for employee education by taking help from Android app development services provider. Education apps are going to play a massive role in reconstituting the future of education.