For adventurous travelers, travel agencies claim there are hundreds of beautiful places in the world. In fact, there are hundreds of nice places to go, but there are only seven truly beautiful places to visit.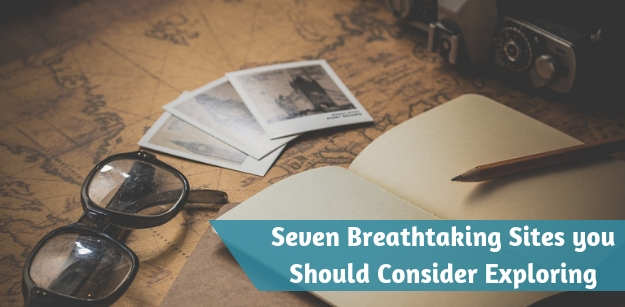 7. Great Barrier Reef, Australia
Sadly, this first most-beautiful location is expected to disappear within twenty years. Climate change created by global warming is impacting the reef, which is the most expansive structure ever created by living creatures. At over 2,000 kilometers, it is the longest reef in the world and is visible from outer space. Although most of us won't be appreciating the view from space, we can appreciate the views from on top of or under the water. There are many tours provided by guided tours like, Wings Airlie Beach Cruises, that are designed to help anyone see the beauty of the reef and spread the word to the rest of the world.
Snorkeling and scuba diving, for instance, provide views of sea turtles and the famed crown of thorns starfish. Non-swimmers can also take in the sights as most tours are conducted in glass-bottom boats, allowing views up to 100 feet in clear waters.
6. Oia, Santorini, Greece
Overlooking crystalline waters and the Palea volcano, Oia is one of the most popular and visually arresting villages on the Santorini island. To truly enjoy Oia, visitors are encouraged to walk it. The stone houses carved into the cliffs and narrow streets provide a shade-covered walk among ancient dwellings.
Occasionally, the view broadens, allowing glimpses of breathtaking blue-domed churches and the hint of a larger world. Near the end of the town, the road becomes more steeped until it nears the cliff–and the world opens. Below, the water-filled caldera, the blue-water remains of a long-ago eruption where people now swim. At once, the view is immense and awe-inspiring.
5. Appenzell, Switzerland
Appenzell is breathtaking for the surrounding mountain landscape. The rugged, snow-capped peak of Mt. Santis stands 8,200 feet over Lake Seealpsee, which can be reached on foot by adventurous hikers. It is a small, 34-acre body of water guaranteed to offer visitors the ability to rejuvenate in solitude.
For less adventurous tourists, Appenzell is just as breathtaking. Known for its ongoing festivals, the town itself seems to have a gnome theme. One of the most popular modes of travel is via horse-drawn carriages, and the overall atmosphere is one from a children's fairy tale, making this town the perfect destination for families with children.
4. Plitvice Lakes, Croatia
The Plitvice Lakes National park consists of a chain of lakes spanning 295 square kilometers. Known for their clear, aqua-marine waters, the lakes are connected, one after another, by waterfalls toppling over bleached, limestone canyons. Combined, from one of the ever-popular helicopter tours, the lakes appear like some enormous, landscaped emerald necklace.
Along the manicured trails, visitors can enjoy hiking from lake to lake, waterfall to waterfall. Although the terrain is rough and beautiful, it is actually a very fragile ecosystem, supporting thousands of different life forms. From owls, to wolves to brown bear to the secretive capercaillie, a variety of creatures call Plitvice Lakes home, and they depend on the environment to remain undisturbed. As such, swimming is prohibited. Photos are encouraged.
3. Victoria Falls, Zambia/Zimbabwe
Unfortunately for waterfall lovers, waterfalls are a dime a dozen. For instance, Iceland has Gullfloss, Guyana has Kaieteur Falls, and the United States has Yosemite falls. It is difficult to pick a good waterfall because there are so many, and they are pretty much the same. They are wide. They are tall.
With Victoria Falls, however, waterfall lovers enter a new dimension. It is so different, so unique, so far above the others that it is not even classified as a water fall. It is a water curtain. It is fair to say that Victoria Falls is the most unique aspect of the 590-foot wide Zambezi river. After meandering for hundreds of miles, the river, however, swells to just over a mile in width.
Then it falls–all of it.
Serving as a natural border between Zambia and Zimbabwe, it falls at ranges of 260 feet and 354 feet. When all this water strikes ground, it cascades into a foamy spray that drifts upward and outward in massive clouds. Two-hundred years ago, the Kololo tribe called it "Mosi-oa-Tunya," which translates into "the smoke that thunders".
Tourists clamor to reach Victoria Falls by plane, bus, train, and car rental. However anyone manages to get there, it is always well worth the trip. If you are a waterfall lover, you will be awe-struck. There is nothing like it in the world.
2. Arnhem Land
In Australia's Northern Territory, Arnhem Land represents one of the most rugged parcels of true wilderness. With over 37,000 square miles, it offers visitors the opportunity to experience a myriad of beautiful scenic hot spots. From the coastal Port Roper to the appropriately named East Alligator River to the Kakadu National Park, visitors will be thunderstruck by the sights.
For instance, 140,000,000 years ago, the Kakadu Escarpment was a miles-long, under water sea cliff. Today, hundreds of feet tall and stretching for miles, the cliffs cannot quite be appreciated or understood until they are experienced. The best way to visit Kakadu is through an extended tour such those offered by Charter North Kakadu Tours. Done in small groups and overseen by an experienced tour guide, this is a trip of a lifetime. The sight of the Kakadu Escarpment is simply magnificent.
1. Bora Bora, French Polynesia
Somewhere secret is a place of blue sky, blue water, and little blue tiki umbrellas in blue margarita glasses dappled with salt and condensation. That might be the sales pitch of a tourist guide, but Bora Bora's beauty goes far deeper than picture postcards and sweet-sour cocktails. Situated in the middle of the South Pacific Ocean, east of New Zealand and west of Mexico, Bora Bora is the darling of French Polynesia.
First, at the center of Bora Bora is an ancient volcano, dormant and still for hundreds of years. This volcano is draped in lush jungle. Everything about it is still and calm.
Second, there are no sidewalks. There is sand, and there are some cabanas on the sand, but that is about it. From these cabanas, tourists can gaze over blue water that, like the jungle, is so calm, it might as well be a lake. It as if this part of the world is so calm, so polite, so stress free that even the waves are relaxed and will not disturb.
Third, as tourists relax and gaze out from the cabanas at the water, they will also be gazing out over a collection of tiki huts. These huts are where guests reside. That is correct, the guests' quarters are in the ocean.
There are rows of tiki huts, each linked to a main wooden pier that extends up out of the water by only a few inches. There is absolutely no way to be closer to the water without actually being in the water. That is why there are no sidewalks. There is no need for them. Room service, in fact, is delivered via canoe (seriously).
From the tiki huts, one can sit, relax, and enjoy the view of the ocean. Because the hut floors are made of glass, visitors can also view the marine life in water ranging in depth of a few feet to up to five feet. Somewhere secret is a place of blue sky, blue water, and little blue tiki umbrellas in blue margarita glasses dappled with salt and condensation. This sales pitch might be true, but the true beauty of this place is in the stillness, in a calmness that resonates through the entire island to the soul.