The face is in itself quite a delicate part of the body, any damage or harm is instantly visible to one and all. Lips are probably one of the most vulnerable part of the body among others. The lack of the sweat producing gland or sebaceous gland as it is known, makes the lips more prone to dryness and chapping. The lips are essential to your overall look and appeal and has many functions too, therefore it comes as no surprise when people are flustered about saving their lips from chapping.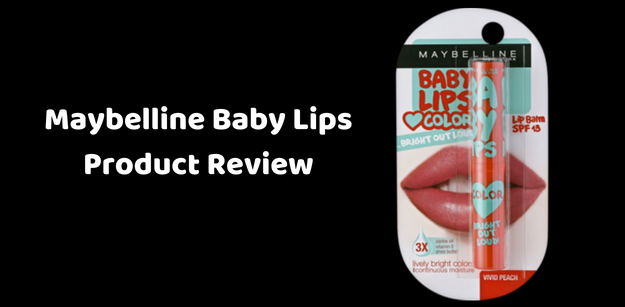 The one solution to curing the dry lips is a great lip balm. Among the numerous lip balms competing for customer attention in the market, Maybelline Baby Lips is one such lip balm range. They are easily available in stores but the online stores are a saviour for all the lazy people not wanting to step out for a lip balm stick.
Baby Lips has been pitched by Maybelline as 'not just care, but repair'. The product with their hydration restoring formula claims to keep the lips moisturised for up to eight hours. The product contains SPF 20 for protection from the sun rays.
Packaging
The Maybelline Baby Lips' packaging can be described with a lot of adjectives but cute is what describes it the best. The colour of the cases vary with the flavour or colour of the lip balm itself. The plastic light weight cases are in a wide range of pop colours. The sticks are retractable and run smoothly in and out of the case. It is easy to carry and what is more coordinating the outer case with the shade of the balm inside is a great packaging idea, saving the daily hassle of opening the caps of each lip balm to check for the shade you want.
Shades
The Maybelline Baby Lips range is nothing but huge. There is a large variety for the smell and shade, leaving the customer spoilt for choice. Here are some of the shades.
Berry Blast – this lip balm is a shade of red but with pink undertones. It smells like berries and is light and buttery in texture. More popular than its counterparts, this shade is ideal for anybody not wanting to struggle with the perfect shade for every different outfit they have.
Antioxidant Berry – another berry scented balm but this one is colourless. It has a buttery texture and is heavier than the other tinted balms. It lasts longer than the other balms of this range. This is the go to, no frill option for anybody who wants a chapstick just to fight the chapped skin.
Berry Crush – Just the colour for somebody looking for having some fun with dark colours, this shade of maroon red, berry scented balm is buttery and light in the texture and lasts for three to four hours.
Candy Wow Raspberry – From the Candy Wow Collection, this raspberry pink shade with a mild fruity fragrance is one lip balm that will let you cherish your childhood love for candy into your adulthood. This vibrant shade and glossy finish spell fun like no other.
Orange – This bright bold orange tint belongs to the Candy Wow Collection. The choice to make for anybody wanting to create statements with their lip colour.
Fierce N Tangy – This yellow tinted lip balm belongs to the Electro Pop Range, and eccentric range offering exciting neon shades allowing to showcase the wild side in you to the world. It has a sweet smell and is light and buttery on the lips.
Cherry Pink – As the name says, this is a cherry pink shade of a fruity smelling lip balm. This shade is more of an everyday shade of pink, suited mostly for lighter lips.
Coral Flush – This bold sorbet orange shade is a great way to let your lips do the talking, quite literally. It has a subtly pleasant citric smell and is buttery but light on the lips. This shade has a tendency to make you feel lit, wear it on a summery day out or to add colour to your otherwise monochrome office wear.
Minty Sheer – This wild lip balm is from the Electro Pop Range is a shade of sheer with a dash of gold. With a refreshingly different and mint like flavour to it, this lip balm is slightly heavier than other baby lips lip balms. Wear it proudly when you want your personality to be seen far and wide.
Neon Rose – This mildly floral smelling lip balm is a shade of a sweet dusty pastel pink. This balm has a buttery and light texture and gives a dreamy finish to your lips.
Peach Kiss – This is for all of them people who just cannot get enough of the Nude makeup finish. A nude shade with a sweet smell, makes for a decent choice if you just want to cover pigmented lips or just keep a no colour look.
Pink Lolita – There are a hundred shades of pink, a shade for everybody and Maybelline seems to want to provide something for everyone. Pink Lolita is one more lip balm with a pink tint. It is mildly fragrant, buttery and light in the texture. It is a sweet shade of pastel pink for anybody opting for a soft look.
Rose Addict – One more shade of pink, but a milder tint than the others, it works for women with light lips. A not floral yet sweet smell that does not linger for long makes for a good option for anybody who is not a fan of sweet fragrances.
Pink Punch – A bright pink shade, strawberry flavoured lip balm is Maybelline's offering to the customers who like basics. One swap will last three to four hours and the buttery and light texture will give you the protection and the popping shade of pink without any fuss.
Soothing Cherry – For all the pink lovers, Maybelline brings yet another shade of pink, with a mild fragrance of cherries. The shade is so mild it is as good as having no colour. This can also double as a gloss to be used under a matte lipstick to avoid the dryness.
Tangerine Pop – A light and subtle shade of orange for people looking for hint of colour only and do not want to go for the bright Coral Flush. This coral tinted lip balm has a sweet fragrance that does not last long, the balm on the other hand will last for some three to four hours.
Watermelon Smooth – Yet another colourless lip balm but with a mild fruity fragrance. It has a buttery light texture and works effectively on dry lips by remaining for three to four hours.
Texture
The Maybelline Baby Lips Range is made of candelilla wax and has a buttery texture mostly. While some of the lip balms are slightly heavier on the lips most of them are light and are great for everyday wear. The texture of the Maybelline Baby Lips range is what has made them a favourite amongst the crowd, they work well and keep away the dryness of the lips, making them soft.
The customer reviews seem to be split in their opinion about the texture of these lip balms though. It looks like they have not worked for everybody. While most of the users loved the product and sweared by the texture there are a few complaints about making the lips drier actually. Like every product, this too could not cater to all types of skin and lip textures to be more precise.
Longevity
The lip balms of the Baby Lips range last for a good three to four hours at the most. There a few exceptions though, which last for a longer time period than the others.
Price
Starting from Rs.125 and going all the way up to Rs.190, this 4 gram, product is priced within a reasonable and affordable range. While you will have to pay the market price of the product if you buy it from retail stores, you could opt for the cheaper option by shopping online. Shopping websites or our online supermarkets like amazon, nykaa, all have some fantastic offers on beauty products. It is a win win situation for you. Shop your beauty products online from the comfort of your bed and get a discount on it, what more can you want.
Pros of Maybelline Baby Lips
The Maybelline Baby Lips range of lip balms are all value for money. Reasonable pricing and effective results.
Packaged in cute light weight plastic containers they are easy to use and carry around in your bag.
Leaving a few particular shades, the lip balms are all light on the lips. The few heavy ones are lighter when compared to similar products in other brands.
Cons of Maybelline Baby Lips
The lip balms lack the UVA protection, something that is required in today's day and age.
The product is not animal cruelty free. It is tested on animals. All the animal lovers out there, you need to be careful with what you buy.
The product uses honey in its ingredients. Therefore not recommended for Vegans.
Final outcome
Maybelline has managed to attract the customers to their lip balm range by acing the packaging, shades, and pricing of their product range. They have a large offering reaching out to a wide range off people with something for almost everybody – from the colourless and nude shades for people wanting to keep it real, to the subtle hues of pink for the ones who like it simple, right up to popping colours for people wanting to have fun with their looks. It has received a mixed response, with some customers complaining about the hydration formula and other customers swearing by the same formula. We leave it to you to try it before coming to any conclusions.