In this digital world, we all know that how important a logo is for a business. Having a good logo helps promote public recognition and deliver your brand value. Thanks to a lot of great online logo design services, making a custom logo on your own is not too difficult nowadays. Here, I will introduce an excellent web-based logo maker- DesignEvo, which can help you make professional looking logos with a minimum effort.
What is DesignEvo?
DesignEvo is an online logo maker that is designed to ease the complex logo design process and help non-designers make effective and market engaging logo in a simple and fast way. It comes with an intuitive interface and drag-and-drop editor, so as long as you know how to use a computer, you can use DesignEvo logo maker with total ease. I'll show you how to make a stunning logo in minutes.
First, Start with a Logo Template
You don't have to worry if you have zero design background and experience. With DesignEvo, create a logo is a breeze. It comes pre-loaded with 4,000+ professionally designed ready-to-use logo templates (the number is still increasing) to help you get your design project off the ground.
There are various templates categories, such as Business, Lifestyle, Technology, Art, Education, Animal, Environment, Fashion, Real Estate and much more. All the templates are fully customizable, so all you need to do is specify the type of logo you want to create and select a suitable template based on your own needs. Next, you can tailor the template contents to make the logo unique and meet your brand profile.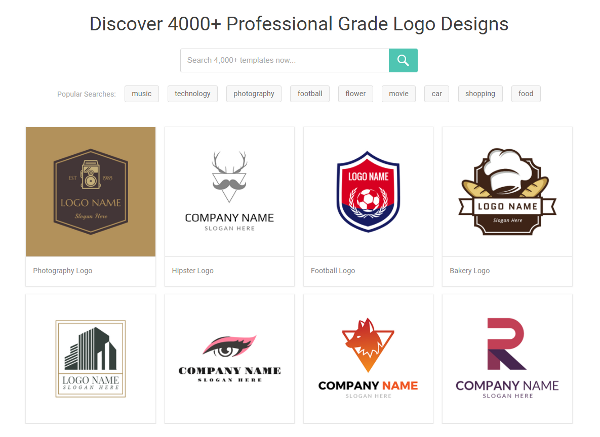 If you already have something in mind, you can also start from scratch. DesignEvo has an inbuilt graphics search library, offering millions of high resolution logo icons. Hit some keywords in the search bar, the smart engine will give you plenty of icon options instantly. Just choose a preferred icon to start your logo design.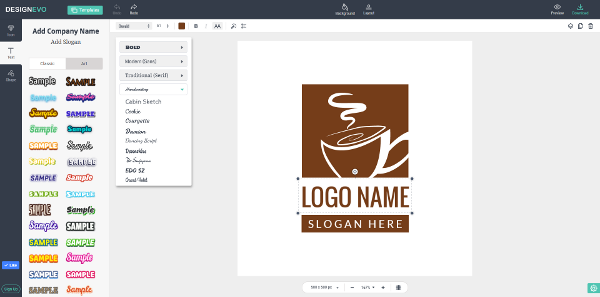 Next, Enhance Your Logo Design with Shapes and Fonts
DesignEvo provides you with a large collection of icons to further enhance your logo. There are millions of qualified icons for you to choose from. Simply put some keywords in the search bar, DesignEvo will retrieve all the related icons for you instantly. Icons are in vector formats, which never lose quality when zooming in or zooming out.
Apart from this, you can play around with over a hundred stylish text fonts. There are two types of fonts – classic and arts. Each one has a bunch of different fonts within it. You have the ability to curve texts, add fonts outline and shadow, adjust letter spacing, etc.
Finally, Preview and Save Your Logo
When your logo is mostly complete, you can use preview mode to see how your logo looks like on some commonly used marketing materials, such as T-shirt, business card, website, book cover, etc. It helps you easily figure out where you need to make adjustments and improvements.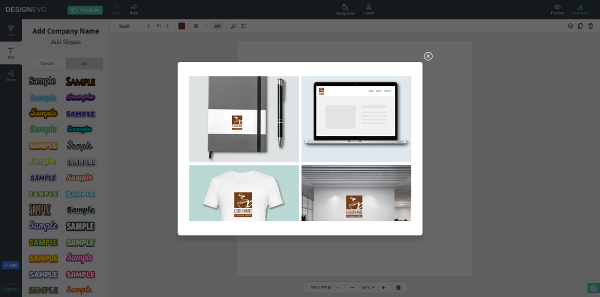 If you're satisfied with your logo, then click download button to save it on your computer. DesignEvo supports four types of logo formats- JPG, PNG, PDF and SVG. Meanwhile, you can also save your logo as a project in the cloud which enables you to continue working with it whenever you want.
Final Words
DesignEvo is a good tool for those who need a logo design but don't have much design skill and experience.  With it, you can easily turn your ideas into a cool visual form. That's it, I hope you found my article useful, if so please share it or leave your messages below.