Google has finally come up with a two smartphones. It seems to be the biggest market competition between Apple's iPhone 7 and Google's Pixel. The competition between the two is strong as both the Apple iPhone 7 and Google's Pixel have their own different and unique qualities. Even we have heard the rumours about Pixel being the best Android based phone ever and offers best class features across the board. Let's talk about Apple iPhone 7, the behemoth iPhone 7 Plus is one of the best iPhone of the year as it is waterproof and has a snappy processor, incredible camera and has no headphone jack available.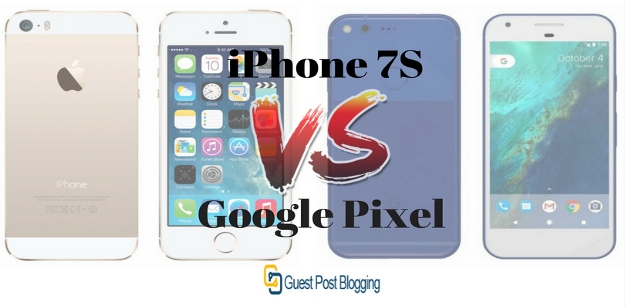 These two smartphones are truly at the top at their levels, let us put them together and compare the two:
Google Pixel versus Apple iPhone 7: Design
Both the smartphones have premium designs with fingerprint sensors. iPhone 7 is smaller, slimmer, lighter and waterproof where as Pixel comes up with headphone jack and USB Type-C.
Apple iPhone 7 and The Google Pixel are totally different by looks with both offering stunning, premium, well-built designs. The Pixel is a combination of aluminum and glass, with a fingerprint sensor on the rear, while the iPhone 7 is completely aluminum and has a fingerprint sensor within the Home button. iPhone 7 comes with water and dust resistant to IP67, while the Pixel is only IP53.
The headphone jack of iPhone 7 can be removed for the Lightning and stereo speakers, while the Pixel has down-firing speakers both the sides of the USB Type-C port. The Pixel measures 143.8 x 69.5 x 8.6mm and weighs 143g, while the iPhone 7 measures 138.3 x 67.1 x 7.1mm with a weight of 138g. Google's phone is in Very Silver, Quite Black and Really Blue in color where as, iPhone comes in Gold, Silver, Black, Rose Gold colors.
Google Pixel versus Apple iPhone 7: Display
Pixel comes up with larger, crisper display where as, iPhone 7 has 3D Touch for more functionality.
Where as iPhone 7 uses LCD and Pixel uses AMOLED.
The Google Pixel come up with a 5-inch display with a 1920 x 1080 pixel resolution for a pixel density of 441ppi and is protected with Corning Gorilla Glass 4.It delivers rich and vibrant colors with the sharp and bright screen.
The Apple iPhone 7 has a 4.7-inch LCD with a 1334 x 750 resolution and a pixel density of 326ppi. Where as, the Apple iPhone 7 has 3D Touch, which is Apple's version of a pressure sensitive display.
[AdSense-B]
Google Pixel versus Apple iPhone 7: Camera
Both iPhone 7 and Pixel have 12MP rear sensors, Pixel has higher resolution front camera, but iPhone comes with a wider aperture.
iPhone 7 comes up with optical image stabilization.
The Google Pixel has a 12.3-megapixel camera offering an aperture of f/2.0 and 1.55µm pixels.
The Apple iPhone 7 has a 12-megapixel camera with a slightly wider aperture of f/1.8. It has optical image stabilization and phase detection autofocus, as well as a quad-LED flash.
Pixel has an 8-megapixel f/2.4 sensor with 1.4µm pixels Front camera, where as, the iPhone 7 has 7-megapixel f/2.2 sensor including Retina Flash.
Google Pixel versus Apple iPhone 7: Hardware
Pixel has more RAM support as compared to Apple iPhone 7.
Both are available in 32GB and 128GB models, but iPhone is also available in 256GB
Pixel comes with bigger battery capacity
The Pixel comes with 32GB and 128GB storage, and the iPhone 7 comes with 32GB, 128GB and 256GB options.
Regarding battery, the Pixel has a 2770mAh capacity, while the iPhone 7 has 1960mAh.
Google Pixel versus Apple iPhone 7: Software
Pixel runs on vanilla Android where as iPhone 7 runs on iOS along with personal assistants.
The Google Pixel runs on Android 7.1 Nougat, and it features Google Assistant built-in and can be accessed by long pressing of the home button.
The Apple iPhone 7 runs on iOS 10, which brings with it all the latest features.
Google Pixel versus Apple iPhone 7: Price
Both the smartphones have an equal amount starting at £599.
Both the Google Pixel and Apple iPhone 7 start at £599 for the same 32GB model.
Google Pixel versus Apple iPhone 7: Conclusion
These two competitors have various features, and both are giving competition to each other along with the price. Both the smartphones are giving competition to each other in some or the other way like Pixel wins the iPhone regarding display size and resolution, RAM, battery capacity and front-facing camera resolution where as, the iPhone wins the Pixel regarding physical size, waterproofing, display functionality and storage.
Finally, the decision between these two will come down to which design you prefer and which suits you better. Both the smartphones have excellent features and outstanding qualities thus, are ready to give you surprises with its supper features.