Although it may seem like an initially expensive investment for businesses, truck insurance provides many benefits for the trucking industry as a whole. For instance, the latest Bureau of Labor Statistics report claimed that there were 843 trucker deaths in 2019, making trucking one of the most dangerous industries in the United States.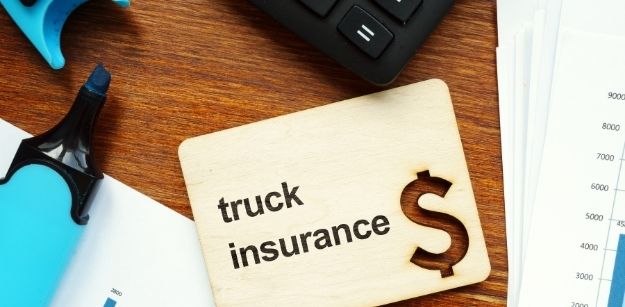 This number increased by 1.4% compared to the previous year, making road safety the top priority for truckers. Because accidents, injuries, and fatalities are an inevitable part of the job, commercial truck insurance can help protect trucking businesses and their employees both legally and financially in the event of a worst-case scenario.
The Benefits of Truck Insurance
For companies that are transporting goods for other businesses, there's the risk of getting into accidents that damage your trucks, cause injury to employees, and harm other people and property.
These accidents can be incredibly costly, so having insurance coverage can help shoulder some of the financial burdens in relation to medical bills and lawsuits.
It is a legal requirement
Depending on the state you operate in, there is a minimum amount of truck insurance required by the government. To avoid legal issues, it's best to look up the specific laws that apply to your state and make sure that every vehicle in your fleet is insured.
It can cover physical damage to a fleet
Physical damage coverage can provide protection if a truck collides with another object or vehicle on the road. Drunk driving, vehicle rollovers, and rear-end collisions can lead to fatal accidents, especially when large vehicles are involved.
There's also the possibility of physical truck damage caused by vandalism, fire, or theft, which can happen at a parking lot or other location.
It can protect high-value truck cargo loads
Some companies carry high-value loads in their trucks that might be stolen or damaged. Investing in cargo insurance means that they can be covered in the event that loads come undone, items are stolen, and more
Instead of covering this cost out of pocket, business owners can file an insurance claim and make back their losses.
It can provide non-trucking liability
Not all accidents happen on the clock. If a trucker is coming back home after they have delivered their cargo or decides to run personal errands, they might get into an accident. Investing in a comprehensive insurance plan including bobtail insurance and non-trucking liability insurance can help cover this.
It can boost the trust of customers
For companies that haul goods on behalf of other companies like retailers and food producers, having insurance protects their goods. This makes potential clients much more confident when it comes to trusting trucking companies with insurance compared to those that don't have any.
It can provide flexible options
No matter how big or small the trucking company, there are plenty of insurance options available on the market that can cater to their needs. Depending on the size of the fleet, insurance premiums can be more affordable and even offer bulk discounts for bundled coverage options.
It can prolong the lifespan of a business
For commercial trucking companies that aren't insured, legal issues, expensive repair bills, and more can impact revenue and compromise what was one a promising future. Ideally, commercial truck insurance should be purchased to protect their cargo, customers, and employees.
The Most Common Types of Truck Insurance
While there are many types of truck insurance available from a range of insurance companies, a comprehensive insurance plan should cover all the bases for a trucking company and provide adequate protection for every situation.
The most basic types of truck insurance include:
General Liability Insurance
This policy is required by law and can be purchased as a standalone policy or be bundled with other key coverages with a business owner's policy (BOP). It protects a business from lawsuits resulting from damages caused by its day-to-day operations including damage to rental spaces.
Primary Auto Liability Truck Insurance
Primary auto liability truck insurance is also required by law. While it varies among states, it covers property damage and bodily injury caused by a truck driver to another person. It doesn't protect the company's own truck or driver.
Motor Truck Cargo Insurance
This type of coverage is typically used by for-hire trucking services. It covers any damage and destruction to cargo that a truck is carrying in the event of a fire, crash, theft, or other incidents. More expensive cargo will typically require higher premiums.
Bobtail Insurance
For drivers who are operating a commercial vehicle without a trailer under another person's trucking authority, bobtail insurance covers any damage done when a driver is doing errands or driving home after unloading their cargo.
Physical Damage Insurance
In the event that a truck driver gets into an accident caused due to theft, fire, vandalism, collisions, natural disasters, and other factors, physical damage insurance can cover the cost of repairs for the vehicle itself.
Truck Driver Safety Trips to Minimize Risk
In addition to investing in insurance, companies should try to minimize the risk to their drivers by providing comprehensive safety training and guidance for both new and old truck drivers.
This can also help lower the cost of insurance premiums by giving drivers a more reputable driving record, which is something that most insurance companies will require before providing a quote for their services.
Be aware of blind spots
Basic road safety involves being aware of blind spots when operating tractor trailers and other large vehicles. Many accidents can occur when a truck driver is changing lanes, and rear-view and side mirrors may not always be effective in this case. Ask drivers to leave plenty of room as they merge and look out their windows as they switch lanes.
Try the three-second rule
To avoid front and rear collisions, drivers should allow a full three seconds for the car in front of them to reach a certain point before they reach the same point. Factoring in this pause can lead to better reaction times, especially during heavy rain or winds. While 3-5 seconds is more effective during these times, a 10-second follow time for icy roads is ideal.
Prepare for emergencies
During long drives, drivers can quickly become fatigued and weather conditions can quickly change. Drivers should pack their trucks with a first aid kid, blankets, water, and snacks that can help them get through this time. Pulling off the side of the road and waiting or taking a break is much better than driving when tired.
Stay calm no matter what
It may be easier said than done, but truck drivers who can stay calm during tough situations are less likely to get into accidents. Road rage behaviors like tailgating or merging rapidly between lanes is highly dangerous, so practicing methods of de-escalation including taking deep breaths and trying meditation is highly recommended.
Take it slow and always signal
For drivers on an empty road, it can be tempting to change lanes without signalling. However, this can increase the likelihood of collisions and it is against the law. In addition, drivers should always default to slowing down when they have poor visibility. This can help decrease the impact and severity of an accident.
Invest in preventative maintenance
Often, older vehicles might require more expensive insurance premiums especially if they have a long history of repair. Keeping trucks in top shape can lower the costs of buying truck insurance. This includes checking oil and brake pads regularly so that both a company's vehicles and their drivers remain safe on their journeys.
Consider buying dash cams
Dual-facing dash cams can help identify when truck drivers are distracted and looking down at their smartphones. Companies that invest in these can help supervise their fleets more efficiently and coach drivers on how to avoid distracted driving. This camera data can also come in handy during insurance claims to determine which party is at fault.
Purchase GPS tracking devices
In addition to dash cam systems, a GPS tracker installed in a truck can provide business owners with the real-time location of their drivers. This comes in handy during emergency situations when a truck needs to be repaired. In addition, gadgets like these can also help lower insurance premiums for certain insurance companies.
Additional Services for Truck Companies
Investing in truck insurance can help drivers by promoting their safety while helping business owners have greater peace of mind. To add to the benefits of comprehensive trucking insurance coverage, many policies offer additional perks that can save time, money, and effort for all parties involved. This includes services such as:
Tire replacement assistance
Roadside assistance
Towing services
Mobile mechanic services
Jump start services
Fuel delivery services
Locksmith services
Navigation assistance
Concierge service to locate lodging, restaurants, and rest stops
Conclusion
While there are many challenges that companies face today, purchasing trucking insurance can help lessen the financial effects of accidents both on and off the road. Instead of looking at the initial cost of an insurance plan, businesses should consider the long-term pay off of having a policy that can preserve the longevity of their investment.
What are your thoughts on the benefits of trucking insurance? If you have any tips or suggestions to offer for business in the trucking industry, feel free to leave a comment below.