When it comes to iPhone everything is quite different and so you need to be more precautious when it comes to its security. iPhone security is not just about the physical loss like theft, but electronic too. Whatever we carry in our phone is personal. No matter what, we do not want to disclose our photos, videos, messages or any document to anyone else.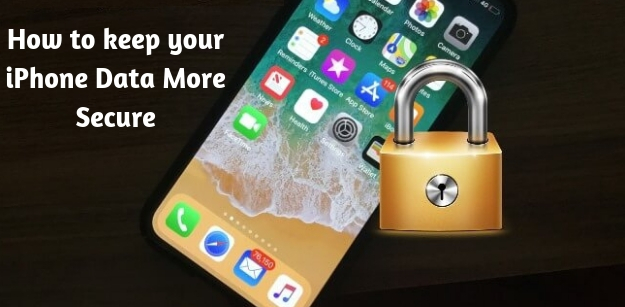 One thing we all should be careful about is physical theft and damage. Theft is the major concern here, so you must make sure your iPhone is safe and with you always.
Keep checking the availability of your phone time to time, specially at new places.
Do not use earphones, earbuds or iPods in crowded area. You should be aware of the things going around.
The most important is keep your phone with you always.
In case your phone is lost and is in hands of someone else, you are in big trouble. Let us look at some tips to keep our data more secure and safe.
Strong Passcode
If you are not using passcode in your iPhone, just do it now. And make sure you use alphanumeric strong passcode. This is the inbuilt feature in iPhone which everybody should utilize. iPhone has many options like face I'd, touch I'd, two steps verification, etc. to add an additional shield to your security. Remember the stronger your passcode is, the more secure will be your data.
Disable Automatic sync to cloud
Syncing to iCloud, stores all your data including photos, videos, messages, notes, etc. to the apple cloud server. Deleting your data from your iPhone doesn't delete it from apple servers. If your phone is lost or is in someone else's hands they can easily access your data. It sis recommended to not sync all your devices on regular basis. This will reduce the risk of compromising with your data.
Disable Automatic Wi-Fi connectivity
Smartphones these days offers a very good feature of automatic Wi-Fi connectivity to known networks. This feature seems to be good as it saves time and you do not always need to switch network. Now think of the scenario when your phone is stolen and in in the range of known network. It will automatically connect to network and they will have access to notifications or may be Siri if lock screen option is turned on.
In another scenario it is very easy for a hacker to create fake trusted network and get access to your phone. Disabling this feature will just add one step to connect to the network but also reduce the risk of connecting to fake networks.
Sharing iCloud or app store password
This is the very known thing that you should not share your password with anyone however I have seen people sharing their passwords with friends or known juts to avoid entering password again and again. I would suggest to not share password in any case. Type in the password wherever required. There rea two benefits of this. One, that your password is with you only and two, you will always know the application for which you entered password.
If someone has access to your Appstore, they have access to almost everything in your iPhone even your location. Gadgets are really smart these days and so the hackers.
Find my iPhone
Always keep this feature enabled. I repeat Always!!!
If you lost your iPhone somewhere, this feature is the only option with which you can get it back. This is the iCloud feature which tracks your location with built in GPS system. Even if you do not pay attention to any other security measure, this is must. With this feature you can locate your device and if aren't successful, you can erase all the data of your iPhone. So, either you will get your device back or else you will protect your data from being misused by someone else.
To turn the feature on, navigate to settings>>iCloud>> "Find my phone" and turn it on.
Also check : track phone
There are many more things you can do and explore in your iPhone to protect your data. I would recommend to pay attention to these tricks as the first and foremost thing to protect your data.
Get the latest technology updates from news bucket.