Online marketing can chew up a lot of resources. You've got to be sure you aren't wasting your time. Let's assume that you've taken some preliminary steps. You've got your content game on point You have a marketing plan in place. Now, what's next?
If you spread yourself too thin, you could be wasting your time. Why spend your time reaching out to an audience that is largely uninterested?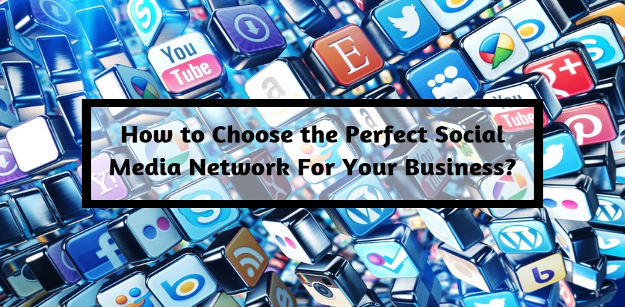 While it may be a good idea to establish some presence on multiple social media platforms, you might be better off focusing the majority of your efforts on just one or two. This strategic move could really pay off in the long run. To do this, you will need to identify the perfect social media network for your business. Here are some excellent guidelines for doing that.
Create a Set of Social Media Goals
Before you choose, it's imperative that you define what you are trying to accomplish. Why are you using social media? What kind of information do you plan to share? How frequently will you post? Who will you reach out to on various social media channels? What kind of engagement are you seeking?
You might consider creating a mission statement of sorts with a list of goals and tasks. It might look something like this.
We plan to use social media as a place to develop thought leadership, familiarize customers with our brand and products, and develop relationships with customers and influencers. We will do this by:
Posting informative and educational content that is geared towards our target audience
Sharing announcements and other information about our products, special offers, and company news
Curating informative or entertaining content that fits our branding
Encouraging customer engagement
Using social media as a secondary customer support channel
Partnering with influencers and complementary brands
Once you identify what you want to accomplish, certain social media platforms may emerge as being better choices than others. You will also be able to cross off some options that simply cannot give you what you want.
Research The Various Platforms
Every social media platform is a bit different. They target different demographics. They also present different challenges and opportunities depending on what you are trying to accomplish. Many also have their own branding. Many people see Pinterest as being creative and crafty, while Reddit is often seen as being edgier and a bit irreverent.
Build a Clear Target Persona
Once you know which platforms can help you accomplish your goal, it's time to dial in your target persona. The best social media network doesn't simply meet your needs. It meets your customers' needs.
If you can identify the age range, personality type, interests, and other details of your target audience, you can begin to identify the social media networks that interest them.
Imagine that you sell computer security products to businesses. Your target customer is the head of information technology or other decision maker. They are highly educated, and they use social media to learn about products and services that interest them, and to keep up with industry developments. They value reputation and trustworthiness.
In this case, LinkedIn might be a great choice. You can set up a detailed company profile there. Then, you can contribute well-researched articles to boost your authority.
Know What You Have to Offer on Social Media
How can you put your best foot forward in terms of content and engagement? The answer to that question can really influence the way it proceeds. You might consider which content creation tools you have on hand, how frequently you can post, and the what the format of your posts will be.
For example, will you have ample time each day to find trending news, identify how it impacts your target audience, then share your thoughts and participate in conversations about that? Maybe you plan on publishing five or six blog posts each month. They will be detailed and have lots of tips and interesting data. You aren't really prepared to produce videos or any heavily visual content.
Here, you might forego pinterest or tumblr in favor of an active Facebook page and a blog. You could promote your blog posts on Facebook, and use the channel to engage in discussions with your customers about your posts. Then, you could fill in the blanks with curated content as well as branded content. Later, you can expand your content offerings to include Facebook live and other content.
Analyze Your Competitors
You can't compete on social media without understanding your competition. Do some research to discover where your competitors are most active on social media, what content they are sharing, and how they are interacting with their audience. Most importantly, where are they succeeding and where are they failing.
In the end, you really have two choices. You can jump into the same social media platforms as your competitors. Then, you have to provide your target audience with something even better in order to gain your share of the action.
You might also choose another platform entirely. In some cases, establishing a presence somewhere else can help you to stand up, and offer something truly unique.
Look at The Tools And Paid Options Available to You
Social media platforms aren't just places to share posts and respond to comments. Many platforms are actively seeking to attract quality brands. A lot of them offer sponsored posts and analytics, just to name a few things. Then there is the abundance of tools. These include messengers and the ability to sell products directly from the platform.
Many brands eventually use social media as a paid advertising platform. If you are considering this, it's a good idea to find out what is available to you on each network. You'll want to think about support, campaign creation and management, tracking, and other features.
Final Thoughts: Be Prepared to Pivot
A few years ago, businesses didn't pay much attention to Snapchat. The platform was largely seen as a messaging tool for teens and young adults. It was difficult to imagine any real use for commercial purpose. Now, businesses are embracing Snapchat.
When it comes to social media platforms, things can change quickly. Whatever you choose as your flagship platform, keep paying attention to the others. You never know when one might become very useful to your brand.