Growing and nurturing your customer base requires a great deal of effort. Even if you operate a small or middle size company, you need to focus on developing customer relationships.
As customers spend more time during the pandemic, they are making more online purchases than ever before. Tracking interactions is crucial for staying ahead of the pack.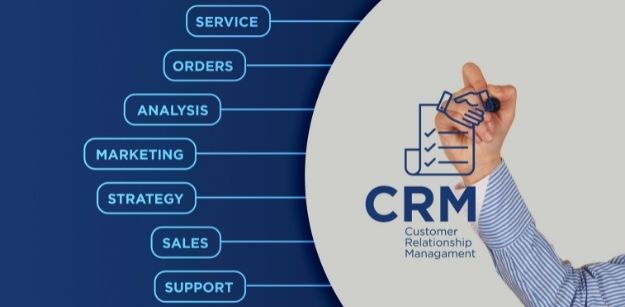 You need to find ways to measure and record each customer experience for supporting the customer journey. This is where CRM software comes in handy. However, it can be difficult to find the right CRM software for your business.
To help you make the most of your time, this post takes a close look at the top options. Read on to learn more about our recommendations.
What Is CRM Software?
Before we take a close look at the best CRM software in 2021, it is important to know what CRM software is. In the simplest of words, it is an organizational sales tool that is widely used in multiple industries for storing, contacting, managing, and analyzing customer interactions.
With the CRM tool, you can organize the sales process and track progress. Keep everything securely stored in one place with the tool. It also provides plenty of features for better management.
Who Should Use CRM Software?
Generally, every business should use CRM software. Some of the examples are mentioned below:
Retail Outlets
Hotels
Insurance Companies
Contractors
Sales-Based Businesses
Marketing Firms
Real Estate Agents
Best CRM Software of 2021
1. Agile
One of the best CRM software that you need to try in 2021 is Agile. It offers automation capabilities and a variety of features. It is easily the best system for all types of businesses.
The best thing about the tool is that it is competitively priced. It is a great option for both sales and marketing.
Agile allows you to store details of more than 10,000 contacts. It even supports tracking of emails, custom lead milestones, and lead scoring. As for marketing teams, they can use its builder tools for website landing pages and email templates.
The tool lets you monitor social media and automate marketing tasks. The services provided by Agile cover everything that you could need. Besides, there are also plugins that you can use to extend its capabilities.
2. Zoho
Another CRM tool that you should consider using is Zoho. It is a name that requires no introduction. Chances are that you might have heard of its collaborative apps or accounting tools. A great thing about the software is that it does not require self-hosting.
Zoho is a multi-channel online CRM tool that aggregates customer data from various sources such as social media, calls, live chat, and email. Take advantage of its real-time analytics to gain valuable insights into your customers.
Users can assign targets for each team member and use the central dashboard to monitor their progress. You can automate the sales process with its features and even create distinctive portals for clients. Zoho offers a library that you can use to develop custom integrations and solutions.
Moreover, Zoho Marketplace provides you with access to hundreds of extensions that you can add to your dashboard for boosting functionality.
3. Streak
If you are looking for CRM software for beginners, you should check out Streak. It is easy to use and does not have any complicated modules. Streak CRM is a great exception that you will find to be extremely useful.
The reason why it is easy to use is that it is created on an application that everyone already uses. That app is Gmail. When you use Streak, you get to transform your Gmail account into a CRM tool. To get started, you only need to download the extension.
As Streak is based on Gmail, you can use it for accessing other Google apps as well. It works perfectly with personal and school accounts. Besides, you can browse through multiple templates to find one that suits your taste.
When you use Streak, you get to share everything and ensure easy collaboration. Set up task reminders, support queues, and manage deals. You can even use features such as shared pipelines, tracking, mail merge, and API access for greater capability.
4. HubSpot
As the business grows, you need to make sure that you use a tool that is fully capable of handling the load. A suitable tool is HubSpot marketing. It is designed to provide support to companies every step of the way. You can use it to manage an influx of customers.
The visual dashboard is perfect for checking the sales funnel of your company. It lets you manage appointments, set quotes, track performance, and more. All the customer interactions are automatically synced by the software to provide you with maximum capability.
The CRM tool also provides a timeline view that lets you follow up with every interaction.
Furthermore, you can send personalized emails, receive actionable insights, optimize landing pages, measure SEO-based ROI, and more. HubSpot also works seamlessly with many other services.
5. Pipe Drive
If you require a sales-oriented CRM system, Pipe Drive is the only name that you need to consider. The fact is that not every company employs an entire team that handles customer interactions. Power your sales department with this amazing tool.
The CRM software requires minimal input and produces maximum output. Manage your complex sales processes with the tool. Every deal is categorized by the sales stage. You can benefit from the statistics tool for a personalized analysis of sales.
Email integration offered by Pipe Drive is unlike any other. Its customized templates, tracking, and powerful open API allows users to better manage their businesses. You can even import existing data to the software for deeper insights.
6. The Real Estate CRM
Finally, keeping the best real estate CRM for last, The Real Estate CRM is the ultimate customer relationship management solution that you need to grow your business and maintain relationships. It offers low-cost support to real estate agencies.
The tool offers reports builder, workflow automation, real-time analytics, third API integration, lead management, and customization capabilities. The hubspot marketing solution is just what your real estate agency needs for marketing funnel automation and more.
When you start using the tool, you will be able to get more out of marketing campaigns. Leverage data to drive higher profits and make long-lasting relationships. With thousands of active businesses using the services, you will find The Real Estate CRM to be a full package.
The platform integrates everything, from social media to marketing to messaging to ensure that you can benefit from improved customer management.
Conclusion
Once you have finished reading this post, you will know about the top CRM software of 2021. Each of the tools, from Agile to Real Estate CRM has something unique to offer. It is up to you to decide which solution to use.
At the end of the day, it all comes down to your requirements. Therefore, you should focus on your needs to find the best solution. It will ensure that you make the right decision.