Amsterdam, as the biggest and the most popular city in the Netherlands, has a lot to offer. From famous museums, through busy streets full of shops and restaurants, to nightlife and coffee-shops. It can be even a bit overwhelming to be there, because there is so much to do, to see and to experience that in the end you don't know what to choose. So if you wonder what to do while you visit the capital of the Netherlands, here are some ideas to help you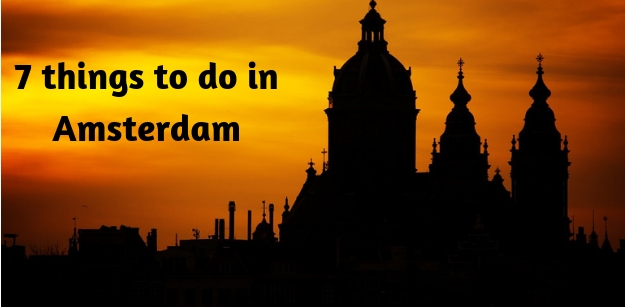 1. Take a walk through the city center
Whether you got there by plane or by train, you will probably start your visit at the Amsterdam Central Station. This is where the city "begins" and spreads in all directions. Follow the street of Damrak to get to the main square ("De Dam") and see the Royal Palace and The National Monument. On your way you will already see the buzzing center of Amsterdam, feel the atmosphere and enjoy typical Dutch views of canals or houses standing by the water. If you don't feel like walking, you can also rent a bike – the most popular mode of transportation for the Dutch people.
2. Eat a stroopwafel…
… or another traditional Dutch snack. Warm stroopwafels (syrup-waffles) are definitely something to try, while you are in the Netherlands, as well as poffertjes (small pancakes) or oliebollen (Dutch version of donuts). If you are looking for some savory specialties, there is plenty to choose from – Dutch cheese, raw herring, fries with mayonnaise… the list could go on. Dutch cuisine may not be world-famous, but for sure it is worth trying.
3. Visit Anne Frank House
Amsterdam is a place full of history – difficult history in many cases. During the World War II, many people suffered here under the nazi occupation. There are a lot of places in Amsterdam that commemorate the events of the war. One of them is Anne Frank House – a museum build in an actual house of a Jewish girl that was hiding from the occupiers during the war and described her live in the famous diary. If you want to learn something more about what was happening in Amsterdam during the World War II, this is definitely the place to see.
4. Go to Museumplein
If you love art and are willing to see world's most famous masterpieces, Amsterdam won't let you down. You can see "The Night Watch" of Rembrandt in Rijksmuseum, Van Gogh's self-portrait (and many other paintings of him) in Van Gogh Museum or enjoy modern art in the Stedelijk Museum. All in walking distance. If you don't feel like going inside any museum, you can also make a selfie with the famous "I AMsterdam" sign with a beautiful view of the Museumplein. And if you are a high culture enthusiast make sure to visit Het Concergebouw (The Amsterdam Philharmonic Hall) and listen to one of the concerts of the Royal Concertgebouw Orchestra, one of the best symphony orchestras in Europe.
5. See the Red Light District
Yes, Amsterdam has its darker side (or more naughty side in any case). But if are up for an adventure and want to experience the nightlife, you should visit De Wallen (also known as The Red Light District) yourself. There are many things to see, from peep shows in the windows, to wide choice of pubs, shops, museum and coffee-shops where you can smoke a joint or buy edibles. Just remember to keep it safe there!
6. Take an adorable photo at a canal
Another way of visiting Amsterdam is not to care about all those famous and must-see places and to just enjoy the atmosphere. If you walk away from the main streets, you will immediately enter lovely little areas with canals, bridges and bikes parked everywhere. Make sure to take an adorable photo at one of the canals. You can also see Amsterdam from the canals, by taking a cruise around the center.
7. Visit the Vondelpark
Amsterdam is not only the buzzing center, the canals and the naughty district, it also offers some nature. You can find an example of it in the Vondelpark – the biggest park in the city. Just walk around and look at the sculptures or sit on the grass and enjoy the nature. Sometimes you can listen to free open-air concerts there. It's a relieving escape from the busy and noisy center of Amsterdam.
If you are in the capital of the Netherlands, don't try to visit everything there is to see. Take time to enjoy the places you are in, make it a better experience and try not to rush to another attraction. If you are there just for few days, you won't be able to see everything it offers anyway. But that's good, that is just another reason to visit it again!