Creating customized business card templates give a business advantage of being able to add their brand information, logo, and graphics to their cards. It takes planning and thoughts to design a business card that is quality enough to leave a lasting impression on both present and future customers. Business owners can save time and move their creative process along by basing their templates on a business card template. You can also use features in Word to create customized business card templates. Microsoft Word has features and tools that someone who doesn't have an excellent design tool and wants to make business card templates in a hurry can use to design templates and print them on their cards. You can use existing design models to simplify the process and still maintain a customized feel. Alternatively, business owners can use unique tools in Microsoft Words to create business cards from scratch. However, consider using the table tool if you are creating your business cards templates from scratch to make sure the card is in the right size.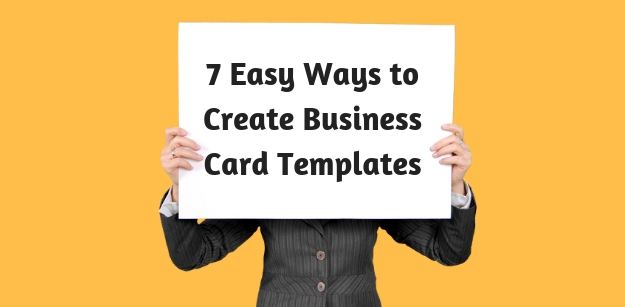 Every client out there is looking for an editable business card template. However, that can be difficult bearing in mind that only a few people have software to edit their business cards. Most clients are only interested in editing the contact information and name on their business cards, but not the design itself. Creating business card templates in Photoshop and Adobe Illustrator is one way to create editable business card templates. Business cards with editable text fields allow a client to edit their templates in Adobe Reader. Though it may be necessary to include the fully editable and original file to the design, adding a PDF to your business card design can make things a lot easier for cardholders. These are seven quick steps for creating editable business card templates using either Adobe Reader or Microsoft Word.
Design Your Business Card in InDesign, Photoshop, or Illustrator
You can use Adobe Illustrator to create the design of your business card templates. However, take time to select a font that clients are willing to purchase or have to make it easier for them to modify it. Remember to convert your design to a template and hide any text layers. Then add those editable text files to either Microsoft Word or Adobe Acrobat reader.
Add Text Fields to Adobe Acrobat Reader after Opening the File
Next is to open the text files that you have created in Adobe Acrobat Pro. Then click current documents to add text fields for the contact information and name to the business card. Click the text field and drag the cursor to create text fields in the desired shape and size. Instead of creating one big area for the contact information and name, consider creating one text field for each text line. However, place the relevant information to the card to ease and quicken the process.
Edit Properties of Your Text Field
The best way to edit the fonts and sizes in the text fields is to double-click on each text box and edit the text in the Text Field Properties windows. Use different fonts for each text box, but make it large enough for cardholders to read it. Apart from the 'Name' text field, set the same font size for the other text fields. However, remember to check the 'Locked' box for each text field to prevent any alteration to the text.
Save Your Text as an Editable Template
Next, use Adobe reader to save the business card templates as editable PDF. With that, clients will be able to edit the contact information and name in the text fields.
Test the Templates and Forward them to the Client
After opening the PDF in either Microsoft Word or Adobe Reader, try to edit the contact information and name in the text fields. Most clients will have Adobe Reader on their mobile devices or computers, but if not, it can be downloaded for free. After the client edits the name or contact information in the text fields, save it. Saving the PDF template will allow clients to come back to it any time and edit the text according to their needs.
Proofread the Card
Take time to proofread the business card before adding any information to each text box. Proofreading will help spot any typos or errors before proceeding to print the business cards. You might have to edit everything on the card if you copy it before proofreading it. Select the entire text box only after you are satisfied with everything in it. After correcting the card, find a quality printing sheet to print the card templates on. However, make sure that your printer can print the fabric or paper you want to use as a business card. After that, send the file to the printer to have the business cards printed professionally. Avoid using scissors for cutting the paper, and instead, use precision to maintain a straight line. Professional paper cutting tools will help you design even and uniformly measured business cards.
Printing
Though not all printers accept PDF files, most of them can print a simple two-page file for a business card template. Line up the designs of the business cards in a grid and then cut the paper roll into separate cards after printing on both sides. However, note that Join Print Australia may charge a set-up fee for designing a business card. Therefore, anyone who wants to be extra cautious with their business cards should take time to set up their business card templates to make it a two-page PDF sheet. Include a trim area and make sure that the back and front pages of the PDF file line up. Your business card should convey a sense of what your brand stands for and provide useful information about it as well as its role. Though the space on a business card can be limited, use the card surface wisely to include more than just the address and name on it.