Which is that one world where you can enter easily but exit is not an option? No, this is not a scene from Black Mirror, we are talking about the marketing world. Once you witness the journey of one viral advertisement, you are bound to get hooked on to it. And instead of stumbling upon crazy marketing campaigns by chance, you will start digging up the dirt yourself. Yes, it is that addictive!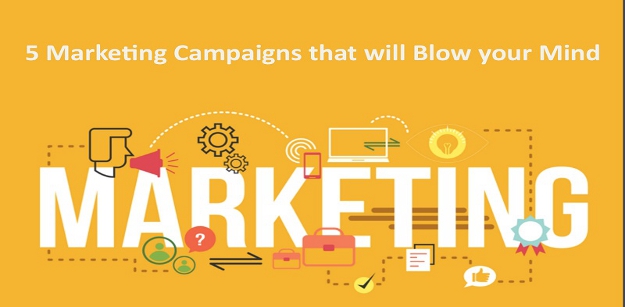 Time and again many brands have implemented a campaign in order to gain more traction. But only a few have left a lasting effect in people's minds, in turn leading to a loyal fan following. This article talks about 5 marketing campaigns that will not only blow your mind away but also motivate you to come up with crazy ideas yourself.
Kelloggs (#GreatStarts)-
Kelloggs started a campaign to mark the 100 days countdown before the start of Olympics in Rio, Brazil. Launched as #GreatStarts, the campaign recreated iconic Hollywood wake-up scenes every day. It also encouraged people to share their own #GreatStarts to a healthy morning and a chance to win a trip to Rio to see the games. The reason for this campaign's success was the inclusion of celebrities and daily amazing prize giveaways on several social media platforms.
Coca Cola (#ShareACoke)-
Coca Cola's marketing campaign directly connects with the audience because they always keep the emotional and personalization aspect above anything else. #ShareACoke was a campaign that gave people something to connect with each other by bringing out the range of name labeled bottled water. Seeing one's own name splashed across a brand like Coca Cola not only increased the overall sales but also made the audience feel connected to each other in a world of anonymous users and digital imprints all around. Every individual felt important and sharing the hashtag #ShareACoke further made it a huge success. This campaign made its way around the world reaching many countries. Such was its impact on the people!
ALS Association (#IceBucketChallenge)-
This 2014 challenge, in particular, was a special one because of the intention attached to it. The idea was to spread awareness about the ALS or Lou Gehrig's disease and raise money for the association as well. Both the objectives were achieved through the Ice Bucket Challenge. Many celebrities came forward on their social media handles and drenched themselves in the cold water. This campaign was fun and engaging but the underlying message about the ALS disease also didn't lose its meaning. And that is why it reached people all over the world, along with raising enough money for the charity.
Ryu (#WhatsInYourBag)-
Ryu, a clothing retailer started the hashtag #WhatsInYourBag to create curiosity around their variety of products. People were asked to use the hashtag and display on their social media channels what all they had in their bags and a chance to win exciting prizes. They also promoted their campaign and giveaway announcement on Instagram stories. And so if you were one of their target audiences, you would see their contests on your stories. And if you felt like it, you could participate in the contest as well. This is one of the major reasons why Ryu's #WhatsInYourBag challenge caught on, targeting both the loyal and potential users.
Heineken (#OpenYourWorld)-
For the past few years we as a society have become more open to discussing sensitive topics like depression, sexual misconduct at work places etc. Heineken took this exact approach and made their campaign all about people wherein the beer was only used as a tool. People from all walks of life would have a beer and discuss about their differences using the hashtag #OpenYourWorld. The reason why this campaign worked was that instead of selling the product they focussed on people's emotions and their values. This stirred a series of discussions on topics that were generally hushed upon.
It is not an unknown fact that all brands aim to connect with the audience on a personal level because that is the longest and strongest association that any brand can have with their customers. But the question is which idea will strike the chord with audience for it to make an ever-lasting effect on people's minds. That's where digital and youth marketing agencies enter. They specialize in bringing out the strengths of your brand out in the world and reach the exact audience you need. There are several digital and youth marketing companies in India that you can rely on to make a viral marketing campaign for your brand. And with the marketing industry ruling the world, agencies are almost as essential as breathing in today's times.