Pressure washing is a great solution for cleaning off stubborn dirt and stains from MOST surfaces but not all. Pressure washing applies to only a few surfaces, and that too with proper care and safety measures.
Power washing wrong surfaces can cause much damage in your house. Hence, if you have bought a new pressure washer and plan to clean your house with it, hold on for a while.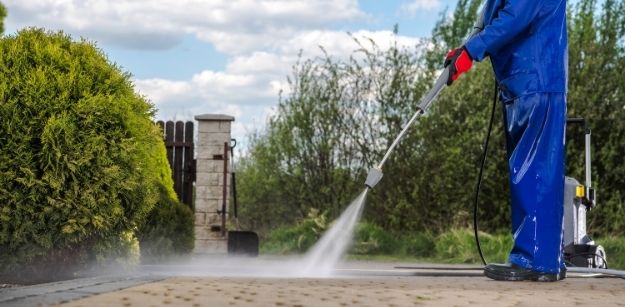 Read this guide until the end, find out which surfaces can be really cleaned using a pressure washer, and then start the work.
Walls and Sidings of the House
Dirty walls and siding not only make your house look clumsy but also poses health risks to the members. Are you wondering how? The growth of mildew, algae, and cobwebs on walls has often been related to skin and respiratory diseases. Hence, cleaning them at least once a year is mandatory.
For cleaning walls and sidings, you can easily use a pressure washer. Sidings made of vinyl, fiber cement, metal, and wood cupboard can be easily cleaned with a pressure washer.
However, make sure you use a low-pressure nozzle while cleaning both the walls and the sidings. High pressure can result in peeling off the paint and damage the siding.
Besides that, make sure that you are not pressure washing walls made of 60 years or older bricks. Such brick houses cannot sustain any pressure capacity and can be cleaned only by soft professional cleaners.
Decks and Patios in the Garden
Decks and patios are usually made in the shady areas of the garden so that you can enjoy your summer tea without getting burned in the scorching heat of the sun. Even though making patios and decks in shady portions are fine, you need to care for them to maintain their quality for a longer time.
If you keep your decks and patios dirty for years, the algae and mildew accumulation will become filthy enough to scare off your guests. Who would want that? Thus, use your pressure washer to clean them once or twice a year!
Gutters and Soffits
I always say that pressure washing your roof is a bad idea because it can cause heavy damage to the shingles. But that does not mean you cannot pressure wash the soffits and gutters of your house. Even though cleaning them with pressure washer will require your utmost attention and care, the work becomes easy when you use a soft pressure washer. Low pressure causes no harm to the gutters and helps them function perfectly while getting cleaned of all the mess.
A soft pressure washer is also compatible with cleaning most roofs. On the contrary, if you use a high-pressure nozzle for roofs, the attic can easily get wrecked and damaged permanently, allowing water to leak from the roof.
Therefore, it is best not to take any risks and use low pressure while cleaning soffits, gutters, and roofs!
Windows
I know you think that windows are fragile and cannot be cleaned with a pressure washer. To some extent, it is true, but not when you clean using a soft pressure washer. You can also clean the windows with a low power hose, but it will take a lot of time and is not recommended until you are a beginner.
But make sure you do not use high pressure while cleaning the windows because the glass panes might break and cause a lot of havoc.
Concrete Driveways
One of the most common uses of a pressure washer is cleaning a concrete driveway. Some driveways can also bear high pressure, and there is no risk associated with it. But it depends on the concrete material used for making the driveway. Hence, I would recommend using medium pressure so that you can clean effectively without risking the concrete.
Things Not to Pressure Wash
Now that you know what all you can pressure wash, you must also know the things you should avoid pressure washing. Firstly, never pressure wash asphalt shingles because they cannot sustain a pressure of any kind and will become loose instantly. Next, avoid power washing a surface painted with lead paint or made of old mortar. A few more surfaces to avoid pressure washing is wooden outdoor furniture and of course, living beings.
Final Words
I hope now you have a clear idea about what you can or cannot clean with a pressure washer. Knowing this will help you experiment with the cleaning machine more carefully and not damage any surface in your house.
If you are using a pressure washer for the first time, then take your time learning how to use the machine. You can also contact a professional cleaner and see how they clean surfaces. Observing their cleaning skills will help you improve yours, and soon you can manage the work all alone.
So which surfaces are you planning to power wash? Do share with me!