Understanding the aspects of law can be quite difficult for those who have not attended law school. In fact, some people might only know the basic titles of those involved in law such as judges, lawyers, and paralegals. Law has many different work-positions for people, which makes it hard to keep up with, especially if you are seeking legal help. With these differing positions and titles, it can also make it hard to find the right lawyer for you, as there are many different lawyers for different issues. To provide some clarity, let's break down each type of lawyer and learn about how they can meet your legal needs.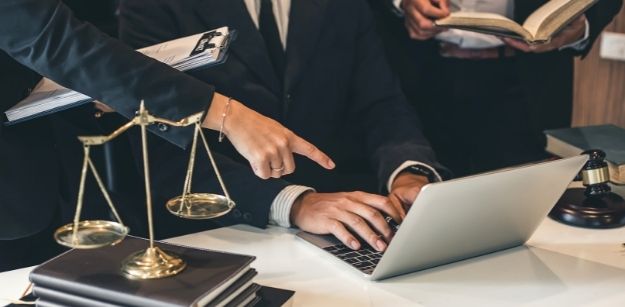 General Practice Lawyer
A general practice lawyer is, as the title suggests, someone who practices non-complex legal matters. They are able to handle a wide variety of legal matters such as divorce, bankruptcy, leases, and other non-criminal matters. This type of lawyer, for comparison's sake, is similar to a general practitioner, as they are able to handle basic issues.
Personal Injury Lawyer
This type of lawyer is meant to represent clients who have injuries due to another party. An example of this is someone who was involved in a car wreck that was not their fault. A personal injury lawyer is meant to protect your rights and help you get some sort of compensation for your personal injuries. One type of personal injury lawyer is a car accident lawyer.
The injuries in question also do not have to be physical. Personal injury lawyers also protect clients who are victims of slander and defamation, as well as those who have insurers that won't pay for medical bills when these was supposed to be covered by their insurance policies.
Toxic Tort Lawyer
A toxic tort lawyer is someone who represents clients that were exposed to hazardous chemicals or hazardous environments. When representing an injured plaintiff or a defendant, this lawyer's job is to handle litigations and settlements between the two parties. This lawyer can also be classified as a personal injury lawyer when representing a plaintiff who has suffered injuries, as they gather and analyze medical records and cases that are related to the toxin in question.
Estate Planning Lawyer
This lawyer is responsible for preparing the wills of the client they are representing. Estate planning lawyers also set up trusts for a client that will likely include the client's children as the beneficiaries. These lawyers can also help clients with life insurance plans, retirement plans, charity contributions, and litigations if the estate is subject to probate court disputes.
Bankruptcy Lawyer
Bankruptcy lawyers are meant to help clients learn if they are eligible for bankruptcy, and/or provide legal alternatives to bankruptcy. The latter can be done through court proceedings to see if any debt can be eliminated legally. These lawyers represent individual debtors, debtors on the corporate level, creditors, and bankruptcy trustees.
Intellectual Property Lawyer (IP)
This lawyer advises clients on issues related to inventions, tangible and intangible ideas, and other intellectual properties. This mostly has to do with copyright, trademarks, and patents.
Employment Lawyer
Employment lawyers represent clients who have legal issues stemming from employment contracts, or employment agreements. These cases can be about sexual harassment, workplace safety, discrimination, employee benefits, worker's compensation, wages/salaries, privacy rights, and termination of employment.
Corporate/Business Lawyer
This lawyer provides business owners with guidance on formation of a corporation, corporate governance, and compliance issues. These lawyers serve as officers for corporations, but they are not the owners. Corporate/business lawyers have different areas of specialty, as there are many aspects to businesses such as trademarks, real estate, and much more. These lawyers can also be classified as business litigation or business transactional lawyers, again depending on their specialization.
Mergers and Acquisitions Lawyer (M&A)
This type of lawyer is responsible for providing counsel for the buying and selling of companies. These lawyers specialize in laws that are required for creating contracts.
Property/Real Estate Lawyer
These lawyers are meant to provide counsel for real estate transactions. These lawyers often attend property sale closings with the buyer.
Public Interest Lawyer
This lawyer performs legal services at reduced rates or pro bono for clients relevant to international organizations, educational institutions, and nonprofit organizations. These lawyers can also assist as a public defender for criminal law clients that are unable to afford legal representation.
Immigration Lawyer
Immigrations lawyers specialize in immigration cases. These cases can be about gaining citizenship, green-card filing, employment immigration visas, deportation, political asylum or refugee status, or foreign companies that are establishing business registration.
Criminal Lawyer
These lawyers specialize in criminal law and can be a prosecutor, public defense lawyer, or a private defense lawyer. Criminal lawyers will represent their clients from arrests, to bail, to arraignment, and to pleas and trial if necessary.
Medical Malpractice Lawyer
Medical malpractice lawyers represent doctors or clients in cases where medical malpractice is present. This can be medical misdiagnosis, medical mistakes, and inappropriate touching or treatment.
Legal Malpractice/Professional Responsibility Lawyer
These lawyers are involved in cases where legal malpractice is present. This involves attorney litigation, where these lawyers come in and gather all the necessary information to finalize the litigated matter.
Tax Lawyer
These lawyers specialize in federal, state, and local tax laws and they can provide representation for those involved in tax-related cases. These lawyers can also provide counsel for those with tax-related issues/questions.
Family and Divorce Lawyer
Family and divorce lawyers guide clients on situations where child custody or child support is present. These lawyers can also help divorcing spouses with asset and debt divisions.
Workers Compensation Lawyer
Workers compensation lawyers represent clients with workers compensation law claims, while also helping them receive the estimated amount of compensation, however that manifests in the specific case. They are a category of personal injury lawyer.
Contract Lawyer
This lawyer helps clients structure their contracts, and they can help represent clients where contractual violations have occurred.
Social Security Disability Lawyer
This lawyer specializes in social security disability cases where the client is filing for eligibility, or they are looking to appeal denial of benefits.
Civil Litigation Lawyer
Civil litigation lawyers specialize in corporate litigation, commercial litigation, or environmental litigation. These lawyers represent either plaintiff or defendant clients who are involved in a court case.
Civil Rights Lawyer
Civil rights lawyers represent clients that have had their civil rights violated by the state or other similar authority. Civil rights violations can be portrayed as discrimination or harassment due to age, race, gender, physical or mental disabilities, place of origin, religion, sexual orientation, gender identity, as well as the freedom of thought, expression, religion, speech, and movements. Civil rights should not be confused with human rights, as they are not the same in the court of law.
Criminal Defence Lawyer
These lawyers represent defendants in criminal law proceedings, through the process of court hearings and investigations, even if the defendant is considered property of the state.
Traffic or DUI-DWI Lawyer
This type of lawyer represents clients who have been arrested and received DUIs or DWIs, within the realm of misdemeanor or felony criminal cases.
Environmental Lawyer
Environmental lawyers specialize in guidance with environmental regulation, compliance, and the legal protection of natural resources.
Government Lawyer
These lawyers work in the different branches of the government, and serve as public law lawyers that also specialize in other areas of law and act as counsel to those areas in government cases if necessary.
Military Lawyer
Military lawyers are specifically employed by the branches of the military to represent military personnel in civil and criminal cases. These lawyers specialize in law that surrounds only the military.
Finance and Securities Lawyer
These lawyers provide representation for those with issues related to banking, treasury, investment firms, or companies selling stock. Finance and securities lawyers can represent corporate or individual clients.
Digital Media and Internet Lawyer
These lawyers specialize in technology and the internet, while representing those involved in copyright laws, piracy, website terms and conditions, internet privacy, and protection of children from online predators.
Entertainment Lawyer
Entertainment lawyers represent clients that are involved in entertainment contract litigations. These lawyers provide help with drafting and reviewing management contracts, trademark licensing agreements, and other contract issues related to royalties.
Find a Lawyer That Suits Your Needs Best!
There are so many lawyers that specialize in many different fields, making the search seemingly easy. No matter what your issue is, there is a lawyer out there that can provide counsel or representation if necessary. Reach out to your local law firms to find more information about the lawyer you need! Stay safe and good luck!