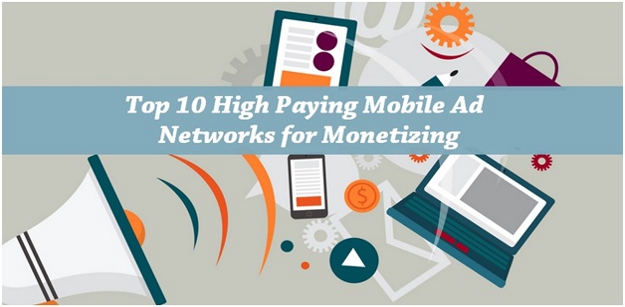 The internet platform has provided companies with a finest alternate to promote their products and services largely and effectively. The number of internet users through mobile devices has actually been surpassed the PC users in the last few years. Many big ad tech tycoons have responded this change by introducing a wide range of mobile-specific ad networks. In this regard, spotting a trustworthy network could be a challenging job for you. Here we have tried to highlight top 10 high paying mobile ad networks that are perfect for monetizing your mobile marketing campaigns in an effective way.
Here is the list of top 10 high paying mobile ad networks for monetizing:
1. Airpush
Airpush has a rich and widely recommended portfolio of Mobile Ad Network serving a wide number of clients across the Android segment. This largest Mobile Ad Network will surely surprise advertisers and developers with their great performance. With an extensive list of advertisers in its credit, Airpush is one of the most in-demand and highest paying mobile ad networks. The network offers you to have rich media advertisements, which generate high eCPM. The creative and fast ad technology makes sure that you will be served with the effective advertisement in the best notification tray.
2. Unity Ads
Unity Technologies launched the Unity Ads Mobile Ad Platform in 2014. It has now evolved as one of the widely recognized ad monetization solutions for mobile games. The platform as of today has served a plenty of leading mobile game companies to monetize their games using video ads. Many game advertisers and developers are taking its advantage in order to reward their online marketing efforts.
Some vital aspects of Unity Ads:
Support Various Mobile Platforms: Android, iOS
Support Ad Formats: Banner, Video, Interstitial
Campaign Types: CPI, CPM
Targeting: operating system, country, device, connection
Key Markets: United States & Global

3. Google Admob Ads
Google Admob Ads is undoubtedly the largest Mobile Ad Network in the world. With countless options available for mobile advertising, Google offers plenty of choices to its advertisers. Anyone can install its SDK by just following a few simple steps and gets an advantage of displaying the relevant ads in his/her application. With a highly flexible ad mediation system, Google Admob Ads also provides you with a versatile monitoring dashboard facility through which you can easily track the mobile traffic.
4. StartApp
StartApp is one of widely used Mobile Ad Networks providing businesses with an easy-to-follow platform to implement and enjoy the interstitial advertising. The mutual mobile app user data sharing principle is used in building up this mobile ad platform, which is primarily designed to construct the comprehensive user's profile.
5. BuzzCity
BuzzCity is a well-known and most competent Mobile Ad Network. Primarily used by many leading owners and agencies to promote their products and services, it includes a wider base of global mobile advertising network. There are various features associated with its usage, including an excellent integration system and a great fill rate.
6. InMobi
InMobi is a big name in the Mobile Advertising segment. This popular mobile ad network is basically known for providing CPC and eCPM mobile ads. Equipped with an advanced ad delivery system, the network effectively serves the most relevant ads as per the context of the mobile web page. Many big brand owners consider it as one of the highest CPM ads provider. The sophisticated analytics dashboard of the network allows you to monitor ads performance with much ease. With offering an extensive array of mobile ad formats, this platform gives you an access to a rich media ad library.
7. Epom Apps
Epom Apps is of the easy-to-use and most in-demand mobile monetization platforms designed especially for Android as well as iOS developers who are seeking for the effective ways to produce quality revenue from their applications. When you are with Epom, there is no need to bother about managing the monetization since it does it all by itself. All the developers need to do is integrate the SDK and the rest is taken care of by Epom.
8. Phunware
Earlier known as Tapit, Phunware has these days become one of the best mobile ad network providers. Whether you a publisher, advertiser, or an app developer – all your needs will be served in the best possible way under the guidance of their unmatched market knowledge and technical expertise. Built with years of expertise and experience, the self-serve marketplace of Phunware is also ready to benefit businesses tremendously.
9. MobFox
MobFox has set itself as a leading and result-oriented mobile ad platform to publishers, app developers and advertisers. With a proper implementation of MobFox, you are allowed to monetize mobile traffic on different mediums, including iPhone, Android and Windows Phone 7. The world wide-scale opens its doors for you when you use MobFox to run mobile ad campaign.
10. Tapjoy
Tapjoy has been serving the needs of various mobile app publishers since 2007. Known as a mobile user acquisition and app Monetization Company, this excellent Mobile ad network as of today has helped numerous publishers to increase their revenue.
Some Vital Aspects of Tapjoy include:
It Supports Various Mobile Platforms: Mobile Web, iOS, Android
Major Supported Ad Formats: Rewards, Offerwall, Interstitial, Content Lock
Campaign Types: CPI, CPM, CPD, CPC
Targeting: Custom
Key Markets: South Africa, UK, Japan, United States, Europe, Kenya, India
Conclusion:
Control panels and analytics are some of the standard features of a mobile ad network, however it's always good for you to compare the differences between the two since you will observe that one platform offers something better than the others. Google Admob Ads will prove to be the best choice for you if you are seeking for the highest revenues.
If you are searching for other methods of earning from home except above mobile monetizing programs, then these methods are best for you to generate income. Try them and send us feedback.