The recent pandemic ravaged all nations, battered economic growth and reversed years of development gains. There was distress when supply chains got affected, and nations started looking for diversification as a possible deterrent against future devastations.
Today, there is ambiguity about how lethal Omicron would be given a higher infection rate than the Delta variant, i.e., basic reproductive ratio.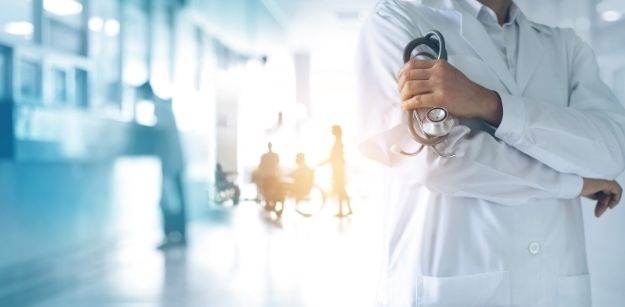 But one thing united the efforts of people worldwide as they fought off the virus, invisible to the naked eye. It was medical help to regions far away when they were overwhelmed by surging covid cases. India stood at the front of such efforts, and nations reciprocated their gratitude by helping our country prevent the oxygen crisis during the second wave.
What is healthcare?
Hospitals, clinics, vaccine development, medical-grade medicine and equipment development, insurance, health tourism, etc., all come under the aegis of the healthcare sector of a country responsible for timely and affordable treatment, diagnosis, and prognosis of citizens under the supervision of certified doctors and nurses. Ethical imperative like equality while medical care that is treating patient irrespective of his sex, age, caste, religion, belief, ideology and faith reflects how refined that society is.
It can either be privatized or government-funded (public healthcare system). The latter is more prevalent given the routine and seasonal needs of the citizenry. The private healthcare system in India is more concentrated in urban areas and less available in rural India and vice versa for Public healthcare. The government generally aims to provide primary medical care to all, whereas private hospitals, due to intense competition, focus on upgrading their infrastructure by revenue accrued from profits.
Statistics of the healthcare sector for India
Healthcare is a critical aspect of any nation. Government funding is a must for its sustenance. India spends 1.26% of its GDP on healthcare, and the target was set for 2.5% expenditure in coming years, a decision widely influenced by the recent spate of patients during both waves. The healthcare market is set to reach 135 billion USD by the end of 2022.
This year saw a 13% increase in sales of health insurance companies. According to Indian Tourism Statistics at a Glance report, almost a quarter to 1 million ( ≈697,300) tourists came for medical treatment, which is quite reasonable given cost-effective treatment in our country. To put it in perspective, a routine surgery costs one-tenth of Western countries. Generic medicines are in great demand outside our country.
Drug and Pharmaceutical exports contribute to a good chunk of exports and subsequent foreign direct investment (FDI), 18.2 billion USD as of 2021.
During stark times, India's emergence as a vaccine provider epitomized us as the "vaccine hub of the world". India has inoculated more than one and half billion vaccines administered to a large chunk of the eligible population. India has exported and gifted its homemade Bharat biotech's Covaxin and manufactured in India Oxford AstraZeneca vaccines to scores of nations as part of its Vaccine Maitri. Commercial vaccine exports too are in place right now which costs way less than its western counterpart thus sparing poor and middle income countries the pain of extra budgetary allocation.
The trajectory of the India Healthcare system in the near future
Being the second most populous nation brings with it a lot of opportunities as well as underlying problems. The talented young pool of medical professionals will augment advancement in terms of research and development (RnD) in the medical field. The change in lifestyle post-COVID will surely benefit in improving overall national health. On the other hand, the increasing population will burden the already stressed resources. The burgeoning youth population ought to be streamlined to prepare a pool of next generation contributors not just in health care but all fields. The policies of the government should make indication and its willingness clear regarding the matter of refining working populace in self sufficient human capital.
Various government initiatives like Ayushman Bharat are providing cost-effective solutions. The government made a proper fusion of modern technology and identification processes to help needy people avail medical services provided for them. Various production linked incentive (PLI) schemes can be started to reduce dependency on other nations for Active Pharmaceutical Ingredients (API), primarily imported from China and other medical grade equipment. Our country has a comparative advantage in drug manufacturing. Various private companies are invested in pharmacy and vaccine manufacture like Bharat Biotech, Serum Institute of India (SII), Zydus Cadilla Government. They should work in tandem with various world bodies like UNICEF, IMF, World Bank etc., for investments and best practices in medical care.
Support is important
Various national companies have joined the bandwagon and are helping boost the country's healthcare infrastructure. Some provide direct medical assistance, whereas others offer other related support.
Uniform Manufacturers has been providing healthcare uniforms to frontline medical professionals serving in hospitals, clinics, primary healthcare (PHC), mohalla clinics etc. and uniforms for related staff like housekeeping.
There is provision for comfortable and 100% secure personal protection equipment (PPE) kits to ensure the safety of doctors all over the nation to the best of their capabilities. It boosts the morale of frontline workers as knowledge of safety enhances work quality and augments the overall fight against the pandemic.
The option for buying healthcare uniforms online ensures the safety of consumers while following distance protocols in hotspot areas. The cotton employed in manufacturing top notch uniforms is grown and supplied from the fields of Maharashtra.
Moreover, the firm remains committed to fulfilling its moral obligation by doing its bit in time of need. Safety of wearers is prime and comfort and fashion is given due attention while optimizing uniforms as per clients' needs.