Nowadays, a major part of our fashion inspiration comes from influencers and celebrities on Social media.
The hashtags such as #streetstyle and #ootd have taken the fashion world by storm as naive followers blindly replicate those flamboyant looks.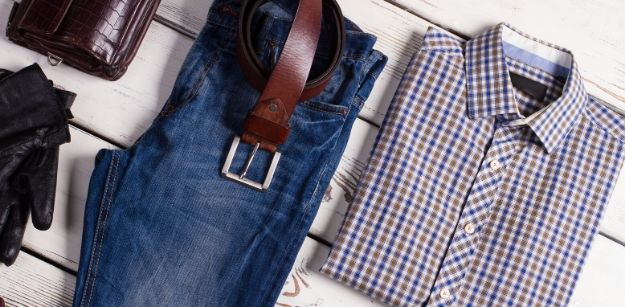 They surely don't have any significant knowledge about standard fashion rules and buy from high-end brands without putting much thought into whether this clothing would look good on them or not.
According to Mintel, the UK's men's clothing market is expected to grow 11% in the next three years. This shows the emerging trend of spending money on high street fashion.
Why would you want to get inspired by a certain movie star wearing a bright orange suit with peacocks printed all over? (no, I am not exaggerating!) I mean, you are not getting paid a hefty amount of money like him to don the outfit, period!
Do not forget that our real-life scenario is different from the high profile celebrities who have a whole team to style them up for pretentious looks. On the other hand, we have to dress up in a no-nonsense way either for work, meetings, formal occasions, or casual time, not for a ramp or a photoshoot.
In the words of Jane Austen, one man's style should not necessarily be the rule for others!
At times, there ARE some graceful looks on Social media that we love. But, what I mean to say is that you need to have some basic fashion knowledge rather than being a blind follower. In fact, you wouldn't even be able to differentiate between a well-dressed or a horribly dressed person unless you know what's yay!
If you wish that people take you seriously (for a date or a job interview, for instance), you must follow some fundamentals of dressing up nicely!
Keep in mind these nine commandments when it comes to male fashion sense.
1. Prefer to mix, not match
Every stylish man knows how colors that complement each other can nail the sophisticated look even if you stay minimal. Instead of wearing the same colored top, bottom and shoes, try to mix a light or neutral hue with dark colors.
For instance, navy blue pants look very elegant with a grey sweater, or grey pants look careful with brown shoes. The sky is the limit for contrasts, but try to play safe by avoiding bright shades. There are so many ways to look great even in a simple t-shirt, so learn the art of color and contrast clothing.
2. Invest in classics to get the versatility
Fashion comes and goes, so why not opt for the classics? You can wear them so many times with so many clothing essentials if you buy excellent quality!
According to Euromonitor, The global menswear market was worth $408bn in 2015, rising to $457bn by 2020. This shows how men prefer quality clothing over time. They tend to buy the best they can afford.
There is a slight disadvantage to contemporary fashion. As less as half a decade later, it will be made fun of no matter how classy it looks nowadays. You can see how bell bottom pants for men from the '60s are ridiculed now. However, it was a rage back in those days.
Instead, buying staples that never go out of fashion not only makes you look very classy, they can also be highly versatile. V-neck sweaters, white t-shirts, dark jeans, denim or black jacket, a navy blue suit, crisp collared shirts, black pants, and brown shoes are a few clothing items that ooze style and grace.
The famous quote by Vivienne Westwood, "buy less, choose well" should be your mantra if you want to pull off the dapper look.
3. Wear your special clothes more often
your suit looks like a costume if you only wear it once in a blue moon. What you want instead is to blend that sharp dressing sense with your personality. You never know when you are going to run into that someone special!
Don't keep clothing that you invested a lot of money into, secure in the corner of your wardrobe to wear only on special occasions. You will do it only a few times, and then it will go out of fashion, or you will forget about it.
4. Button rules
In simple words, keep the middle button of the suit jacket closed, and never leave more than two buttons open on your shirt.
5. Understand the fittings
not just formal, but casual clothing should also be well-fitting. Ditch the shapeless clothing as it makes you look unkempt and nonchalant.
Make sure your dress shirts are plaited so that your body shape can be enhanced. This goes especially for men who work out and have a fit physique, as loose clothes are going to hide their hard work. Wearing tailored clothes accentuates your body like no other garment can.
As for your suit, it should be too big, neither too small. One way to check the correct size is that the suit jacket sleeves should neither fully cover your shirt cuff, nor should it reveal it more. A general rule of thumb is a two-inch show at max. Your trousers should also reach your ankles when you are standing.
Baggy pants that are not worn where they are supposed to look so disgraceful. Always pull up your pants!
6. Focus on inner comfort
being comfortable from the inside helps ooze style from the outside. To pull off the fashionable look, intimate support acts as a foundation. Ensure your undergarments collection has the most comfortable mens underwear with pouch and some comfortable boxer briefs. Ideally, they should be in moisture-wicking material to provide you comfort and support.
7. Wear a belt
Without a belt, your outfits look like something is missing. The strap holds not only your pants but also a visual break to separate your tops from the bottoms. Get high quality, decent looking belt. Avoid buying a belt whose buckle metal is too flashy as it kills the gentleman's look.
8. The appropriate shoes
If you have a single pair of shoes that you wear with every casual, formal, or athletic clothes, you are making a big mistake. I would suggest you buy either loafers or derby shoes only for work or formal wear. Your sandals and moccasins are appropriate for casual meetups and going out.
For daily wear, get a pair of comfortable sneakers, but never go for crocs as they look extremely weird.
9. Accessories; a vital style element
it is easy to ignore what accessories you wear, and I see many men do it even on high profile fashion shows. Too much metal, too tacky bands, or no accessories at all are some fashion mistakes that you can avoid. Just the right accessories can make the whole look very classy, and give you a charm.
Therefore you need to have a decent watch or two, a pair of high-quality sunglasses, or bracelets(if you wear any). I would suggest you buy a dress watch and a sports watch, aviator shades, and a few more subtle accessories for men for mixing and matching them with various outfits.
Some common blunders in men's fashion
Broad pine stripes; not everyone's cup of tea, and falls outside the men's style spectrum
Vivid plaid suits; yet again, challenging to nail even for some top-notch celebrities, better stay away from them.
Ankle socks; either wear socks long enough to cover the exposed part of legs when you sit down or ditch them for a summery, casual look.
Unmatched shoes and belt; worst style blunder ever.
Wrinkled clothes; no need to explain why! Kills the impression once and for all.
A bulging wallet in your pocket; Nah! It won't make you look rich but definitely unstylish.
White socks on formal clothing; better leave them for athletic wear.
Summing up the style advice
The world-famous designer, Alexander Mcqueen, once said that fashion should be a form of escapism and not imprisonment.
Once you get the hang of the essential rules of men's fashion, you will need a consistent approach to adopt them. You will notice a significant increase in appreciating looks and a boost in your self-confidence.
Build confidence to be the best-dressed man in the room, rather than a generic guy who seldom gets noticed. As a result, your style will make you a sophisticated gentleman with a real fashion sense.