It can be difficult to come up with a stylish outfit for work every day. The weekly rotation to and from work can leave one exhausted and often results in a bad case of wardrobe fatigue. But what if we tell you that adding a little leather to the mix can help you rev up your overall office look? It's quite different from the usual and is bound to add a little excitement to your boring office routine. Style it properly with sleek separates and appropriate accessories, and you can definitely pull off leather at work.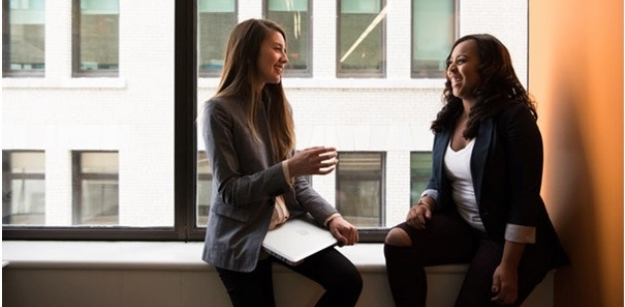 Leather not only looks chic and feminine but also exudes a lot of power. So don't be shy of trying real leather jackets for women at work or give those sleek leather trousers a shot with your favorite blazer! Here are a few outfit ideas that will help you give an edge to your traditional office looks:
1- Swap your blazer with a leather jacket
We love this look suggested by Marie Claire's fashion experts. It's a great way to break free from the daily rut of wearing a blazer to work. To spice things up, swap your coat or blazer for a stylish leather jacket. Pair it with a formal ruffled blouse and skinny trousers to make sure your jacket pops out. For an elevated take on a business casual look, wear it with plain sneakers.
2- Wear it with a wide leg trouser
If you are finding it difficult to pair your leather outfit with suitable pants, then take inspiration from this look by That Pencil Skirt. A funky leather jacket means that you should keep the rest of your outfit simple and in neutral colors. A safe bet is to choose a black leather jacket as you can pair it with almost anything.
Mix a black leather jacket with other neutral tones like burgundy, tan, grey, and beige for a professional look. Wear it with wide-leg trousers, and you'll be all set to show off a polished look at work.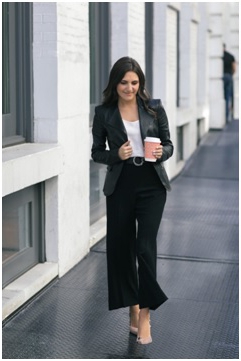 3- Wear it over a crew neck sweater
When the temperature drops, there's no reason not to wear your leather jacket to work. Maria Dueñas Jacobs, the Elle accessories director, is a fashion inspiration for anyone who wants to pull off the street style with confidence. Here she wears a chic moto jacket over a crew neck sweater and a formal pair of tailored cigarette pants. Look how she sticks to a monochrome color palette to come up with an outfit that is perfect for the office, drinks after work and more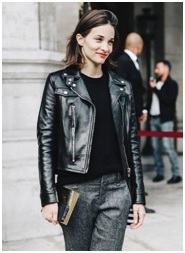 4- Wear it over a dress
Want to achieve the nostalgic '90s look? Pair a black leather jacket with a striped shirt under a slip dress and accessorize it with a choker! Swipe on bold red lipstick, and you'll pull off the 1995 girl-next-door look while looking smart at work.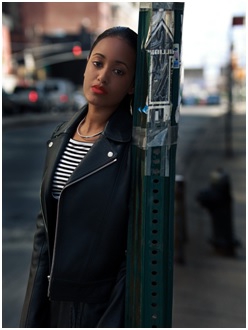 5- Don't be shy of adding color
Most of the looks we shared above stick with a monochromatic color palette. But there is nothing more exciting that experimenting with color, especially at work. A bright colored jacket will lift away those Monday-blues, and you'll find yourself feeling all geared up. A bright blue jacket pair with other primary hues will break the monotony of your work wardrobe.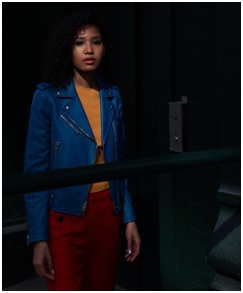 Moreover, you shouldn't feel the need to stick to a plain black leather jacket for work. A bright red leather jacket can be just as versatile as long as you pair it neutral tones.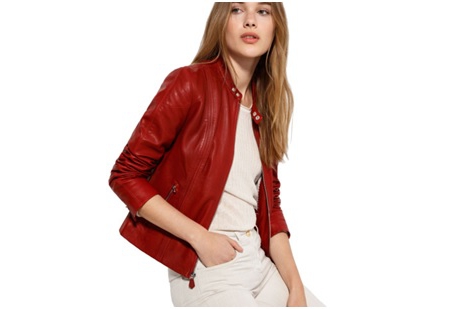 Bonus tips:
We hope that this article gave you inspiration on how to style a leather jacket to work. Here are some bonus tips to find the perfect office appropriate leather jackets for women:
Our fashion experts recommend you to keep this tips in mind while hunting for the classic leather jacket for office wear:
Keep away from baggy and loose-fitting jackets. A leather jacket with a sleek and tailored look works well for a work-appropriate outfit. Choose one that is slightly fitted and has a cropped feel to show off your formal trousers or fitted skirt.
Leather jackets with shiny hardware may look tempting, but it isn't office appropriate. Any leather jacket that has a 'biker chick' feel to it should be worn to the club or when you're going out for drinks with friends.
Conclusion:
A leather jacket is a must-have piece for all fashion conscious women because it is extremely versatile. You can wear it to work, to the airport and even while clubbing out with friends. Don't be shy to put your leather jacket to use and wear it to create a sleek work-appropriate outfit. Choose a lightweight option if it's not too cold or layers it with a warm sweater when the temperature drops. It is the best outerwear option for all sorts of climates.
Are you convinced about wearing a leather jacket to work yet? Have you managed to pull off the bold leather look at work? Share your experiences with us in the comments below: