Google Search Console is a highly effective tool that helps the website owners to keep a track of how many visitors have browsed the site and learn a great information deal about the same. This tool is extremely effective for the webmasters who wish to find out how many times a site is being accessed from a mobile or desktop and what all pages are being browsed the most. This tool is much more beneficial than analytics since it also helps a site visitor to fix website errors, create and check a robots.txt file and submit a sitemap and see the related keywords.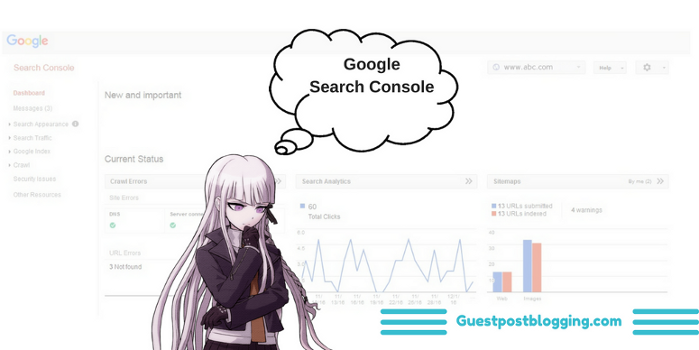 The highly effectual usage of this tool has now prompted the site owners to create a Google Search Console account as soon as their site is launched. It helps the users to understand the way Google crawls, assesses and indexes a particular website and gives a heads up on factors that might affect the site ranking.
If you wish to get set-up with Google Search Console, the process has been widely simplified by Google. As soon as the user creates an account with GSC, a four-step process can simply direct the user to use it quickly:
Log in to Google Search Console
Click on the "Add A Property" red button
Insert the site URL
Choose a verification method and opt "Verify" to get a verification mail or message.
The above listed steps can set a user up to use the benefits of GSC. Important to note is that initially there isn't going to be any data and the data will start building up eventually when few days and weeks will pass.
Some of the core feature categories of Google Search Console are enlisted below: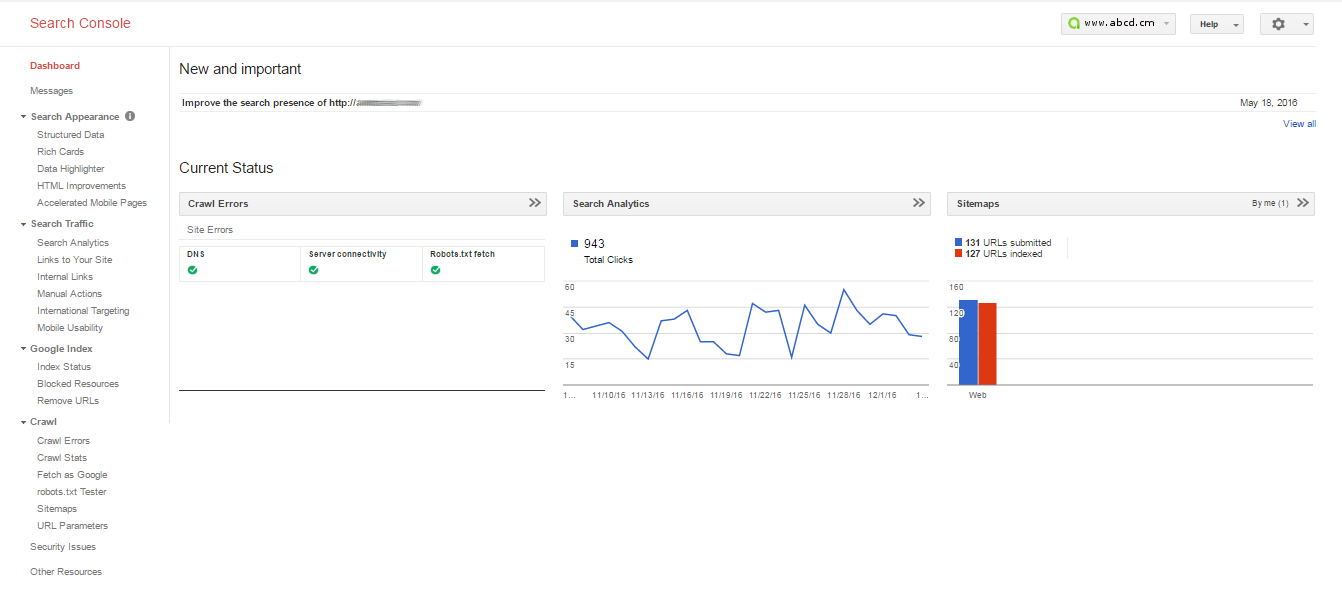 Search Appearance –
This is a broad purview that showcases how a site appears in the search results. Another important factor to note is that its appearance is highly impacted by numerous factors and can have a direct impact on a site's click-through rate.
Structure Data – This page carries a chunk of structured data collected by Google in the form of a graph. It displays Structured Data elements along with some of the markup errors that can be then fixed by the webmasters by identifying pages with errors. The sections of the site can be inserted in the testing tool and solved using suggestions.
Rich Card – This has been added as a new Search result format which has bene created keeping the success of rich snippets as its base. Similar to rich snippets, these cards use schema.org structured markup for displaying content to make it look engaging in a visual format. It helps the users to enhance site experience for mobile users.
Data Highlighter – It comes handy for those users who lack access to backend to use Structured Data. It helps to implement Structured Data. Start with the URL of a specific page, choose the information type and it will start highlighting in the right sidebar.
HTML Improvement – The page gathers all errors pertaining to titles, meta descriptions, and non-indexable content. The report can be downloaded to identify duplicate content, which has been frowned upon by Google.
Sitelinks – These links are crucial since these help a user in site navigation.
Accelerated Mobile Pages (AMP) – It is a Google-backed project which has been designed as an open standard that can be used by publishers to load pages quickly on various mobile devices.
Search Traffic – 
Search Analytics – After the appearances, this is regarded as the most popular reports that are churned out by Google Search Console. This report hands over insights about the amount of organic traffic a site is getting through search engines. It helps to populate popular countries, queries, pages, and devices.
Links to your site – It hints towards other sites that help to analyse the link profile of a specific website namely OpenSiteExplorer, ahrefs, and MajesticSEO. All these are premium tools have an alternative as webmasters can now to access link-report in Google Search Console for free. This reports shows the anchor text, linking domains, and most-linked to pages.
Internal Links – The internal links report uploaded in GSC help the users to identify the pages that have got maximum internal links.
Manual Actions – GSc also unveils that details of manual action that carry information about any Google penalties which are running at present. This can be caused due to the presence of unnatural links on the site, page hacking or cloaking redirects
International Targeting – The Google Search Console International Targeting report can be checked to see how international audiences are responding to the site. It has another tab (country) which can be accessed for generic domain extensions, namely .com, .net and .org. In case the webmasters wish to target users in a particular area or country, country-specific domains (such as .de and .es) can be associated with the corresponding country using the GSC options.
Mobile Usability – It provides Mobile Usability report in which if the page is blank, the site is deemed to be optimised to be used by mobile users.
Google Index –
This is the next category in GSC which provides information on the count of website pages have been added to Google's index along with update on unwanted URLs.
Index Status – This presents the data regarding the number of pages which are indexed.
Blocked Resources – This page creates and delivers data on all the site pages which have been blocked by robots.txt rules.
Remove URLs – Remove URLs feature of Search Console helps to prevent pages from being added to Google's index (blocked by robots.txt file) even if the page is already in the index and you want to remove quickly.
Crawl – 
Crawl Errors – The reports generated on Crawl Errors report must be scanned regularly as it displays all the errors Googlebot encounters when a site is being crawled or accessed from various devices such as desktop, mobile or feature phone.
Crawl Stats – This option presents number of pages which have been crawled in past 3 months. It also presents data on time spent in downloading along with the download size (in KB). If pages count crawled on a daily basis day decreases, but the downloading time increases, site must be checked for performance.
Fetch as Google – It is a diagnostic tool which facilitates to simulate the way Google renders a specific page. Using the term fetch would enhance the search intensity and Google will crawl and display the page with pictures, CSS, Javascript, etc. this feature helps to detect differences between browser results and how Google perceives a page.
txt Tester – This tool is used to test new robots.txt markup which check for errors.
Sitemaps – This helps to notify Google about the location of this Sitemap with the help of Google Search Console. The button is placed on the top right corner which facilitate the user to add or edit a Sitemap (enter the URL) post which a user can spot the difference between the number of submitted as well as indexed pages.
URL Parameters – Adding a parameter to Google to indicate if it alters the content seen by the user, helps the Google to understand URL parameters in a much effective manner.
Other Resources – 
Google Disavow Tool – It facilitates the publishers to state preference to google about which external site links they do not need on their sites. This tool is very useful to prevent Google penalty. Learn how to recover from Google penguin penalty.