Parents always want the best possible future for their children; therefore, they take several factors into consideration when choosing the best school for their children. One of the significant factors is school management software that keeps parents updated on their children's activity on a day-to-day basis. Keeping this factor in mind, successful schools are using school management software for automating the different academic and non-academic activities in school, such as admission management, examination management, timetable management, accounts management, attendance management, bus tracking, library management, and what not.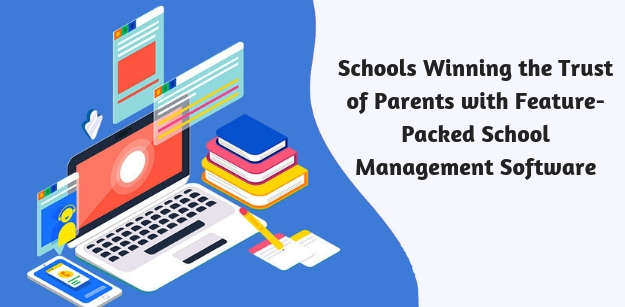 A good school management application is an all-in-one solution that offers a wide array of impressive features that are valuable for parents as well as the school administration. School management system is an ideal tool for sending important alerts about meetings, celebrations, examination details, transactions, and emergency closure of schools due to heavy rains, fire, earthquake, etc.
In this post, we will shed light on the important features that parents expect from a school management system. But before digging deeper, let's highlight the reasons why parents prefer schools having school management software:
School management software works through web and mobile app;
It can be accessed anytime, anywhere;
Offers real-time communication;
Secures data in encrypted form; and
Enhances transparency with parents.
Now let's take a look at the seven most useful features of school management software that make parents happy and tension free:
1. Mobile Apps: Since mobile apps offer a host of advantages to parents and teachers, schools are increasingly investing in mobile applications to keep parents informed about their children's activities and progress. School mobile apps are compatible with smartphones having different resolutions, and can be easily downloaded to stay connected. For example, an SMS or email notification regarding a student's weak grades act as an effective means for teachers to spur parental involvement in children's activities.
2. Effective Communication between Parents & School: In today's fast-paced world, parents hardly get time to interact with teachers to discuss the performance of their child. With the help of school management software, parents can easily touch base with the school authority to keep tabs on the progress of their children in academic as well as co-curricular activities on a daily basis. Moreover, if the teachers want to communicate something important to parents in the absence of their child, they can use the software to communicate the message with ease.
3. View School Announcements: Schools should send notifications to parents in advance to enlighten them about scheduled events or parents-teachers meetings. Pre-notifications via email, SMS, and phone calls enable parents to work out their schedule and attend the school event without fail. For parents that attach great importance to the education of their child, this is a crucial feature that cannot be denied at any cost.
4. Live Bus Tracking: Safety of students while commuting to school is one of the major concerns for parents as well as school authorities. The school bus routing software comes with a GPS-based bus tracking feature that notifies parents about all activities pertaining to pick-up and drop locations, unscheduled stops, traffic jams, or emergency. It also sends real-time alerts in case of a wrong drop off point.
5. Attendance Management: An efficient school management platform offers attendance management features to prevent students from bunking classes. It enables teachers to take attendance from the app and immediately share it with parents via SMS to apprise them about their child being absent. What's more, the app also allows parents to apply for leave via the app.
6. Easy Fee Collection: School management software facilitates smooth fee collection every month by sending a notification to parents about fees submission via SMS. The software enables parents to set alerts for paying the school fees of their children from any place before the due date.
7. Homework Management: This is yet another module of school management software that helps parents view the details of project works and home assignments allotted to their children on a daily basis. The software archives the old home assignments so as to enable parents and students to view the previous assignments easily with the click of a mouse.
So, all in all, it can be concluded that school management software plays a key role in streamlining transparent communication between school and parents. Since parental involvement leads to stress-free learning and achievement of better grades and higher marks, quality schools treat parents as true partners to drive students' achievements.
Parental involvement is a crucial element in a child's education; therefore, schools should maintain regular interaction with parents and encourage them to become actively involved with the educational institution. Keeping this factor in mind, schools are increasingly investing in school management software for making the association between parents and schools more meaningful.