Some people are fortunate to have the financial stability to design their own house. This could mean creating the blueprints or imagining what your dream house will look like when it's finished. Building a butterfly roof gives your brand-new home a modern edge. Read on to learn more about the benefits of having a butterfly roof. Its architectural design will help you save money and keep you safe from weather.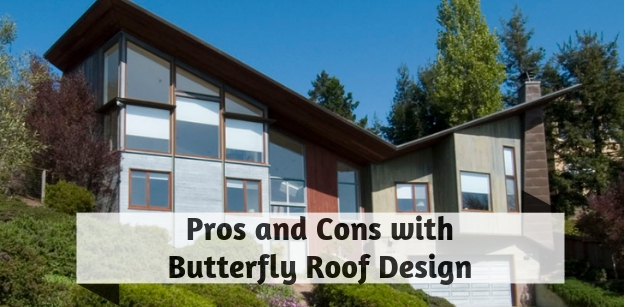 How Butterfly Roofs are Designed
Do you want to create a beautiful design for your new home? Butterfly roofs are great for people making their own house for their family. According to Roofing Calculator, the architectural design of the butterfly roof imitates a butterfly's wings by creating a V-shape. This design meets in the middle and then it extends outward with an upward angle, forming that unique V-shape.
This butterfly roof also has several ways to customize your own specific styled house. This means you can have Roofing Architects custom design them in whatever angle or symmetry you desire. You can choose to create uneven roof lengths because they don't have to be the same size on each end. There can also be variations to how deep the angle is, as long as an architect approves of the designs to ensure the stability and functionality of the changes. This enables you to have a more unique house for you and your family to live in once it's built.
Benefits of a Butterfly Roof
Do you want to save money? Building a butterfly roof has several benefits you might not have realized before.
1. Eco-friendly
Would you mind more sunlight? Do you want floor length windows to feel closer to nature? With the roof angled high, you can incorporate larger windows in your living room and other areas. Sunlight can lighten and warm up your house, but it can also help heat your home. The added sunlight makes it more eco-friendly. Therefore, if you're all for a greener planet or want to save money in the long run, you can take advantage of this type of roof for your dream house. CGS Sydney Solar Panels advise that butterfly roofs are great for installing solar panels on, and with the ever-reducing costs they are more affordable than ever. It can also help you during those cold weather days when the electricity bill can be sky-high.
Roofing Calculator also reports that the ability to collect rainwater is another benefit of this butterfly roof. The angles allow you to use rain, which conserves potable water. By installing all the proper equipment such as a downspout and water collection reservoir system, you can utilize rainwater for your own benefits without having to rely heavily on city water.
2. Design's Appearance
Who doesn't want a modern house to call their home? The butterfly roof can easily be created to emphasize elegance and beauty with simple touches made by your architect. They can customize your new house to your own preference and style. This type of house will have your friends and neighbors envious of your brand-new home. Why not try out this excellent design for yourself?
3. Outside Time
If built correctly, asymmetrical butterfly roofs can entice homeowners for more than the modern appeal. By having the extra length of the roof on one side of your house, you can easily use it as an outside sitting area without the additional expenses.
The roof can help keep rain or sunlight off you while you enjoy a cup of coffee. People can be one with nature again by sitting outside your elegant house. This can also make small parties possible with a mini-bar or small picnic table. The possibilities are endless for you and your family to enjoy nature with a modern twist!
Having larger windows can also be great for people who love to watch nature outside their house, such as squirrels being silly in birdfeed. You can see more of the outside world with this design and feel more in the elements without actually being outside if you don't like those pesky bugs bothering you.
4. Keep You Safe from the Weather
Do you love a house that will withstand most weather phenomenon? That's why butterfly roofs are so awesome! According to hunker, these roof designs are aerodynamic, which means they are more durable in strong windy weather. Choose the butterfly roof for your new home if you don't feel safe from stormy weather in your area.
Pitfalls of Butterfly Roof Design
While there are several positive aspects of designing your home with the butterfly roof, people should be aware of all the negative parts that come with this kind of house, as it does come with its disadvantages. Here are a couple of pitfalls most people can watch out for when they choose this style for their home.
1. Costs
First of all, the materials to build the butterfly roof are more expensive than more traditional roofing designs; however, if you have the financial stability, you can create the dream house you've always wanted.
The eco-friendly aspect of this roof design will allow you to save money later on. Therefore, if you have the money to buy a house with this roof or build one from scratch, you could end up saving money as a result.
2. Drainage Problems
Roof damage can cost a fortune to get fixed. If you don't take proper care, it could end up costing you. As reported by Roofing Calculator, water is stored on the roof. Therefore, if there are clogs in the drainage system, this can cause water to pool on your roof. Leaks and other damages can arise if you don't get it fixed right away.
Hiring professional roofing architects from 123 Roofing can ensure that your roof is built properly, to help prevent clogs and other problems from occurring in the future. It can help prolong the life expectancy of your house and save you from having to pay more money to get it fixed later on.
Decide if the benefits outweigh the pitfalls of the butterfly roof design. You might like all the positive aspects enough to build this more expensive roof. Remember, this could make your house more eco-friendly and save you money on heating and water bills. You and your family will love living in a modern, beautiful home that will help keep them safe from those windy weather days!