Are you planning to redecorate your home?
Smitten by the love of Moroccan patterns and interweaved designs?
Well, we can't blame you. After all, such is the beauty of this exquisite country and everything that is manufactured here, that its aura is bound to stay fresh in people's memory. Moroccan style decor can be easily defined in four words: elegant, vibrant, enigmatic and intricate.
(It is important to note that when we say vibrant we don't mean bright colors, we mean vibrant designs and patterns. When it comes to colors, Moroccan prefer subtle shades such as neutrals, beige and the likes of it.)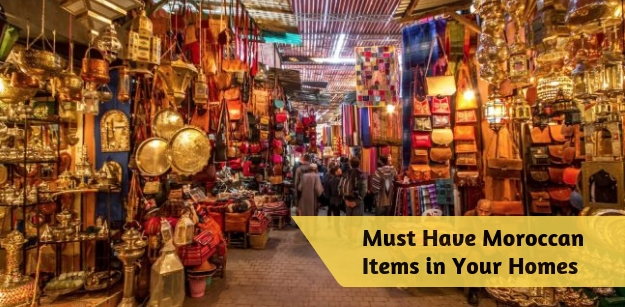 If you have been thinking of adding some Moroccan items in your house, but are unable to decide where to start with, then allow us to guide you in this regard with this list of 10 Moroccan articles that you must have in your home:
Moroccan Poufs:
Poufs have been a part of the Moroccan tradition for a long time. Two poufs as a footstool or as a floor seating arrangement are all you need to give your bedroom a magical touch. If you wish to, you can also use Moroccan poufs as a coffee table. You should give leather, denim and velvet poufs, a try.
Install Moroccan tiles:
Moroccan tiles can be easily identified by their patterned, sharp and contrasting hues, giving the area it covers a regal touch. You can also place these tiles in the form of wall decor to give it a signature look. Some of the beautiful Moroccan tiles come in black, white, navy blue and shades of beige.
Get Moroccan Lightings:
Nothing says magic more profoundly than the Moroccan lights be it, its famous brass lighting or lanterns. Moroccan beauty is all in the details, patterns, and arrangement. A Moroccan sconce will spruce the dull corners of your home with vintage lights. You can also get a Moroccan ceiling lamp installed and watch the vibes of your room transform in front of your eyes.
Throw some Moroccan rugs:
When we hear the word rug, the first thing that comes to our subconscious mind is Moroccan rug. Why? Because weaving rugs has been a part of the Moroccan tradition from centuries. No room is Moroccan inspired until it has a handwoven rug with patterns telling stories of the community that made it.
Add Moroccan pillows:
Intricate and culturally rich pillows are a must-have for every home looking for a Moroccan change. Pattern and detailed pillows on bed sheet of earthly shade will effortlessly bring the Moroccan charm in your room.
While the list is endless, for now adding these Moroccan decor items in your home will give your abode the right touch of drama and bohemian vibes. But where are going to find these? Well, you are not going to trust your local thrift store with getting you authentic Moroccan decor items, now, would you?
Shop only from Moroccan store selling authentic Moroccan items handcrafted by the artisans that have been in the business of spreading Moroccan culture through various items, from generation. These stores will have their products curated by craftsmen with the age-old technique that not only make the things exceptionally gorgeous but also durable.
Place an order from a Moroccan store, today!