On an online store, a shopping cart is a tool that helps with completing the purchase of a product or service. It will offer your customers a variety of payment options and facilitate the payment process while communicating this information to you.
Shopping carts are an important piece of software for the smooth functioning of an ecommerce website. A shopping cart is not only used to guide the customer to the checkout zone but it can also store important product information. It serves as a gateway to fulfill orders, organize catalogs and help with customer management.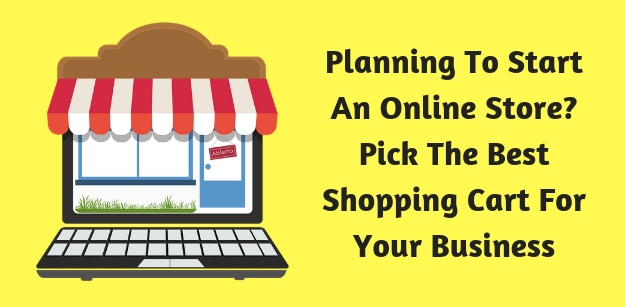 It's an integral part of your online store because it allows you to collect money from the customer for the products that you sell. Having a shopping cart that's easy to use and hassle-free is an important part of providing the customers with a good shopping experience. It should also guarantee the customers a secure mode of payment so they can purchase products on your store without the fear of losing their money.
If the customer isn't comfortable with the functioning of a shopping cart, they may not want to visit your online store. Any trouble with the checkout and payment process could make the customers doubt the security of your online store. This could harm the customer traffic to your ecommerce website and the number of sales that it can make.
What You Can Choose
There are many options to choose from depending on your budget, business objectives, and the amount of technical expertise that you have.
A licensed shopping cart can be used by a company that wants a more personalized shopping cart. This will allow for much more flexibility in changing the features and adding additional third-party plug-ins. But the upfront cost will be much higher and it may require more manpower to maintain and regularly keep the software updated. You will also have to hire someone with relevant expertise for technical support and troubleshooting issues.
A hosted shopping cart will be maintained and upgraded by a third party service provider. The best part about having an external service provided is that the hosting can be done free of cost. A hosted shopping cart will be a more suitable option for new businesses and ones that don't have much technical expertise.
You can find a hosted shopping cart included in comprehensive ecommerce platforms like Magento, BigCommerce, and Shopify.
Shopify: This e-commerce platform includes a shopping cart that can support 15 languages and 87 currencies that can handle debit cards, credit cards, and PayPal transactions.
It offers many anti-fraud measures that will help protect your business operations. The fraud analysis feature will let you identify fraudulent orders and avoid facing chargebacks. This feature will provide different colored indicators to investigate an order and to check if it's fraudulent. These indicators will display the IP address that was used for placing the order and if they've entered the correct CVV number. It'll check if the credit card used by the customer has passed AVS checks or if the customer is trying to use multiple credit cards.
It will automatically detect a mobile user and give them an optimized checkout gateway. The shopping cart will collect the email addresses of the customers who abandon a purchase so they can be reminded again to complete the purchase. It can be used to provide partial refunds and has a conversion tracking feature that can be used to monitor a customer's activity on your store to find out how regularly they visit the store.
Shopify is recommended for both small and large businesses with a focus on having an ecommerce website. Shopify is also a good choice for selling on social media platforms like Facebook, Twitter, and Pinterest.
Magento: This free open source software will require more technical expertise to integrate into an online store. It has a customer recognition feature that can be used to collect information about a customer's order history and inquiries. The shopping cart is also optimized for mobile users.
Magento is a good choice for medium-sized retailers and large businesses with many outlets and numerous staff.
To avail the maximum advantage of this ingenious eCommerce platform, we advise you to use Magento upgrade services by going from the old Magento version to the latest Magento version. It would be beneficial for you to know that Magento 2.3.2 is the latest version of Magento that offers a comprehensive list of updated features to grow the sales of your online service.
BigCommerce: This ecommerce platform has a shopping cart that can offer promotions and coupons, provide product comparisons, and request customer reviews. BigCommerce has an abandoned cart notification that automatically prepares an email which invites the customer to complete the purchase.
This software is recommended for companies targeting a younger audience.
A good shopping cart will ensure that the customer can confidently make purchases on your store and protect your business from fraudulent purchases.