Commercial Kitchens have been riding a success wave in our country like never before. There has been an unprecedented rise in the number of restaurants and hotels all over. Thanks to the phenomenal rise of food startups and unbridled growth of food technology. A lot of food startups have actually fuelled the growth of food industry in a phenomenal way. This was made possible by two ways: One, totally disrupting the existing food space and startups crafting a niche for themselves Two, Startups replicating a global business phenomenon and creating a sub-niche as business area.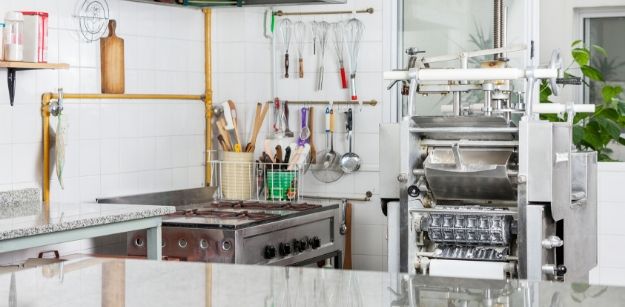 Role of Central kitchens:
With central kitchens mushrooming everywhere almost every single day, the role played by commercial kitchen technology and the science behind need to be appreciated. Today's commercial kitchen itself is undergoing a sea of changes right from how different equipment or tools have been designed and manufactured to suit different kitchen processes including Pre-Preparation, Meat Preparation, Food Processing, Cooking Baking, Quick Service, Dish and Warewashing. Each commercial kitchen machine serves different application and goes on to improve the efficiency of the commercial kitchen by a long way. That is why commercial kitchens make investment in heavy duty equipment big time. The ongoing R & D process in the food industry is contributing to the growth of Commercial Kitchen Science too.
The rise of food apps:
The multitude of food delivery apps including Zomato, Swiggy, Uber Eats and other hyperlocal food delivery apps have triggered commercial kitchens and central kitchens to innovate and improvise—basically, to produce deliver food much faster. Now this is the new rules of the game, and it is the only way that it can be played. Speed is the name of the game and the food delivery apps will continue to drive business for hotels and restaurants in terms of sheer number of customers and order volume per day. Adoption of these apps will increase with day and this means increased order volumes. An increasing number of hotels and restaurants are turning to central kitchens for food production and delivery.
Commercial kitchen equipment & applications:
The numbers are only going to surge in the foreseen future. The success of any commercial kitchen depends on the smart deployment of kitchen equipment in accordance with their needs. The types of commercial or heavy duty kitchen equipment available in the market place is simply staggering: Bakery Equipment, Chappati Machine, Cooking Equipment, Cooking Mixer Machine, Dishwasher, Fryers, Griddles and Kebab Machines, Juice and Coffee Machines, Masala Grinders, Meat Processing Machines Ovens, Processing Machines, Rotisseries, and Multisseries, Toasters and Holding Cabinets, Power Mixers, Meat Mincers, Garlic Peelers, Automatic Orange Juice Machine, Ice Cube Machines, Cold Drink Dispensers, Flake Dispensers, Display Freezers, Conveyor Ovens, Combi Ovens, Commercial Vegetable Cutter, Vegetable Processing Machine and so on. The function of the aforementioned business kitchen machines and much more are indispensible at resorts and restaurants, industrial canteens, catering firms, associations and hospital kitchens, QSR chains, bakery and RTEs & RTCs.
Though explaining the application of each heavy duty commercial kitchen machine is beyond the scope of the article, every process in the commercial kitchen may require one or more heavy duty machine for execution. Kitchen owners may look for hygiene as the priority for operating a kitchen effectively, though many factors come into play for operating a commercial kitchen.
Other key factors for commercial kitchen efficiency:
Ergonomics is the new science of any product development. With increasing importance of UX or user-centric experience, commercial kitchen owners look up to user experience, and commercial kitchen equipments manufacturers miss no opportunity in developing heavy duty machines that offer incredible experience. Energy consumption is not far behind and with mounting electricity bills; operational costs can still pose a challenge to commercial kitchen owners. Practically speaking, a commercial kitchen owner always looks for every single factor that can potentially cut down operational costs in the long run.
Growing economic uncertainty and beyond:
The growing economic uncertainty globally can only aggravate the crisis further. In fact, the economic downfall may well turn out to be a 'new' normal, as seen in many countries.
Commercial kitchen owners would then look to innovate as much as they want to improve operational efficiency. As for them bigger challenges include on how a commercial kitchen should be effectively operated for maximum profitability.