The work of solar panel is to change the sun's energy into electricity with an efficiency of around 20%, assuming that if the sun sends energy of 1000W per square meter, which is mainly the case of India in summers, it can be said that the solar panel is capable of producing 200 W of electrical power per sq meter in summers. A single square meter of solar generates around 250 kWh per year of electricity production in India, which is quite good.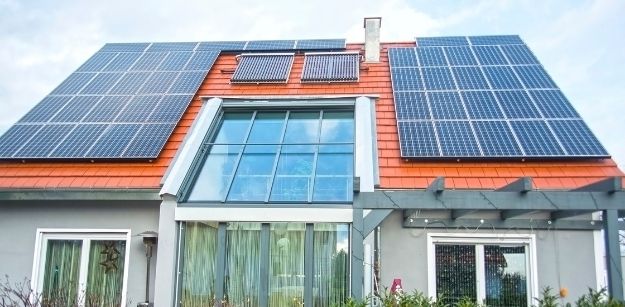 Thus it is not necessary to cover our fields with solar panel as our roofs are more than enough; in self use it is even more efficient.
1. Solar Panel Brand
The most excellent way that we persuade you is to check the brand of the solar panel that is known, in the top 20 global brands, or referenced by a major distributor specializing in solar, basically it is the work of large distributer to selects the quality modules. There are many brands of solar panels, such as Loom Solar ,Waaree, Vikram and many more but if you are looking for residential purpose you Can Choose Loom Solar. Because it is a purely rooftop solar company among the solar companies in India.
When it comes to solar panels, we encourage you to choose popular big global brand they are little bit expensive but are generally more reliable and their life spam is also long as compared to the small brands that are unknown to the general public.
2. Solar Panel Type
The best choice you can make is to choose a classic crystalline solar panel. The best part is that it is eco -friendly, more trustworthy and does not consume rare earth. There are several types of crystalline photovoltaic modules:
Polycrystalline Solar Panel – The other name of this solar panel is multi crystalline .These solar panels are made up of multiple photovoltaic cells ,have a bluish hue and have high power density .Polycrystalline solar panels are used in self powered devices such as off-grid household ,traffic light in remote areas etc .They are perfect for roof mounted arrays .
Monocrystalline Solar Panel – Mono crystal solar panel is made up of single crystal and is most efficient. They are black color panels which are generally used for industrial, commercial and residential purposes it consumes less space and works effectively even in cloudy weather too. Mono crystalline solar panels have a tendency to function longer than their warranty period.
3. Solar Panel Installation
The best module in the word will perform badly if not installed in a correct manner. Here are few convenient rules that one must consider during solar panel installation.
It resists hail but never ever step on the solar panel as this can cause micro cracks and which can shorten the life of the cells.
The module which is more ventilated produces in an increased manner.
Solar panel should not be placed in area that through shade, if you can't avoid it then in that case one must surely installed micro inverters.
Loops should not make with cables because, in the event of lightning near you, these loops can cause high current that is unable to create fire but may damage your solar panel so be careful about, as it is said prevention is better than cure.