Multinational companies have a long history in India that dates back to over 150 years. These firms with headquarters in Europe, US, Japan, and China, among other countries, continue to play a key role in Indian economy.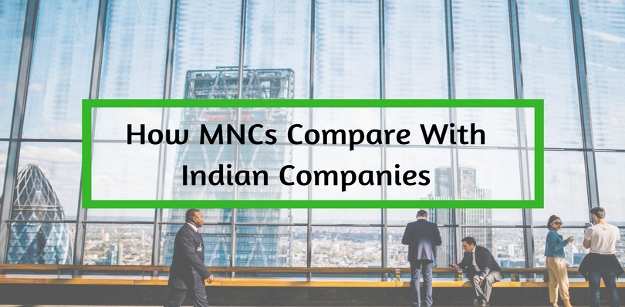 They rank as topmost employers of Indian manpower and are large consumers of local raw material.
MNCs have helped Indians keep abreast with technological advances worldwide. Several MNCs including Hindustan Unilever, Vodafone, GlaxoSmithKline, PepsiCo and Coca-Cola Co, Amazon already touch our daily lives.
At the same time, major Indian companies including Tata, Reliance, Airtel, Patanjali Ayurved, Parle Agro and ITC also are household names in India and are recognized brands abroad too.
The Indian market witnesses a fierce competition between MNCs and local companies.
The same holds true when it comes to seeking a job. This makes it imperative for everyone to learn about how MNCs compare vis-à-vis India's homegrown companies.
MNCs v/s Indian Companies
Here we look at some of the key indicators that will help Indians know some core competencies and differences between MNCs and homegrown giants.
1)     Research & Development
MNCs are able to invest heavily in Research and Development (R&D) and innovate rapidly when compared to Indian companies.
MNCs have elaborate laboratories in various foreign countries and a huge talent pool for R&D activities.
Indian companies often do not have R&D facilities outside this country. Hence, their talent pool is largely limited to qualified Indian professionals.
This inherent advantage helps to Top Multinational companies in India to innovate and launch newer variants of products quickly to counter threats by any Indian competitor.
Examples include Hindustan Unilever which launched Ayush range of herbal toothpaste when its brand Pepsodent was dislodged by Patanjali Ayurved Ltd's Dant Kanti brand.
2)     Business Sustainability
Another core competency of MNCs is their ability to pour cash into Indian operations to sustain the business. A classic example includes global online retail giant, Amazon.
The company is based in the USA and listed on New York Stock Exchange. Despite its foreign origins, Amazon continues to retain its position as India's most popular online store.
The company pours millions of US Dollars into its Indian operations annually to buffer losses and expand.
This is possible due to the exchange rate of the American currency and Indian Rupee. India competitors that imitated Amazon model are struggling to sustain business despite carving a niche in the market, purely due to lack of funding.
3)     Corporate Culture
Corporate culture encompasses a lot of things. It defines the values, beliefs, and competencies of a company that translates into how it treats employees, customers, and business associates.
MNCs have an upper hand because they strive to maintain a corporate culture in India that is consistent with their worldwide operations.
Hence, MNCs have very well defined a code of conduct, human resources policies, customer care services and business ethics. Indian firms also have a corporate culture.
It is obligatory for employees at all echelons in MNCs to adhere to its well defined operational practices defined by their head office.
At Indian companies, standard operational practices are relegated to the backseat by bosses or worse, thrown to winds.
Classic examples include Quick Service Restaurants like KFC and McDonald's compared with large chains of Indian restaurants.
4)     Brand Positioning
Despite over 70 years of independence, the craze or fad for 'phoren' brands in India continues to run rife.
Hence, MNCs can launch a brand that is famous worldwide in the Indian market and find it gaining popularity fairly quickly.
In stark contrast, Indian companies launching an excellent indigenous variant have to struggle for several years and spend heavily on advertising to grab the attention of the target audience.
A common myth among Indian consumers is, MNCs offer superior quality products over Indian firms.
A good example is Maggi range of instant noodles from global food and beverages giant, Nestle and its rival Knorr brand from HUL.
The two rule the market, while excellent indigenous products such as Ching's Secret and Yippee launched by Indian FMCG major ITC Ltd, is still struggling to grab a significant size of the local market.
5)     Employment Policies
MNCs generally have a consistent employment policy around the world. Though salary may differ according to the location and currency exchange rates, it will comply with standards followed by the MNC elsewhere.
Perks paid to employees will also be similar to what their peers elsewhere in the world receive. Further, terms and conditions for hiring, termination, promotion, resignation, an increase in pay will be determined according to a standard fixed at the MNC's headquarters.
Indian companies also have excellent HR policies but once again, they are prone to vagaries of persons responsible for implementation.
One HR manager may be very strict on rules while the other could be rather lax.
6)     Customer Care
An excellent example of how MNCs care for customers was highlighted some years ago by a vlogger in the US.
The vlogger took ads from McDonald's, Burger King and Subway restaurants. Upon ordering the advertised product, he found it did not match the picture on the advertisement.
Staff at these quick service restaurants apologized took back the product and made another one to match depiction on the advertisement.
A vlogger in India attempted to do the same: however, Indian staff at these QSRs unceremoniously asked him to get out.
The reason: In India, these QSRs are run by franchisees and not directly by the brand owner.
In Conclusion
There are several more features where MNCs and Indian companies can be compared.
Thanks to the economic boom in India, indigenous companies now offer salaries that are at par or compare fairly well with those paid by Indian counterparts.
Indian companies know the pulse of local consumers and are increasingly making efforts to capitalize on this inherent strength.
However, a majority of Indian firms have a long way to go before they can effectively reduce the dependence of the people on MNCs.
The presence of MNCs in India augurs well for consumers and the economy. MNCs provide employment to millions of Indians.
Local consumers are also spoilt for choice when it comes to selecting a product. The presence of MNCs invariably forces local companies to up their standards.
Indian companies are now comparing fairly well with MNCs in various areas too.