Online marketing is the way of the world today! From start-ups to established brands, everyone depends on online marketing. Today, the expert online marketers try to stay tuned in to the new trends. They also seek information about new tactics and tools resulting in business growth and expansion. With changes taking place everywhere, it's not easy to keep up the pace with online marketing developments. Podcasts made life easy. Online marketing podcasts carry essential industry news and provide other relevant insights.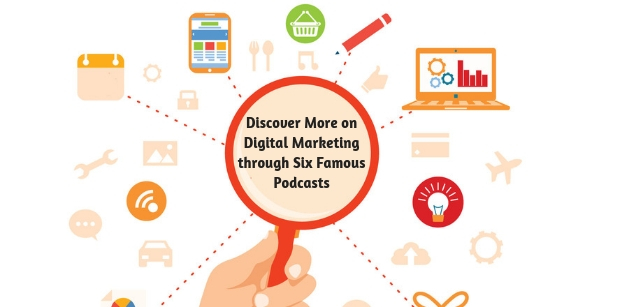 Simply put, a digital marketing podcast has audio lessons for people to download.  It helps you to learn as much as you want, in your own time and speed. You can listen to these podcasts anywhere. Whether you are on a subway or traveling from one place to other, an online marketing podcast is easy to hear and know more.
What are the advantages of online marketing podcasts?
The podcasts blend in new market trends in online marketing and essential data. You can always search and get this information in many books and several online resources.  But when you listen to Brands and Brews podcast, you get different views, facts, and perspective from various people. Hence, you have access to crucial information in a simple, conversational and casual manner. It makes the learning seamless and entertaining as well.
Also, it took some time for podcasts to make their space! But today, more than 67 million American residents tune into podcasts of their choice monthly. The ease of listening to it anytime and from anywhere is what makes it accessible. Also, the podcasts usually present various speakers. It helps people gather multiple expert views on a given topic of online marketing.
Online marketing podcasts can help anyone and everyone interested in digital marketing. From students to aspiring online marketing professionals – everyone can listen to it. Furthermore, you can replay it at your ease and time. It helps you to get clear on chosen aspects of online marketing. Since the podcasts feature various speakers associated with global brands, you have access to useful insights.
The well-known online marketing podcasts you can listen
Today, there are multiple digital marketing podcasts available. Are you searching for the best ones to hear? Do you want to have access to what the best speakers say about the subject? If yes, count on the following online marketing podcasts.
1. This Old Marketing Podcast
Hosted by the talented Joe Pulizzi, founder of Content Management Institute, this podcast is one of the best resources to count on. Robert Rose is also the host of the show. The podcast lasts for one hour. Both these hosts are seen talking and sharing views on multiple views that are prevalent in the industry. The podcast welcomes the audience to share their questions. The users need to utilize the #ThisOldMarketing in their Twitter profiles and know more. The ratings of this podcast are decent, and it is one of the famous names you will hear.
2. Social Pros Podcast
This podcast has the complete title named "Social Pros Podcast: Real People Doing Real Work in Social Media." It gets featured on a weekly basis. Two prominent thought leaders Jeff Rohrs from Salesforce and Jay Baer from Convince and Convert host the podcast. A famous social media strategist has interesting insights to offer. There are many podcasts dedicated to complex questions. The Social Media Stat of the Week is an exciting feature that at times gets debunked. At times, it gets authenticated by Jay.
3. Content Warfare Podcast
This content marketing blog got launched in 2009, by Ryan Hanley. He wanted to share his extensive marketing know-how in the insurance section. Do you want to maximize your online visibility? If yes, Ryan comes up with several tactics every weekend. There are other utilities as well. Here Ryan concentrates on how to attain success in brand storytelling. It gets done through social media, content marketing as well as podcasts. Ryan also organizes guest interviews with the experts.
4. Marketing Over Coffee
This podcast gets managed by John J. Wall along with Christopher Penn. The podcast throws light on advanced and conventional online marketing strategies. Additionally, it also showcases some of the best guests such as Mike Volpe, CMO, and HubSpot who shared a lot of outbound and inbound expansion. If you are an ace marketer, you will love this podcast. Want to know the source of the show name? The name was from a cafeteria after Boston.
5. Duct Tape Marketing
This podcast gets hosted by John Jantsch. Since 2009, this podcast has been reigning high. The podcast is weekly. It shares suggestions and perspectives of the best names in start-ups and marketing. The guest list for this podcast has names like Pat Flynn, Guy Kawasaki, John Lee Dumas and many others. This podcast in its latest episode showcased Ted Wright, CEO, Fizz – a place where the origins, names, definitions, and word of mouth best practices gets discussed.
6. The Marketing Companion
It is yet another podcast that is popular amidst digital marketers. Mark Schaefer is the host of the show. He authored the book Social Media Explained. Mark Schaefer is also the founder of the eminent Schaefer Marketing Solutions. The other host for the show is Tom Webster, who is the Vice President for Strategy and Marketing in Edison Research. This podcast is an entertaining and informative show that gets published twice every month. Here Tom and Mark answer all the relevant questions related to online marketing. Wondering what the factors that decide the success of a digital marketing program are? Want to address controversial topics such as banning of social media networking in office and ad blocking? This podcast helps you do it all.
There are more podcasts available that address various online marketing topics and concerns. The informal tone and informative pattern of the podcasts make it popular amongst the new age digital marketers. Podcasts are meant to be crisp, fact-driven and updated. Hence, when you get into the habit of listening to one, you automatically, get tuned into only the latest and updated fact about digital marketing. You can start with these six above discussed podcasts and then gradually expand your list.