What are CRM and CMS systems? What is their difference? The difference between 1C-Bitrix and Bitrix24? How can Bitrix24 and Magento be compared if they are different systems? What to choose 1C-Bitrix or Magento?
CRM system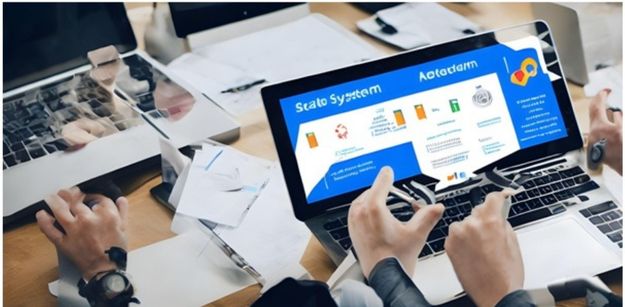 CRM (Customer Relationship Management, i.e. "customer relationship management") is a process automation system that helps to build a dialogue with customers more efficiently, avoid mistakes in work and, as a result, sell them more, thereby increasing profits by 40- 50% and at least 2 times speed up the work of the company.
Also read: How to Start a Company in the USA
How do you know if you need a CRM system or not?
CRM is for you if
you have a sales team and work with clients is based on phone calls, letters, and meetings. The history of communication should be kept in one place in order to constantly attract new customers and build long-term relationships with them. For example, a CRM system with integrated telephony is ideal for online stores or wholesale companies.
CRM is not suitable if
you are the owner of a retail store and are not interested in building long-term relationships with customers, do not call, do not write letters, do not send SMS notifications. Or if you work on long-term contracts based on personal acquaintances.
What are the main problems CRM solves?
Managers forget to process requests
Difficult to analyze sales
Staff turnover affects sales
The manager leaves and takes the customer base
CMS System
CMS (Content Management System, i.e. "site content management system") is a site engine with which you create, manage, and edit your site the way you like, without third-party specialists and programming knowledge. The primary purpose of CMS is simplicity and ease of use.
It provides a control panel with different access roles, in which you can perform any manipulations with the content of the site – delete, add, edit articles or menu items, and work with categories, and products (if it is an online store). 1C-Bitrix and Magento are examples of one of these systems.
Who doesn't need a CMS?
Business card sites (because they can be created on a regular constructor, for example, on WordPress)
Large-scale unique projects (if you make a very complex project, such as Squarespace, then the standard control system may not be suitable)
1C-Bitrix
The Bitrix company has the Bitrix Framework platform, on the basis of which two popular products have been developed:
1C-Bitrix: Site Management is a website and online store creation solution.
1C-Bitrix: Corporate Portal is a platform for creating powerful corporate portals.
1C-Bitrix: Site Management was created as an "engine" (CMS system) for creating online stores, and therefore has very wide rich functionality. On the contrary side, the engine's full range of capabilities is only employed occasionally. You seldom see many catalogs on a Bitrix site, and promotional offers are almost never employed because most online businesses do not require all of these activities, but they are among the software product's possibilities and, if necessary, may be connected at any moment.
Pros:
Simple controls that any employee will understand.
Integration with other 1C products, very useful when organizing stores and corporate websites
Ready-made, repeatedly tested functionality for sites of various directions (online store, community, corporate site, information portal, etc.).
High level of security.
Support for cloud storage and mobile versions of websites.
Ability to create modules in PHP and ASP.NET.
Constant updating and improvement of the system.
Cons:
High license cost.
The impossibility of creating a website on your own without programming skills. Bitrix offers ready-made solutions, but even when setting them up, you will need at least knowledge of HTML and CSS.
Complex code.
Admin, maintaining efficient processes, frequent component updates, and technical assistance are all required of individuals actively involved in 1C-Bitrix projects.
Bitrix24
1C-Bitrix: Corporate Portal is divided into 2 products: Corporate Portal and Bitrix24. We will analyze in detail only Bitrix24.
A business portal is a software with open-source code that must be deployed on your own server after purchasing. You must configure this software package entirely on your own.
Bitrix24 is a platform that was created in order to optimize and arrange your business in the form of a "cloud" service. You will not be required to pay for your own hosting or specialized services since all service updates will be made accessible to you automatically.
Bitrix24 allows you to effectively coordinate the activities of the organization as a whole and each employee in particular.
Pros:
The widest functionality.
High-quality work with the staff (it will be immediately clear who is working and who is "drinking tea").
Integration with various services (1C products, own website, order forms, social networks, email, online chats, etc.)
Built-in website builder.
There is a free plan.
Cons:
● Difficult navigation
● A lot of tools that you most likely won't use (they will get in your way) and it will take a lot of time to learn them
Important: if you want to implement only a CRM system, Bitrix 24 will not suit you. CRM is a vital aspect of the total software package of this software solution. And you will have to pay not only for CRM but also for other features, even if you are not going to use them.
What is the difference between 1C-Bitrix and Bitrix24?
Since we have already sorted out what Bitrix24 and 1C-Bitrix are, let's see what are their differences.
As described above, Bitrix24 is more of a CRM system responsible for working with clients and employees, and 1C-Bitrix is more of a CMS system with which the site is fully managed.
The main philosophy of CRM systems is that the center of business is the client, and the main activities of the company are measures to ensure effective marketing, sales, and customer service, in contrast to the CMS system, which is a simple and convenient website and landing page builder, which allows you to create and edit projects of any complexity with your own hands, without the help of designers and programmers (not in the case of 1C-Bitrix).
That is Bitrix24 acts as a separate module (add-on) for 1C-Bitrix, which is responsible for processing clients and managing the office, and 1C-Bitrix for sales and the site.
Magento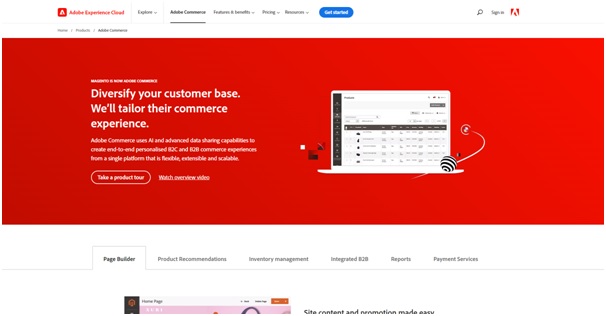 Now let's take a look at what the Magento platform is.
Magento is a platform (CMS system), and website engine for creating and managing online stores from Adobe.
Pros:
Included in the top 5 e-commerce engines in the world
Convenient and easy navigation.
There is a demo version of the platform that has all the necessary functions for free use
There is an official marketplace with extensions and basic themes
Supports a visual page builder with which you can create landing pages and product cards without web programming skills.
Easily scalable: multilingual site support, multisite, multicurrency.
Supports SEO settings.
Supports PWA technology, which ensures high site performance on mobile devices and high page loading speed.
Open source kernel. Each developer can offer to eliminate the detected problems, vulnerabilities, and bugs easily.
Can handle and run an unlimited number of sites at the same time
The platform is used by such global brands as Burger King, Coca-Cola, Ford, etc.
Cons:
A more expensive hosting (VPS or special) is required, as it will slow down a lot on a cheap one.
There is no Regional; language. You need to configure an additional module for the Regional;-language interface.
The free version lacks quality customer support
Need to hire full-time or part-time developers in order to maintain the store to integrate the features you want to see in your store.
More suitable for medium and large stores
Only suitable for online stores
All documentation in English
What to choose, Bitrix or Magento?
Bitrix24 and Magento:
So we come to the main topic of this article, and everyone has one question in their heads: which platform is better and how are they different?
If we compare Bitrix24 and Magento, then the answer is: you can't compare them in any way, since the systems, structures, and approaches to working with data are different.
The CRM system (i.e. Bitrix24) is designed to work with clients, and the CMS system (i.e. Magento) has the structure of the site "engine" and the CRM system is just an additional module in this structure.
The only thing you can do with them is to connect them with a special module (integrate), which needs to be developed separately, and it will not be cheap.
But if we compare 1C-Bitrix and Magento, then we can compare.
1C-Bitrix and Magento:
Which platform is better for an electronic store, it would definitely be wrong to say, because in this case, everything is individual and, accordingly, the equipment is selected uniquely for each store.
But, despite this, remember the main thing:
Magento is an engine for creating an electronic store or a portal that actively uses the functions of electronic commerce. And Bitrix is a CMS system with an online store module.
The better Magento:
Wider functionality
More scalable
Presence of a developed market of ready-made modules
Modern development technology
Multilingualism
Built-in A/B testing capabilities
No limit on the number of sites
The better 1C-Bitrix:
Cheaper if you consider paid versions
Integration with "1C Accounting" and "Bitrix24", without separate modules
Own Framework
There is a programming language ".NET"
Documentation in regional language
Have you made your choice? Whatever it is, you can find a dedicated Magento developer or a Bitrix expert to help you create and customize your site.
Outcome
Both systems are giants and undisputed leaders in the segment. Therefore, which platform is the best, everyone decides for himself.