The most common question stonemasons get asked these days is, what kitchen benchtop colour is in right now? So, to make your on-trend kitchen benchtop selection easy, we put together the nine most popular Caesarstone kitchen benchtops for 2021 to inspire your next kitchen!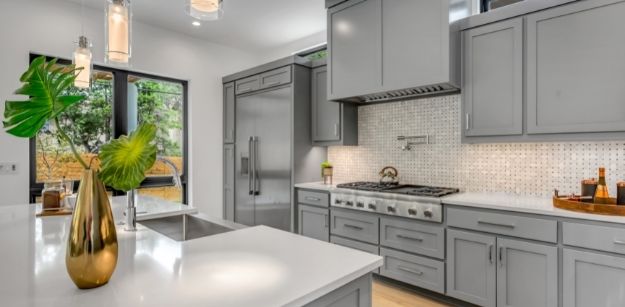 What is Caesarstone Made From?
Caesarstone kitchen benchtops are created from up to 93% natural quartz aggregates, organic pigments, and enhanced polymer resins. Caesarstone is a heat-resistant, stain-resistant, scratch-resistant, and chip-resistant stone benchtop surface. Since Caesarstone is composed of natural quartz, it has the possibility for natural variances, which makes your Caesarstone kitchen benchtop truly one-of-a-kind!
Caesarstone benchtops require minimal care and hold non-porous qualities. Although, like other quartz-based benchtops, Caesarstone surfaces cannot withstand excessive heat since the colour of the Caesarstone benchtop can vary with temperature changes over time.
1. Intense White 6011
According toCaesarstone themselves, their most popular colour of 2021 is Intense White 6011.Every second new kitchen benchtop will feature this Intense White benchtop colour, and for good reason!
Intense White 6011 offers an easy to clean, incredibly durable and modern looking kitchen benchtop to suit most households. Aesthetically, the stone benchtop displays a sharp and crisp white base with subtle speckles of grey, expressing a beautiful contrast that will freshen up any room.
And we mean EASY TO CLEAN! Before you make dinner taste like a multipurpose cleaner, put away the harsh kitchen cleaning chemicals! Instead, Caesarstone kitchen benchtops only require a gentle wipe with warm soapy water and a soft-bristle sponge.
2. Georgian Bluffs 6134
Caesarstone has also noticed Georgian Bluffs 6134 as a popular kitchen benchtop choice. Offering a light grey tone with a slightly rustic look and darker grey veins creeping through the base. Georgian Bluffs evokes a timeless charm that works well with various home design styles, periods, and materials. Combine with organic and metallic elements for a modern earthy look or metallic and organic materials for a semi-industrial look.
3. White Attica 5143
Caesarstone White Attica is undoubtedly a popular option amongst consumers, so much so even the samples for this stone benchtop colour quickly out of availability due to the high demand! White Attica offers a vibrant, clean, and natural look that brightens up any living area and adds joy to most kitchens.
4. Piatra Grey 5003
Caesarstone Piatra Grey offers an unbeatable contrast to your kitchen, bathroom and living space, with a smooth dark grey base and flawless white chalky veins. Piatra Grey is an excellent option if you're looking to add depth to your space whilst maintaining an earthy and joyful feel. Piatra Grey blends well with a variety of different interior design materials, from wood to metal. Its long-lasting colour depth adds a touch of sophistication to modern home designs.
5. Frosty Carrina 5141
Caesarstone Frosty Carrina offers warm and subtle ivory white tones and is elegantly suited as a kitchen benchtop. Frosty Carrina displays powdery and delicate veins that can lighten a room whilst maintaining a subtle yet alive feeling.Frosty Carrina can be perfectly paired with an oaky mid-tone to add an unprecedented contrast.
6. Ocean Foam 6141
Caesarstone Ocean Foam offers an extremely light and versatile appearance with speckles of a very subtle dark tone. Adding not only a contrasting colour to an area yet also adds a contrast within the stone itself. Ocean Foam has some playful yet modern characteristics and is perfect for a kitchen benchtop. The warm off-white tone also encourages a look versatile to either a contemporary or traditional look.
7. Oyster 4030
Caesarstone Oyster displays a fruity mid grey base excited by speckles of darker quartz tones. Although a very gentle and pleasant palette, Oyster still manages to offer a rocky-beach vibrancy. Oyster is a long-lasting and classic style kitchen benchtop with heat and stain resistance, inviting a range of interior styles from Scandi to Contemporary.
8. Black Tempal 5810
Changing up the theme with Caesarstone Black Tempal. Black Tempal displays a jaw-dropping earthy night sky dark tone with hints of yellowish-white to express an unbeatable contrast. Black Tempal has no match if a modern look is in your sights. If you're looking for a kitchen benchtop that offers nothing but a WOW factor Black Tempal is an excellent choice when waterfalled, bringing a huge character into your room.
9. Clearskies 406
Caesarstone Clearskies is a bet on grey with small specks that gives kitchen benchtops, outdoor settings, splashbacks, dining tables, and more the earthy appearance of organic materials. Clearskies' natural aesthetic creates a feeling of flow and continuity from inside to out, making it a beautiful accent and focal point for your interior and outdoor projects.
Texture and movement are included in Clearskies, resulting in subtle natural differences across slabs. Always discuss the stone's design flow with your stonemason before cutting to improve the design outcomes over numerous slabs and edges.
Source Your Caesarstone Kitchen Benchtops from a Reputable Stonemason!
While Caesarstone is a stone brand that designs and manufactures beautiful stone benchtops, customers do not have to buy direct from any stone brand like Caesarstone. Instead, the most common option for customers to see stone benchtops is at a stone supplier.
Stone suppliers are excellent resources for homeowners and contractors looking for the right stone for their projects. Customers have a plethora of stone selections since stone suppliers have large warehouses packed with hundreds of natural and manufactured stone possibilities.
So even if you are set on a Caesarstone kitchen benchtop, at a stone supplier you have the opportunity for a stone expert to compare other stone benchtop products to ensure you are getting the best option for you.
In addition, reputable stone suppliers will also be stone fabricators, also known as stonemasons, who can tailor-cut and install your carrara stone benchtops for you. Stonemasons cater to any customer requirement. Whether you need a stone installation for your kitchen benchtop, bathroom vanity top, bar, outdoor barbecue area, fireplace, and any application in between, they are available to assist you.
Particularly, if you need advice on installing a new stone benchtop, stone suppliers are your best point of contact because they are not biased to one brand and offer tailored solutions ideal for any need. Plus, Caesarstone themselves recommend talking to a stonemason on how to optimise their stone benchtops to your design and use any potential offcuts for other design components like shelves.