There is this unique relationship of humans with food. People buy groceries from the stores nearby. These stores do play a very important role. They have a huge market in terms of potential customers and also act as trustworthy source of information on various products. Also, people get their groceries from supermarkets. These large stores provide all types of variety to the customers.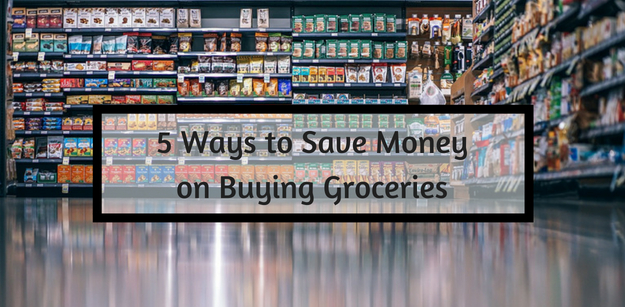 When it comes to groceries, the main concern is buying the right product at the right price. With so many variety, it becomes difficult for the person to choose. Several times they are loyal to one product for their entire life as they fear wasting money. Money is an extremely important factor while buying groceries. Majority of the households spend a good amount of their income on groceries. They make several mistakes and thus spend a lot more than required. Here, we will be discussing the mistakes and the 5 best ways to save money while buying groceries:
Shopping the sales
It is the best way to save money on your groceries. Groceries usually contain perishable goods which tend to go bad after a certain time. Thus, they are often sold at their cost price after a few days and you can buy them at that discounted price and consume it that day only for a much better experience. You can always rely on large supermarkets. There are always some sale going on where they give multiple products at a lower price and you can save money. They also give flat discounts which sometimes are not available in local stores.
A lot of people just go to the stores and then look for the deal they can get. It would be a lot more beneficial if they look at the offers on various products and then hunt for them in the stores. It would not only save money but also help them save time. You can also look for those places where such sales are conducted usually. Often these stores are crowded, but you save a lot as well.
Use a list, always
It is always advised that one must shop with a list in hand. This becomes more important when you have kids around who have the habit of stacking everything up. Various studies show that parents when accompanied with their children tend to spend a lot more than when they are just themselves. All you need to do is that prepare a list of all the things you need. It also helps you to get all what you really need. You won't forget the necessary item and would not have to revisit the store specially for that. The major help a list does is that it limits the number of items you pick up while buying groceries. You do not impulsively buy goods that you think you like or might need in future. When you stick to the list, you save a lot more money.
Plan and Plan
Planning is always of help, even while buying groceries. Even though it might seem a tedious task for some tired people, it is one smart way of saving some bucks. You can plan your menus in advance and observe what all dishes you cook and what all you will need. You can do this and also prevent you being out of stock when needed. You can check your pantry and plan what all you can cook without using any money. Another way to ease your pocket is to regularly check your pantry and fridge. You must look for the products that you have and what are their expiry dates. You should probably use all that you have before going to shopping, one can save around by reducing 25% of your shopping.
It will require some special skills but will be very effective once done. You can also use the price book and observe the trend in the prices to get the best benefit. You need to stop only once a week or twice in fortnight to ensure you keep your list in check and do not shop excessively which would lead to waste of money.
Go Online
The new way is the online way. It is perhaps the most convenient of ways to get your groceries. You do not have the face the scorching heat of outside and also not stand in queues for hours in order to get your cart billed. It provides you also the options while sitting at home on your laptop. You can save a lot of money if you buy in bulk online. Things which have a good shelf life such as paper products can easily be bought in bulk. Meat can also be stored in advance for weeks. There are various offers today which can help you reduce your cart amount and provide you quality products at a lower price. It also helps you as you do not have to got out. So, the money used for travelling to different stores is also cut down to zero, adding to the list of doles.
Store tricks
These tricks range from small things like shopping on a full stomach to cumbersome ones involving comparing prices of different stores. You must be loyal to one shop and would often find that you will get better deals and discounts on various products. You will also remember the aisles and lanes that have your stock, which would help you focus on that parts only and prevent excessive buying. You must have a smaller basket and should not spend extra time at the place to prevent overspending on unnecessary groceries. You can always get the cans and other containers disposed easily by giving it to a scrap dealer and you can earn some bonus money.
With so many consumers, like children, adults and elderly to cater, the manufacturers will focus on giving quality products. Simultaneously people will use above mentioned ways to cut down their expense on groceries. The trade-off between money and groceries will continue and it is always interesting in what ways you can save money.
Now you can save more by using magicpin, it gives you cashback & discount on each spending on any restaurants, paying bills and shopping and so on.