In the old days for shopping, you have to step out of the home and visit the shop and make a purchase. But thanks to E-commerce Web sites, the products are available at fingertips and you can get your desired products without leaving the comfort of your home.You can just browse the product on the website and just by one click make a purchase of that product.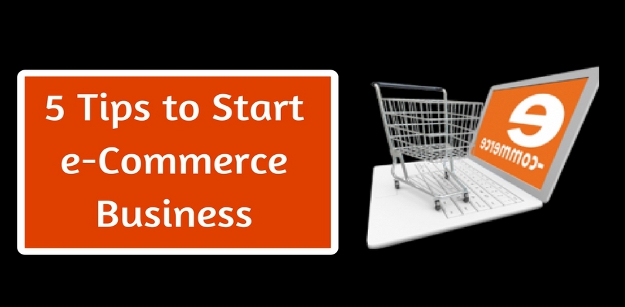 India's e-commerce business is set to grow from US$30 billion in 2016 to US$100 billion in 2020 according to a recent estimate and The country has a whopping 450 million internet users, so the potential of opening an E-commerce business in India can be easily recognized.
[AdSense-B]
In E-commerce industry, you have two options of becoming an e-commerce Entrepreneur. First one is to join the popular E-commerce website like Amazon.in,Flipkart.com,snapdeal, eBay etc and the Second option is to start your own e-commerce website which you can either build by using Html5, CSS and Javascript or you can use a Content Management System like WordPress,Joomla, and Drupal etc.
In This Article, We will tell you Primarily About How you can Start an E-commerce business by building your own website In 5 simple steps.
Read on to know 5 simple steps to becoming an e-commerce entrepreneur in India.
Decide what you will sell and Decide On Cost, Capital Required, web design, and Development.
To Start an E-commerce website In India you need to first decide what will you offer for sale to the public and what type of product you will sell and also research on what other sellers are selling. Then you must estimate the cost of getting these products that will form an inventory or stock and also apply for a loan or approach person or organization for Funds.It is also recommended that you come up with a business plan that will clearly state objectives, missions, policies and procedure and capital required etc. Crafting a business plan can help in securing venture funds and loans from the banks and financial institution. You must also decide on web design and development for your website. You need to make choice between whether you will use HTML and CSS website or you will work with CMS System.
Get the basic documentation in place for Business Registration and GST Registration.
After you have taken the above steps you need to get a Business Registration and New GST Registration. In India, you can start your Business as Sole Proprietorship, Partnership, LLP Registration , One Person Company, Private Limited Company etc. Why is it necessary to choose business type is because Government provides special benefit and separate schemes if you register as one business entity above.After you have done a Business registration you can also list your business as A Start-Up In India.GST registration is mandatory in India and you require GST Registration if you are dealing with Goods and Services. And also it is required even if you register on any popular E-commerce Website. I would like to also Point out that If you do not have Documents like Pan Card, Adhar card, Driving License, Voter Id  Or any other legal Document then You must obtain One Immediately as they are required in all legal formalities in India.
Secure a Payment Gateway to receive Payment
To receive Payments fro your customers, You need to set up a Payment Gateway through which you will get payments from the customer who makes the purchase of your product on your website.There are two types of payment gateways in India:
Payment gateways with no setup fees, for example, PayPal, Payumoney, Airplay etc
Payment gateways with setup fees, for example, Payu, ccavenue, directpay.
You need to visit their website, Fill a simple form and You need to submit  ID proofs, Address proof, phone bills etc. for applying the payment gateway.  The whole process takes 10-15 working days for completion.Once you get a payment Gateway, You just need to add it to your website.
Decide on Logistics Services for your E-commerce Business.
you need to make arrangement for supplying and delivering your products to the customer. You need to make a proper selection of courier services that will deliver your products to the customer.
Start Your E-commerce Business.
After you have Registered your business, secure Funds, Got a Payment Gateway for your website and completed all other formalities your E-commerce Business is ready to go live.Now you must choose a Marketing strategy to promote your website like you can use Tv, posters, billboard radio and newspaper ads etc or you can use Digital Marketing like Facebook Ads, Google display ads, and other web-based advertisements and also you need to Hire Right People For you Business.