There has always been something appealing about that golden, bronzed, and sun-kissed look. Once summer rolls around, you can always expect an influx of people going to the beach to bathe under the sun and achieve that glowy complexion. However, with the pandemic requiring stricter health and safety protocols, it is much harder to hit the beach the way you would in the past. At the same time, summer only happens once a year, so how exactly can you achieve that tan for the rest of the year?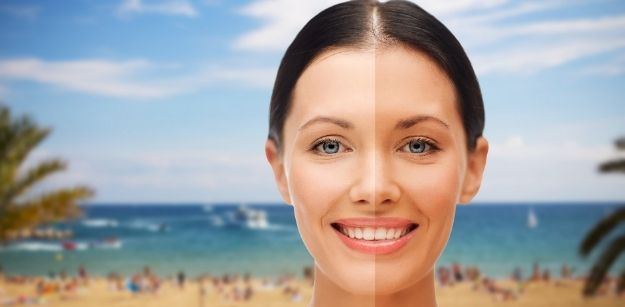 To solve these dilemmas, many have turned to self-tanning. Products like tanning lotions or face tan water are becoming more popular nowadays as more people want to achieve golden skin without risking sun damage. However, self-tanning is much more complicated than it sounds. If you mess up with the application or choose the wrong products, your skin can turn orange and patchy. To help you achieve a natural-looking tan at home, check out these tips and tricks:
1. Exfoliate and Shave First
Preparing your skin is important to get an even tan, so before you get started, make sure to exfoliate and shave as needed. Exfoliating can help get rid of dead skin and gives you a smooth canvas to work with, while shaving in advance can prevent skin irritation. Before tanning, you also have to dry your skin completely to prevent diluting the product and causing an uneven application. However, for elbows, ankles, and other areas that are usually dry, you can apply some lotion to prevent them from turning darker than the rest of your skin.
2. Choose the Right Products
Tanning products come in so many different formulas today, with some of the popular ones being mousses, lotions, or spray mists. Technically speaking, there is no right formula among these choices, so your best bet will be to do research to know what will work best for you. Read up on different products and check their ratings and reviews to decide what you want to go with.
3. Start With the Face
It is recommended that you tan your face before your body since it is easier to do. However, even if you have a smaller area to work with, it can also be trickier since any streaks and patches will be more noticeable. One of the most important tips will be to choose the right formula, depending on your skin type and condition. If you want to take the tanning slowly, you can opt for face tan water to gradually add colour to your skin until you get it to your desired look.
4. Clean Up Mistakes
It is absolutely normal to make mistakes while tanning, so you do not have to fret if this happens to you. Having baby wipes on hand can be useful to clean up tanned areas that should not have been touched, while an exfoliating mitt or baby oil can help even out dark spots and patches.
5. Practice Aftercare
The best way to maintain your post-application glow is to follow proper aftercare. Using gradual tanning products like face tan water will usually come in handy at this time since your goal is mostly to maintain and touch up your colour. Avoid using harsh products, whether skincare or soaps and shampoos, as they can strip off your tan more quickly. And as always, keep your skin and body hydrated to give it that healthy glow on top of its gorgeous tan.