Today, social networks are so firmly rooted in our lives, that we simply can't imagine our lives and businesses without them. Bearing in mind that it is Instagram which audience shows the highest engagement rate, that is not a surprise that millions of users chose this platform to climb to success.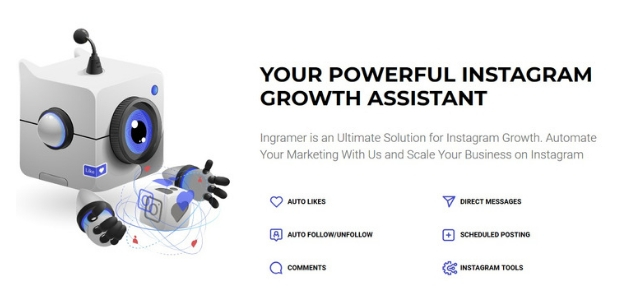 But there is the other side of a coin: on average, IG users skip around 70% of all posts in their Feed. So people started to think about how can they increase their account's appearance and enter the top-publications.
What do you need to get an iconic status on Instagram?
Be hooked into Instagram;
Be one-of-a-kind;
Be smart and track statistic.
Only three points and you will be in all your Instagram glory? Far from it, I'm sorry.
Each of these points presupposes tons of manual dull and monotonous work. That's why people started looking for a solution and they found it — Instagram bot.
For your general knowledge, IG bots are specially developed tools for the automation of all your IG activity. Their performance is determined by the imitation of the behavior of the real person and by usage of artificial intelligence for executing some of the functions.
Now let's dig into the reasons why Instagrammers use IG bot so actively. Let's consider them in correlation with those 3 tips for your IG success.
Reasons People Use It
1. It maintains activity
All people tuned into Instagram know that the key here is your activity. Constant uninterrupted activity. How can IG bot help here?
First of all, it can like other people's posts. Agree that liking is one of the most effective ways to draw attention to yourself. But for some very obvious reasons, you can't do it all the time on your own, but bots can.
Second, bots can search for your TA and follow it. The IG bot can do it by hashtags, sometimes location and made by you list of usernames. Of course, you can do it as well equally well (if you good enough at setting right targeting) but can you do it fast? The automation tool can.
Third, leaving comments, a lot of comments. Agree, that seeing comments under your posts, other people feel the same. The more comments you leave under the posts of your fans and TA, the better and faster they become loyal to you.
Forth, do you write Direct Messages to your fans? That's a shame if not. You can salute newcomers, offer your goods or send everything that comes to your mind. Can you do that to 100 people in a raw? Come on, let's be honest, you need help. IG bot is at your disposal.
Moreover, your activity is determined by your Stories viewing as well. You can view the stories of your supporters, showing your interest or the stories of your "coming soon" followers to invite their attention. But if you do it in truth, a 24-hour day is not enough. Using special automation tools, you are able to free your time for more urgent matters.
And the last, but not the list, you should post regularly, you can set the timer and post on time every day. And what if you are leaving a country for vocation and do not have access to Wifi? Post planning and scheduling is the function that you are in urgent need of.
2. It helps you being original
You need to be original and offer unique content.
At first sight, the automation tool can't help here. But stop, there is one thing that IG can offer to ease your brainstorming — hashtag generator. You know that a huge part of IGcontent is hashtag-part. We won't talk about the benefits of using tags on IG, let's me just say that you need to use different hashtags for every post, they should be quite original and what is of greater importance, relevant. So that you don't have to think up new hashtags over and over again, the automation tool will do the dirty work instead of you, faster and more productively.
3. It makes analysis
If you do not possess analytical skills analyzing your promotion strategy becomes deadlift for you. IG bots offer the accurate statistics tracking and the analyses of your promo campaign. You will see the percentage of activity on your acc, the number of follows and unfollows per day. Some of the bots offer even their recommendations based on the result they interpret. We can't estimate whether can an average person do that or not, but you had better know what alternatives the latest cutting-edge Instagram solution offer.
Grand Finale
Through social networks, you can reach out to any audience, regardless of gender, age, social status. All you need to do is to make up the right strategy. If the ability to see the fast results, the reliability, high performance, comparatively inconsiderable expenses are of some interest for you, turn your attention to Instagram bots.