If you are thinking of starting a new business then, you have to keep in mind that you must complete all legal compliance so that you do not have to face any difficulties in the future. This article talks about 5 important compliance for every startup like PAN registration, GST registration, Udyog Aadhar registration, and company registration and its filings to roc.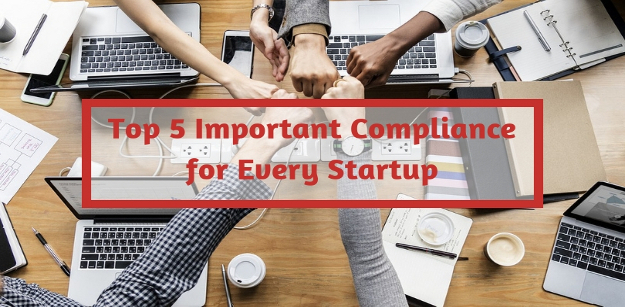 1. Company Registration
If you are going to start a new business, then you have to take care of what type of company you are registering it, because it is very important to make the right decision. Every company has some of its advantages and disadvantages. Therefore, it is very important to make the right decision so that you can take maximum advantages. After selection of a type of company, you have to register your company under the ministry of corporate affairs. You can register your company by filing online form. During registration, you have to obtain Director Identification number (DIN) and Digital signature certificate (DSC) both are an important document for any company.  After obtaining DIN and DSC, you have to check name availability of your company which can be done by RUN or Spice form. Then you have to file your MoA and AoA to the MCA. Memorandum of Association is very important to document for any company. You will get your Company registration number after successful submission of your company.
2. GST registration
GST registration is mandatory nowadays for a startup to avail various benefits under the GST composition scheme. You have to pay a nominal tax under the GST composition scheme. GST is must for those whose turnover is more than 20 Lakhs rupees, and in some state, it is 10 Lakhs. GST registration application should be filed within 30 days from the date on which the entity becomes liable to pay GST. You can file your GST registration application online on official website of GST. After successful submission of application, you will get GSTIN (goods and service tax identification number). GSTIN should be mention on your sell/service Invoice. In case of failure of GST registration, you will become liable for punishment under GST law.
3. Udyog Aadhar Registration
Udyog Aadhar is very important for any small business as it has many advantages. You can take many benefits from the government. The Udyog Aadhar was launched in our country in 2015, by our Prime Minister and he started a number of schemes related to this by which a middle-class businessman could take many subsidies from our government. After obtaining Udyog Aadhar, you can apply for a loan on low-interest rates. Udyog Aadhar is 12 digit numbers which is issued by Ministry of Micro, Small and Medium Enterprises. The process of Udyog Aadhar registration is very simple and easy, and it is a completely online process. You have to visit the official website of the Udyog Aadhar where you can file your Udyog Aadhar memorandum, and there is no need for any document.
4. PAN registration
Permanent Account Number is issued by the Income Tax Department of India, which is very important for any business because the bank asks for your PAN number to open a Current Account, it is mandatory for tax filing, and it is also necessary to document during registration of a company. You can obtain your PAN card by the filing of an online application form. During deposition of way, you have to fill your personal and profession details and have to attach supporting documents. After submission of application, your PAN card will be delivered to your address.
5. ROC filings
If you are going to start a corporate startup, then you should know that the Ministry of Corporate Affairs asks you to complete some compliance every year for example filing of an LLP Annual Filing , the filing of the financial statement. All these filings should be done every year to the ROC. Registrar of company checks whether the company is working correctly on not. You have to submit your annual return in which you will mention all the details of your company, and in a financial statement, you have to say all aspects related to financial matters. These compliances can be done by filing an online form on the MCA portal. You have to submit the MGT-7 form for Annual statement and form AOC 4 for a financial statement. So you should be done your ROC Filing so in future there will cause no difficulties for you.
Conclusion for Top 5 Important Compliance for Every Startup
As you saw in the above article how important it is to complete all these compliance for any startup. From Company registration to Roc filings all these are very important. PAN registration is mandatory for banks now, and Udyog Aadhar will help you in many ways as it will provide you with many benefits. So if you are planning a start then you should consider this above-given compliance so in future there will be no difficulties will arise for you.