What are the usual services provided by most of the SEO companies? Keyword research, content development and effective link building, isn't it. But do they really look at the speed of the particular web page. As per the Google ranking, speed of the website is the most considerable factor. Many SEO companies often overlook the speed factor and despite of many useful strategies, they fail to obtain suitable traffic and ranking as well.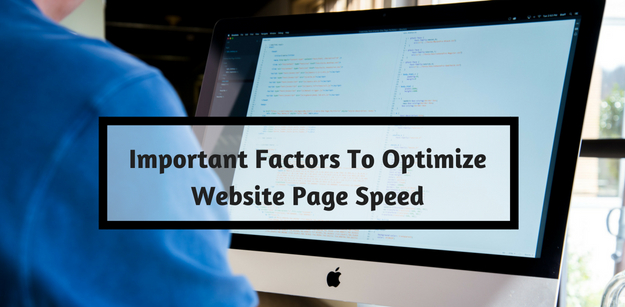 Since 2010, speed is the most wanting factor. However, before this it was only confined to desktop searches but now speed factor has also influenced the mobile app searches. Basic strategies need to be planned in order to obtain suitable speed for the site and that the users might not leave your page while being irritated with the slow speed.
Certain points to know in order to boost up your website page speed
Plan specific baseline
If you are looking to improve your website speed, you should plan necessary and basic aspects and look for grabbing opportunities. Google itself provides insight tools based on the page speed that analyses your website and provide suitable ranking both desktop and mobile oriented searches. This would provide you enough info about certain optimizations to be made in order to improve page loading. This is essential as it provides you apt idea regarding what to do next.
Improve on site performance
The PageSpeed insight tool lists down the specific issues which degrade the speed of the website and here are few recommended solutions as well.
There are many high resolution images which take much time to upload especially when it is operated in mobile. Though these images are not essential yet it requires to be optimized so that the speed of the website is enhanced. It should be edited and saved in suitable format so that it might not take much time to upload.
Certain factors like JavaScript and Render blocking prevents the page from loading fully unless it is processed. These factors control the overall looks of the site. Unless these are processed fully, entire files do not load. Thus, it is essential to make changes so that only necessary things are confined to the site. This not only enhances the look of the site but also prevent it from slowing down.
Browser caching is yet another technique. It tells the browsers about how long the files and CSS can be stored in the site. This function allows the page to load quickly just the user navigate your website.
Minifying is also the process which cuts down unnecessary data and content from your website. Moreover, it does not impact or change the overall display of the site. In order to enhance the speed, one should choose redundant formatting, cut down long keywords and changes should be made in the usual codes and so on.
Many a times, it takes too much time to load what user initially sees. This often occurs due to loop. In order to enhance the speed and create pleasing user experience, you should format the changes in a particular way.
Compression is yet another technique that can upgrade the speed. It is the process in which the size of the fonts and data is compressed or reduced which relatively load the page at faster pace.
Invest in better hosting platform
Spending much time in making quality changes in the websites is not wise. Choose appropriate experts or hosting platform that would help you significantly. The hosting platform that you are choosing must avail you quality oriented services. Unless and until they are updated and aware of the changing technology, they might fail to enhance the speed of website. A dedicated hosting platform uses upgraded hardware and software to make necessary changes.
Server response time should be reduced so that pages can be loaded easily. Some potential issues like routing, bad application logic, slow response needs to be settled down. It should be corrected which consequently enhance the website speed.
The hosting provider which you are choosing must avail you the CDN services. CDN or content display network is the network of the servers that provides quick content display to the end users. The hosting platform that provides CDN services helps your website get maximum traffic drive while quickly uploading your content to the user.
In order to speed up the site, it is really important to consult an Expert SEO. No matter whatever changes you made or whichever optimization technique you follow, it is very important to note down the speed factor of the site. This is the core factor in the Google search ranking. Despite having organic traffic, it is equally important that you provide easy page access while improving the speed factor of the website. Don't waste enough time on making the changes else invest on quality SEO services.