You cannot win a battle without a proper plan and a good level of preparation. Likewise, in order to score well in your NEET examination you should be well prepared and must have solved the similar type of questions in the past. So, where will you get the most similar questions ? Without any doubt previous year NEET question papers will provide you with the closest resemblance of the actual paper that you'll be getting in your NEET exam.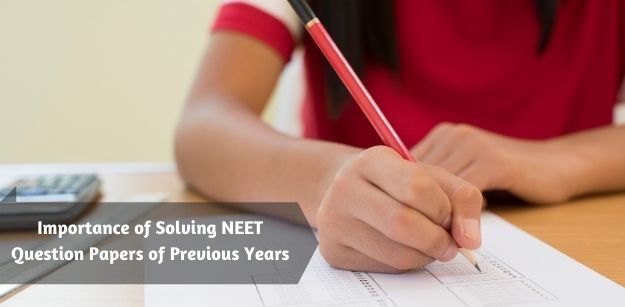 Solving previous years NEET question papers is very important during your preparation journey because solving past year papers helps students understand and evaluate the paper pattern, difficulty of questions, type of questions etc. Solving previous year papers helps students by providing them an experience like they have given the real exam. It also helps the students in testing their preparation level for the upcoming NEET exam. Hence, it is very recommended to refer to the solved previous year's NEET Question Papers Book and solve as many papers as possible before appearing in NEET exam. Here are some of the major benefits of solving NEET question papers of previous years.
It is recommended that you refer to the solved previous year's NEET Question Papers Book to make your preparation easier.
1. They Help In Realizing & Correcting Your Mistakes : "All men make mistakes, but only wise men learn from their mistakes." It is better to make mistakes at home than to make the same mistakes in the examination hall. Therefore practicing previous year NEET question papers helps in reducing the probability of making mistakes in your NEET paper and helps in scoring good marks.
2. They Help In Developing Time Management Skills : "Practice makes a man perfect." 180 questions in 180 minutes sounds really harsh but you won't get any extra time. Solving previous year papers and sample papers helps the students in completing the paper within the allowed time. Try to solve previous year papers in 160 minutes because then only you would be able to solve your NEET exam in 180 minutes.
3. They Help In Increasing Speed & Accuracy : Speed and accuracy are two things that you can never learn practically. It comes automatically by practicing more and more questions. Therefore it is suggested to solve as many previous year NEET question papers to increase your speed and accuracy. NEET requires you to become a rabbit that is not only fast but completes the race too. Tortoises don't survive at all in this competitive race.
4. They Help in Gaining Confidence : "Confidence is the most beautiful thing you can possess." No one can give you a tonic of confidence and neither can you learn it. You can only earn it. Like speed and accuracy, confidence comes automatically by practicing questions from previous year NEET question papers. Solving previous year questions helps in boosting up your confidence which can have a big impact on your NEET score.
5. They Help In Getting Rid Of The So-Called Exam Fear : "Riding a horse for the first time is much different from riding it for the 10th time" If you have not practiced from previous year NEET question papers then due to exam pressure and fear you'll miss even simple and easy conceptual questions but for those who have practiced a lot from previous year question papers this NEET paper would be like any other mock test for them.
6. They Help In Analysing Preparation Level & Evaluating Performance: You would be able to analyze and evaluate your strengths and weaknesses when you will solve previous year NEET question papers on your own. Then you can further convert your weaknesses into your strengths. The pro tip is that whenever you solve any previous year paper then devote some time around 15-20 minutes in analyzing the mistakes that you did while solving questions. This is definitely going to help you on the exam day.
So, you must use previous year questions and sample questions and devote a few hours every day to practice for NEET from previous papers. Also, after getting the NEET syllabus finished, you can plan your target score using NEET Rank Predictor according to your dream college. So, this was all from us. All the best for your NEET examination. Go ahead, crack it and turn your dream into a reality.