A personal loan is the most popular form of unsecured loan. It can act an ultimate as saviour when you need urgent cash for something like an emergency medical treatment, home improvement, vacation, wedding etc. Financial institutions do not demand a security or collateral to grant this loan. You can use the funds the way you want. As feasible as a personal loan may seem to its customer, unfortunately fraudsters may also want to take advantage of customers, who are not well aware about how the loan gets approved, processed, sanctioned, and disbursed.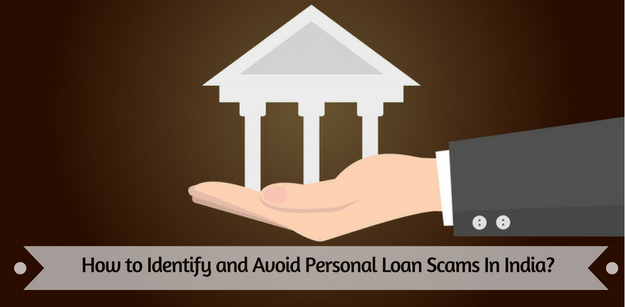 A majority of personal loan scams are run online. Sometimes it is difficult to distinguish personal loan scams from legitimate offers. What looks like a legit lender, could be a fraud instead and so could be the financial reviews that are oriented to fool people into believing them. However, there are plenty of warning signs that can make you cautious and detect a personal loan scam.
Below mentioned are some of the major warning signs that can help you detect a personal loan scam
1. A Prepaid Debit Card is demanded
Personal loan scammers will ask for an upfront fee to approve a loan. Ideally, you should not have to pay anything before your personal loan is disbursed. Yet scammers will ask borrowers to provide cash or prepaid debit card for insurance/collateral. Once the card is in their hands, it cannot be traced. A legitimate financial institution can charge a fee for your application, processing of documents, credit report etc, but these charges would be deducted from the loan, and not asked as upfront payment.
2. You Are Told That Credit Score and History Does Not Matter
An unsecured loan like a personal loan necessitates legit lenders and financial institutions to check your credit score and payment history, depending on which your creditworthiness is judged and decision on lending is taken. A good credit score is necessary for approval of personal loans, and if a lender tells you that your credit score does not matter, it may mean the lender/provider is a fraudster.
3. Urges You to Act Immediately
Stay far from those who urge you to act right now. Fraudsters will want you to share your banking or credit card/debit card details right away in disguise of providing you a heavy discount on processing charges, or other benefits which really do not exist. The scammers will act as if there is no tomorrow and pressurize you to sign up for the deal.
4. The Lender Is Not Registered
If a lender is not a registered, then you should definitely not risk taking any kind of loan from it. There is a higher possibility of personal loan frauds from lenders who have no proof of registration on them. It is best to choose traditional banks and NBFCs for the loan instead.
5. There No Physical Address Mentioned on the Website
If the website does not mention any physical address of its headquarters or location, then possibly it is a fake. Personal loan fraud happens mostly online, especially if the lender is not keen on sharing its location. Even if there is an address mentioned, you should run an additional check on the authenticity of it. Check for the address in a dial directory or enquire about the lender's phone number and locate the place on Google Maps.
6. The Website of the Lender is Unsecure
When you visit the website of lender or a third-party (connecting lender and customer), notice if there is an's' after 'http' of the site URL. The site address, if secured, should show as 'https://www…".  If the site URL begins with just 'http', then back away from your device. Not having the necessary's' could warn of a scammer website, as the site is insecure.
Fraudsters refuse to pay to keep their websites safe. There must be a padlock symbol on pages where they have asked you to provide personal details. You should also keep an eye for pop-ups, especially if there is one saying that the website's security certificate has expired.
Now that you know the warnings signs to spot personal loan scams, we will tell you about how to avoid these fraudulent offers
Keep Your Device Protected: Equip your device with anti-malware, anti-virus, and spam protection applications to protect from online scamming and phishing attacks. These applications will block all notifications, websites, e-mails that are possibly phishers, and restrict/warn you against sharing personal and sensitive information.
Beware of Unrealistic Guarantees: If someone is offering you unrealistically low interest rate on the loan, then beware of such agents/lenders. Avoid entering into any such agreement that ask you to provide a small fee for slashed rates.
Do Not Share Banking Information over a Call: A legit personal loan provider will ask for only few personal details over call, which are essential to forward your requirements to the necessary department. But only a fraudster will go a step ahead and try collect crucial information such as your debit card PIN or CVV number, banking passwords etc. You should never share such details over a call or otherwise.
Carefully Read the Loan Agreement: If you are going through with the deal, before signing the loan agreement, read it properly. Make sure there are no vague terms and conditions and all essential charges, components of the loan and guarantee/promises are detailed out.
Check Your Credit and Debit History: Once the repayment begins, you must keep a check on the bank account from which the payment goes. Track the amount being deducted as EMI. Also, check credit card statements and other financial statements from time to time. If you feel an unauthorized transaction has taken place, take quick action.
Personal loans are the easiest way to finance your monetary needs. But when taking or applying for a personal loan, it is important that you choose a legitimate lender or financial institution. The above-given warning signs to detect and avoid personal loan scams will help you steer away from fake offers.