As all of us know and rightly said, a motherboard is the most important component of a computer. Simply saying, it is a circuit board in charge of connecting different things ranging from a CPU, RAM to hard drives and more. Almost all of us have at least seen a raw motherboard once in our lifetime. It looks like a hardened paper board, but its functions are more than one can expect.
Since a motherboard is the basic foundation of a computer, you need to clear enough on what you need. For instance, a motherboard like MSI B360, one of the best motherboards for i5 8400, works through Intel B360 chipset and supports Intel 8th generation Core i7, i5, and i3 processors as well as Celeron and Pentium processors. Pretty powerful right!!!.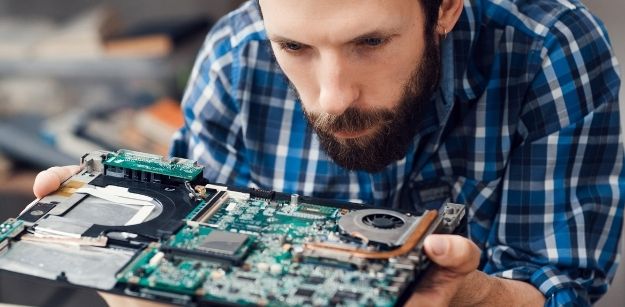 I will guide you on how to choose the right motherboard for your computer through this article. I am sure you want the best for your devices, and having a strong foundation is being one step closer to this goal. As no computer works without a motherboard, you have to be sure of choosing the correct one for you. Today's investment will be a future investment.
Check the processor:
If you are trying to build your PC or computer or even make changes to your current one, then, of course, you are searching for a motherboard. The first thing that I would recommend is to know and understand the type of CPU that your appliance supports. Processors are of two types. The dominant ones are Intel Core and AMD Ryzen.
Motherboards have space for installing or fitting a processor, and different motherboards have their compatible socket. Such a socket also determines a particular version or model of CPU that it is compatible with only. For example, the newest version of Intel's 10th generation works perfectly well only on the LGA1200 motherboard socket.
Similarly, the MSI MPG X570 gaming motherboard is ideally compatible with AMD Ryzen's 9 5950X and Ryzen 9 5900X processors. To be on the safer side, be available with the best knowledge about the CPU before your purchase.
Size and Form
The next thing that you must be aware of before purchasing the right type of motherboard for your computer is choosing the size. In today's time, brands make motherboards available in three forms, ranging from the ATX (305 x 244mm), Micro-ATX (244 x 244mm), and the mini-ITX (171 x 171mm).
If you have a compact-sized appliance, then you must undoubtedly go for the smaller option, depending upon the computer's dimensions. But you must know that to be offered with more features, a bigger motherboard promises them.
Depending upon the motherboard's size you wish for, you will know what sockets or number of slots you will be offered. The maximum number of sockets that a motherboard possesses is five, while the minimum is only one socket. The memory sockets also differ from each size. So, according to your needs, you must choose the best appropriate-sized motherboard.
Space for RAM
I must also let you know that just as CPUs have a place to be fitted on the motherboard, RAM (Random Access Memory). The type of motherboard that you purchase will also determine the type of RAM that can be fitted or be made compatible with it. As already known, the RAM is important to store the computer's working and files, etc.; therefore, you must keep the RAM in your mind before buying any motherboard. I focus on the best quality of it; therefore, I will suggest you make sure that the minimum your motherboard should handle is 16GB. But of course, the more, the better.
You can also notice how you can expand your memory storage. Motherboards often have more than one socket indicating that you can fit more than one memory card to them. Having such a motherboard will be of great benefit. You can now store as much as you want and use it to your fullest.
PCI Sockets
Just as talking about benefits, a motherboard must have slots for PCI. These are slots that allow expansion cards to be attached and, depending on how you wish to make use of your computer. You must also have an approximate number of slots that you wish to have on your motherboard. If you are interested in professional gaming, then purchasing a motherboard that provides a fast working PCI express x16 is the minimum. But don't worry, motherboards also provide an average expansion slot to connect adapters, sound cards, or Internet connections.
Lastly, a major thing that your motherboard must have is SATA ports. The least that it should offer you is the standard 6GB SATA. Having these ports is important to allow your computer's connection with the USB, storage, or optical drives.
Conclusion:
Every part of a motherboard is important; therefore, you must know how to choose your computer's right motherboard.