The nerve center of past Deccan empires, Hyderabad today is a city with many faces. Its tech corridor and corporate sector drive modern India while its medieval structures and culture form the base of its unique identity. To understand Hyderabad, one needs to see its old streets up close and taste the food of the town that was perfected over generations. Many choose self drive cab services in Hyderabad for a more private and convenient way to traverse the vast cityscape.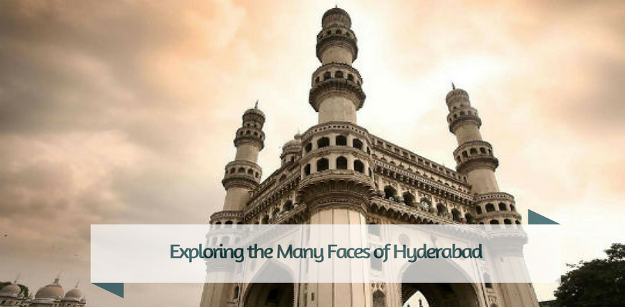 Landmarks of the City
A description of Hyderabad would be incomplete without a mention of the Charminar, an arresting monument that calmly looms over the unending crowds and activity of the old town. The four minarets of the Charminar are the defining highlights along with the high arches along with the mosque situated on the top level.
A Culinary Tour
There is a certain relationship that Hyderabad has with food that is unique to this city. Its history breathes in the savory dishes cooked in iconic eateries across the sprawling city. One can spend days just driving around town sampling the best biryanis in the country. Cafe Bahar is a loved culinary institution of Hyderabad, teeming with crowds all day while Paradise has enthralled foodies for over half a century. Haleem is another Hyderabad special while dessert lovers will love phirni, a rice and milk based dish traditionally served in little clay dishes.
Markets of Hyderabad
Those who are looking for quirky shopping experiences and great bargains will enjoy the buzzing marketplaces of Hyderabad. The old world architecture adds a charming backdrop as one imagines the scenes may not have changed much over the centuries. Koti Sultan Bazaar is known for women's apparel and junk jewelry but curious shoppers should be prepared for some rare surprises. Home decor to tobacco, the Begum Bazaar is one of biggest commercial areas of the city. Silverware, lacquer bangles, silk and antiques are a speciality at the Laad Bazaar, located close to the Charminar.
The Outskirts Attractions
Located just a short drive away, the ruins of the Golconda Fort speak of Hyderabad glorious past under the Qutb Shahi dynasty. It used to be one of the richest citadels in the sub-continent because of its famed diamond mines. There are many structures spread across the fort and magnificent viewpoints too. The ornately designed tombs of the old sultans and the surrounding gardens attract a lot of visitors. Naya Qila is another recommended site to visit.
Those looking for a reliable self drive taxi service in Hyderabad will enjoy the simple app-based booking process of Zoomcar, which also offers a wide range of cars and 24/7 on-road support at affordable costs. From the inner-city neighborhoods to the history-drenched outskirts, there is so much to see in and around Hyderabad. Do it with total freedom and privacy for a memorable experience.