As human beings, we are the most advanced species so far that have inhabited the planet earth. By the virtue of our developed brains and advanced thinking capabilities, we have come a long way.
From the era of stone age tools to that of the new age ultra-smart computers that can easily fit into our pockets. Yes, we are talking about the most precious gadget of our times – mobile phones!
However, along the way, also came a few of the managing woes that we probably never had the foresight for. The major one amongst these lurking dangers at the moment is that of the e-waste management.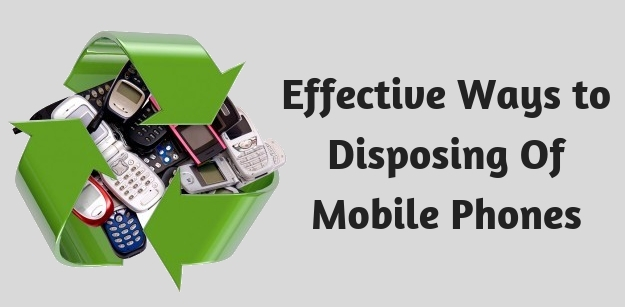 The frequently evolving technology has further added to the problem. With new devices being launched every other day, the temptation to discard the old one is at an all-time high.
It is no surprise then that the whole world combined together is disposing of 55 million metric tons of e-waste every year, which majorly contain cell phones! Also, not to forget, these discarded devices contain the most lethal of elements like lead, mercury, arsenic, nickel, etc., which itself accounts for the double trouble!
So, where do you think this massive e-waste ultimately goes? Unfortunately, in the absence of necessary awareness about the proper disposal of mobile phones and other devices, most of them end up either in the landfills or inside our precious water bodies.
Consequently, the contamination risk runs at an all-time high and in the absence of well-crafted stringent government policies, is simply awaiting an imminent environmental disaster to happen.
However, you have the power to make that ultimate change simply by choosing to undertake the right action. The deeds that you commit today can make or mar the future of our planet earth.
There are many effective ways through which you can help safely dispose of your old mobile devices. Let us have a quick look at these.
1. In workable condition? Encourage re-use
If your phone is in perfect working condition, why trash it when it can be re-used by someone else? Once you have purchased a new device, instead of tossing the old one in the bin or stacking it in one corner of your drawer, consider giving it away to someone who might benefit from it.
You can check with your family, friends or office colleagues to see if anyone is in need of a handset. Alternatively, you may also consider donating it to the schools, charities, and other organisations, which have a frequent requirement for phones.
Honestly, there is no better way to recycle than to reuse. It not only keeps the device operational and fulfil someone's dire needs but also defers the possible purchase plans.
2. Serve the alternate use
There is a way to re-use your phone without giving it away – by using it yourself albeit for a different requirement.
Mobile phones are complex gadgets having multiple functionalities apart from the usual calling and messaging stuff. When your new device comes, the older one can always be kept as a backup.
Alternatively, you can turn it into a dedicated music player, gaming console, home security camera, online radio, etc. amongst many other possibilities.
3. Exchange with a new device
Many companies run promotions where they take the old phones and let you buy a new one at a reduced price under the exchange bonus schemes.
These companies then further take the responsibility of the safe disposal or recycling of the old mobile devices unto themselves.
4. Donating phones to the soldiers
Life is never easy for several men and women who have consciously chosen to serve and guard the motherland. You can also show your gratitude by donating your old phones to the military.
There are a number of organisations that are running cases where soldiers can get in touch with their loved ones without spending a dime. You may choose to be part of such campaigns or donate the cell phone devices to them to become part of a noble cause.
This will not only address the e-waste issues but will also give you a feel-good factor in return.
5. Sell it off
If you are not so pro donating, there is always another way of disposing of mobiles by putting it up for sale in seconds.
Depending upon the factors like phone age, brand, and battery life, you might be able to bag a good price. A lot depends upon the workability too. If your phone is in a good working condition, you can get fairly good pricing as compared to the faulty handsets.
6. Refurbishment
There are companies that are dedicatedly working on the mobile phone refurbishment where the phone or its software is tweaked a bit to settle the concerns if any.
Usually, the old phones given up in bulk ends up at the refurbishment units. These can be privately operated companies or a division of the mobile phone manufacturer.
What follows is a set of procedures that are used for solving the battery issues, screen-hanging woes, managing software updates, incorporating aesthetic changes, etc. to make the phone as good as brand new.
These smartphones are then put up for sale as refurbished handsets. Although there is no feature lacking, due to the minor fix-ups done, the pricing goes done considerably as compared to the brand new set of the same variant.
Those with the affordability issues can easily go for the refurbished phones. It gives them an opportunity to own a phone full of features at a fractional cost of the new one.
7. Safely recycling the end of life units
Not all phones can be reused, especially the ones that have reached the end of their prescribed lifecycle. Such handsets need to be safely disposed of by the mobile phone recycling companies.
Simply trashing such devices in your bins can be a highly irresponsible action from the environmental protection perspective.
Since the phone contains many dangerous compounds, careless disposal can lead to the irreversible contamination of air, water, and other natural resources resulting in many deadly diseases.
Hence, once you make up your mind of getting rid of your old non-functional device, ensure that it reaches the right hands to culminate the process.
There are many ways through which you can make a positive impact to help our fragile environmental situation and the proper disposing of your mobile phone devices is certainly one of them.
Be a responsible citizen and act consciously for the sake of our planet and future generations. There is only one place that we call home and we better not mess with it!