DesignCap is a super easy-to-use but free tool for making poster and flyer online. The website interface for DesignCap provides a simple way to create and customize a poster or a flyer, with drag and drop options and plenty of other features that make it worth trying.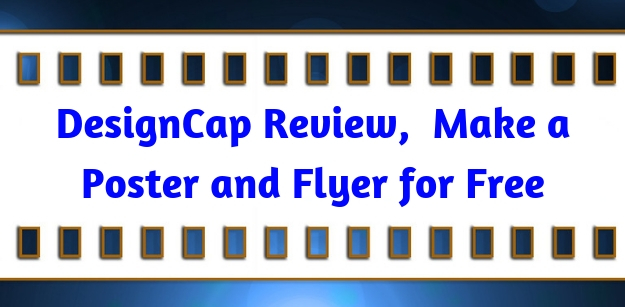 Pros
Hundreds of professionally designed templates for almost all occasions.
It's completely free of charge.
No account/registration is required to make a poster or flyer.
Images can be uploaded in several ways.
Thousands of stock photos, clipart images, shapes, fonts, and backgrounds.
Fully customizable features with a few mouse clicks.
Localized into 7 languages:English, German, Spanish, Japanese, Portuguese, French, Chinese.
Multiple way to save and share the final design.
Saving image as project to future editing.
Cons
Unable to save to cloud storage services.
More About DesignCap
Though there is no option in the interface for uploading an image as background, you can make it without any effort by simply dragging images to the canvas and adjusting its size and opacity.
DesignCap offers the option to upload photos from your computer, Facebook, and even through online search. Once they've been added to your design, you can resize photos, alter their exposure, adjust their position, and flip/rotate them. There are many preset photo effects and other adjustments like saturation, exposure, contrast, etc. to enhance your photos.
Poster and flyer can be saved to your computer as a PNG or JPG file. And you can choose the dimensions of the final poster/flyer when saving it. Besides, you can print it in the app directly as well. Certainly, it can be shared over several social media like Facebook, Twitter, Pinterest and Tumblr. Best of all, all the features are free to use.
Final Thoughts on DesignCap
DesignCap is my favorite online poster and flyer maker because this app lets me work quickly, edit my images, and customize the design in a few minutes but without cost.
DesignCap helps people make stunning posters that make a point, express a view, and leave an impression. With the hundreds of built-in templates, everyone can transform plain photos into compelling masterpieces.