When it comes to designing and putting together a kitchen, most homeowners consider function and not form. While ease of cooking, dining and cleaning are definitely the most important factors, it's very possible to create a kitchen with a unique design without sacrificing convenience. A striking kitchen will not only impress guests when you entertain, but will also make preparing and eating meals with your family a more enjoyable experience. Here are 7 expert tips to help you design and build a unique kitchen for your home.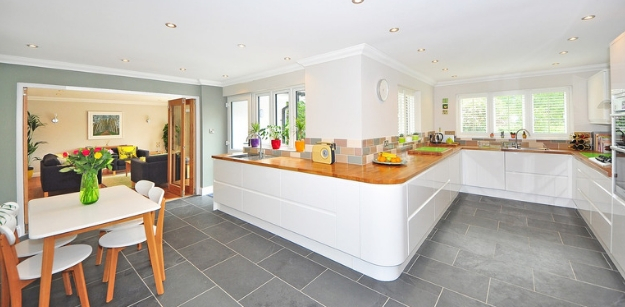 1. Choose a Statement Piece
Statement Piece' is a home design term for an aesthetically pleasing feature that draws the eye and dominates a room. While statement pieces are most commonly installed in living rooms and dining rooms, they can also be used to transform the look and feel of your kitchen. Since you need to move around the kitchen to cook and clean, space is often at a premium, so it's important to choose a small statement piece or one that can be mounted on a wall or hung from the ceiling. Chandeliers are one popular choice, but if they seem too cliche, consider an unorthodox design like a bound twig or honeycomb chandelier. You might also opt for a favorite painting, since it can be mounted on the wall to save space. One other creative option is to make the kitchen island the statement piece; a colorful pewter island or a carved oak masterpiece, for example, can be striking.
2. Tables on Wheels
In many homes, the kitchen also doubles as the primary dining area. If this is the case with your kitchen, a table on wheels can be a fun, useful and space-saving feature. A small to mid-sized rolling table can be pushed under the kitchen island when not in use to conserve space, or tucked part way in to serve as a breakfast bar. When guests are over or you're having a sit-down family dinner, you can pull the rolling table back out and place it wherever you like.
3. Consider a Fireplace
If your family spends a lot of time hanging out in the kitchen, why not make it cozier by installing a small fireplace? Fireplaces are typically reserved for the living room, but they can work as a statement piece for your kitchen while also keeping your family warm during the cold winter months. With a fireplace in your kitchen, you'll also have the option of going old-fashioned and cooking over an open fire. To do so, you'll simply need to install a grille to rest over the flame.
4. Eye-Catching Ceilings
Few homeowners consider what their kitchen ceiling will look like, but you'll spend more time looking up at it than you might think. Painting the ceiling with colorful patterns is a fun way to spice up your kitchen, and you can match the ceiling to the rest of the kitchen's color scheme for a professional look. If you opt for a white-and-blue tile patterned ceiling, for example, you might paint the island and countertops a complementary shade of blue while keeping your walls white.
5. Get Creative with the Sink
You'll spend plenty of time in front of your kitchen sink, so purchasing and installing a more unique or colorful sink can be a worthwhile investment. Instead of a plain steel fixture, try something more interesting, such as a sink with an antique stone or brushed copper basin. Or you might choose an intricate Japanese-style sink with an engraved glass basin and a spout faucet. You'll be surprised at how drastically the right sink can catch the eye and change the look of your kitchen.
6. Transform Your Ceiling
If you're looking for more unorthodox kitchen design options, try altering the architecture of your kitchen ceiling. If your roof is supported by wooden rafters, for example, you might consider removing a low kitchen ceiling to expose the raw wood beams, giving the room an elegant feel. Another option is to raise the ceiling and create a cavernous space, which can be a neat trick to make a small kitchen seem larger. If you go with the latter option, try installing a skylight in your newly raised ceiling to brighten the kitchen.
7. Magic Mirrors
Mirrors are an unorthodox feature that can give your kitchen space a bit of dramatic flair. They're also very versatile; simple mirrors can be placed almost anywhere in your kitchen without messing up the room's layout or color scheme. One option is to place a mirror above the kitchen sink so you can check your reflection as you cook and clean, or you might put them in the middle of a series of cabinets to serve the same purpose. If your kitchen features a bar, you can try installing mirrors on the bar cabinets in place of regular glass to give the space the feel of a swanky hotel bar.
When it comes to kitchen design, the best general rule is to go with whatever pleases your eyes. Space and utility should also be factored into the design of your kitchen, but as long as you like the look of a blueprint, don't worry if it's a little on the weird side. Use the planning of your kitchen as an excuse to get creative and think out of the box; even if the results aren't perfect, you'll end up with a kitchen unlike any other.