Clearing the UPSC exams is a hard task which takes a lot of preparation and dedication. There are many studying and planning tips which you could follow. But the most influencing studying tips for clearing UPSC comes from those students who have cleared their UPSC exams. Clearing UPSC in first attempt is not an impossible task, but could be cleared following certain tips. Different toppers give different tips, which personally helped them in clearing the UPSC exam, following is a narrowed down list of 7 tips you could include in your routine of preparation for UPSC given by students who cleared UPSC in first attempt.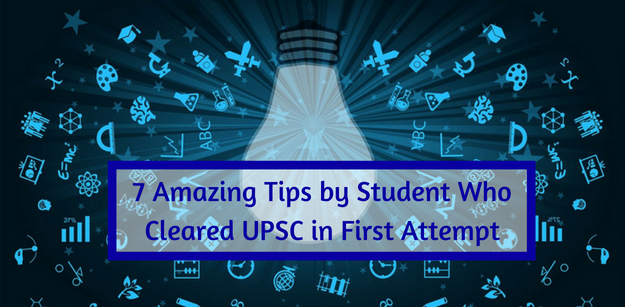 1. Understanding exam, syllabus and requirement of current affair information
Understand the value and importance of UPSC exam and its preparation. Keep the syllabus with yourself all the time and understand syllabus, its subdivisions thoroughly. Understanding UPSC and its syllabus clearly will give you an insight to how important this is for you. A major importance and value is given to current affairs, the first step towards preparation starts with newspaper and some current affairs sites. Don't get confused with multiple sites and follow current affairs actively, this will keep you updated.
2. Believe in yourself, focus and discipline
You always need to believe in yourself that you can clear UPSC. Believing in yourself will keep you motivated and help you study without feeling lazy. You must never lose focus from your goal, your goal is to study and cover your syllabus thoroughly and strictly, which will help you complete the goal of clearing UPSC. Being disciplined is also very important, be punctual to your syllabus. Being disciplined will help you to keep your focus on your goal and would also keep you motivated.
3. Personal strategy and personal report
Make plans with others help, but strategise your plan according to your personal preferences, this way you will set realistic goals, and accomplishing these goals will increase your confidence. Make stage wise plans, revision plans, and chapter wise division of syllabus according to your potential, decide everything beforehand and be ready to modify your strategies and plans, when you notice more or less progress than planned. Always make a personal report of how much you are attempting and are you really following your study plan or not, this will help you in modifying your plans as per future goals.
4. Choose books wisely
Choosing books wisely and smartly is very important for your preparation. Never take NCERTs lightly, as they give the basic information and build your base to the syllabus, starting with NCERTs will help you a lot. Don't follow different books at the same time, following multiple books would confuse you. Study a single book thoroughly and strictly, this will save you of unnecessary confusion. Following a chosen book wisely will also save you time for other preparation.
5. Mock papers and previous year papers
Clearing any paper requires mock papers. As soon as you complete a topic solve a mock paper and report your progress. Motivate yourself to do better. The best thing to do in preparation is to solve previous year question papers, this would help you in understanding the exam more, and preparing yourself for the future. Previous year question paper and solutions are key to clearing any competitive exam. Therefore solve as many question paper as you could, and also go through published answers of other students, who have cleared UPSC.
6. Keep practicing and modifying answer writing style
Always keep practicing your answering style. Go through published answer sheets of students who have cleared UPSC and adopt the answering style which you prefer. Keep modifying your answers. Divide the question into subparts and solve accordingly. Answer in pointers and subheadings, this will make your answer more clear. Write the conclusion of your answer wisely and smartly, practice conclusions also. Answer writing style is very important for your marking, as beside what you write, how you write it is also very important.
7. Time management and revisions
Time management is an important aspect. Your study plans, strategies, solving question papers and practising to write answers will not benefit you if you don't follow time management. Keep track of the time while giving the exam also. Plan your revisions and do revisions thoroughly, which is very important, this way you would not forget what you have studied, and wouldn't have to worry about previous topics.
You must keep it in mind that every individual is different, so, adopt above tips and modify them according to your own personal preference. Study hard and prepare well for exams. Combining tips according to your personal preference and strategy would make it easier for you to do the preparation without stressing yourself and save your energy and time.