Road trips can be a symbol of escape for many people: hitting the open road with your family, friends, or maybe even for a solo trip, with your bags packed and a carefully arranged playlist at the ready, can be the start of a new adventure. It could be one you're not planning to return from for a long time if you're seeing where the open road takes you, or it might be a short road trip you're planning on making the most out of.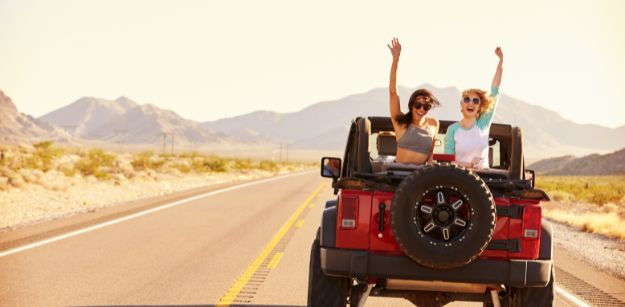 A road trip can be rewarding in many ways, including both the journey itself and the destination, but there are many key steps to remember to make sure that your trip is a success. While a romanticized vision of a road trip can be full of good music, clear skies and even clearer roads, the reality can sometimes sadly be the opposite.
Which is why it's always best to prepare to make sure your road trip will be a success.
Why a Road Trip?
First things first: why choose a road trip at all? If this is your first time considering one, you might be wondering what the appeal is compared to other vacations or trips you've taken before.
They're great for vacationing in your own country
They make use of a vehicle you already have
They're ideal if you're not a fan of flying
They allow you to plan your own route and sight-see along the way
You can stop and take a rest whenever you need
They can allow you to see many different places instead of just one
4 Top Tips for a Successful Road Trip
1. Share the Driving if You Can
Depending on how long a road trip you're planning, it's always best to share the driving with someone else if you can. That way it's safer to avoid tiredness for the only driver, and will enable you to get a break in the passenger seat, whether that's just enjoying the scenery or whether you can manage a quick nap.
This isn't always possible, of course, so if you do only have one driver, make sure that you plan for lots of stops to make sure the driver can get rest and avoid driving when tired.
2. Take Advantage of Vehicle Storage Space
When you're taking a road trip, you need to make sure you pack everything – this doesn't just mean luggage for the family, which can take up all the storage space in itself, but it could also mean extras, such as:
Spare tires and tools to keep your vehicle properly maintained for the trip and always have spares of anything you need should an emergency occur on the road
Camping extras such as a tent, sleeping bags, camping utensils or anything else you need for your specific trip
Activity-related items, such as bicycles or surfboards
This means you're going to need as much space as you can get, which is where extras such as rear racks or roof racks can come in handy, such as the best roof racks for Tacomas or other vehicles. You may even want to consider upgrading your vehicle to a larger one if family road trips are going to be a regular thing.
3. Plan Your Route
This goes without saying for a road trip, but it's important to think of every eventuality when you're planning a route, too. This means thinking which route you could take as an alternative should any roads be closed, or should any unexpected accidents occur that block your way. You should also plan for things like speed laws and tolls to make sure you're prepared and have the correct change or have arranged your finances in advance for the extra expenses that occur on the road.
4. Leave Time for Unplanned Stops, Too
Planning an itinerary is extremely important, and especially when it comes to where it'll be safe to stop, rest and make top ups for fuel and supplies. Nevertheless, it's also important to make extra time for unplanned stops, too. Whilst on the road, you may come across something you didn't know was there, such as a tourist attraction or even just a beautiful view, and you never want to feel like you can't stop because you're on a tight schedule. Whilst on the road, you may also get some inside information from local people who might direct you to some areas of unseen beauty or attractions off the beaten track.